Mokelumne Hill sits just over the line from Amador County in California's Gold County, in the foothills of the Sierra Nevadas. It is the first sign of life as you come over the hill into Calaveras County, a county whose only claim to fame may be the Mark Twain's Frog Jumping Contest. Keep going half a mile and you are in ranch territory, where Ronald Reagan is a hero, they hate Obama, and you will periodically see a sign on a gate with a drawing of the barrel of a gun and the words "We don't call 911," or "If you can see this you're in range."
But Mokelumne Hill, or Moke Hill to those who can't pronounce it, is something of an enclave, of writers, craftsmen, some organic farmers, a few art galleries, and somewhere around 700 people, left and right, who have escaped the Bay Area to live in a town where people are still nice to each other.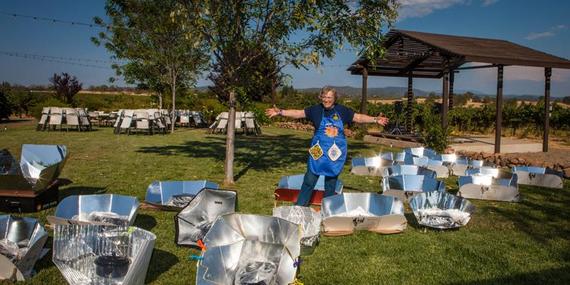 One of the local figures giving the town its character is Irene Perbal, an 81 year old woman who grew up between the Netherlands and the Democratic Republic of Congo, going from Africa to Belgium to Brazil and finally joining family members in the Gold Country.
It was in Mokelumne Hill that Irene discovered solar cookers -- simple, low tech contraptions made essentially of cardboard and foil, that can cook up a lasagna, rice, beans, and even coq au vin with nothing more than sunlight and a black pot.
If you work or follow the world of humanitarian aid, you know that solar cookers save lives. In a refugee camp in Sudan, having a solar cooker means that you or your daughter don't have to leave the camp to gather firewood. Irene immediately saw the opportunity to help some of the communities in her former home of Brazil. With a grant from the Jackson, Ca. Rotary Club, she and her husband Michael took the cookers into the favelas, or slums, of the country's capital city, Brasilia. They made presentations to the local banks, taught the fishermen and garbage collectors, and the poorest of the poor how to build cookers and serve hot meals to their families in an environment with no power.
After returning to the Gold Country, Irene introduced an entirely new, and relatively overlooked, population to the benefits of solar cooking. It was during a presentation in Mokelumne Hill, and a conversation with someone who worked with the homeless populations in Calaveras and neighboring Amador counties, that the light bulb went on.
At the local food banks, certain foods were regularly left behind. Rice was one. Homeless people have no way to cook rice.
Again sponsored and encouraged by the Jackson Rotary, she began doing talks and seminars to train locals on how to build and use the cookers, including the underserved frequenting the food banks as well as the staff and outreach agents of the food banks, homeless shelters and Indian reservations, often sharing a lunch of solar cooked lasagne to demonstrate.
It's a start. But now after seeing Irene's booth and photo boards of her work at district Rotary conference, the wider district that includes Northern California and parts of Nevada, has taken and interest, and Rotary clubs from other parts of the country have started to ask for details to get similar programs started in their own regions.
We should all be immensely grateful for and supportive of the organizations who look after the women in the Sudanese refugee camps. At the same time, it can be too easy to overlook the fact that the person who needs your humanitarian heart may also be right under your nose.
Related
Popular in the Community