In the previous blog I tried to explain briefly what the landscape approach is about: a holistic way of addressing sustainability issues, not in the least climate change, taking into account local contexts. Because landscapes - mosaics of different types of land use and ecosystems, the people living within them and all the possible interactions between them - by themselves are complex, so is the approach. It's a different, less rationalized and less linear way of thinking.
Last weekend, the fourth edition of the Global Landscapes Forum was held alongside the the COP21 negotiations in Paris. The GLF serves as a platform for bringing researchers, indigenous community representatives, policy makers, development cooperation, NGO's, private sector and others together to embrace that complexity and find ways not only to understand it, but to make it work better.
More than 3000 people participated in exchanging knowledge, discussing and feeling inspired about landscapes issues. Among others, sessions included the following topics: tackling deforestation in a way that promotes local people's rights; decreasing greenhouse gas emissions from agriculture, while at the same time making it more productive and resilient to the impacts of climate change; how to connect smallholder farmers and policy makers across different scales, throughout the world; bridging gender gaps and how that will improve family incomes.
An essential part of the forum was the Youth in Landscapes Initiative, which offered the opportunity for youth (18-35 years old) from around the world to develop and present innovative solutions to five of the most critical landscape issues. Assisted by a high profile steering committee and mentors, for four days fifty students, young professionals and volunteers with very different but also very complementary profiles worked together in dynamic groups. On the second day of the GLF, last Sunday, they pitched their ideas to a dragon's den, consisting of some of the most important professionals involved in landscapes giving critical feedback.
I am proud to have been involved in this initiative, which combined capacity building for creating innovative ideas with connecting promising youth innovators involved in landscapes: an Ethiopian software engineer who decided to dedicate his life to growing fruit trees that will provide food and income for generations, much more so than volatile code; a Belgian law student who didn't know much about the technical details of ecosystem management, who worked together with agricultural engineers to conceptualize an app that involved local people in landscape restoration; an Environmental Technology student from Thailand jointly presenting a solution for monitoring rights and tenure issues related to deforestation with american and costa-rican researchers.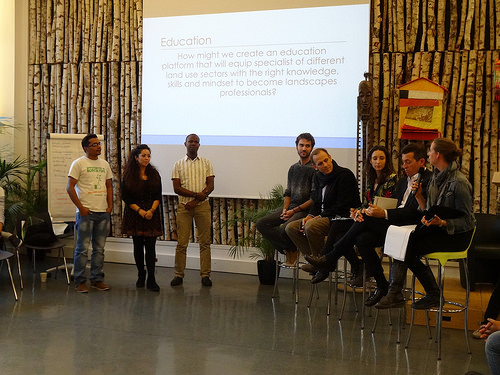 Youth Innovators practicing their pitch to the dragon's den. Source: YPARD - Youth in Landscapes Initiative
Youth are essential to sustainable development, to addressing climate change and to the evolution of the landscapes they are a part of. They are energetic and can provide very different, fresh, innovative ideas that help building solution to wicked problems that are becoming increasingly difficult to solve with business-as-usual kinds of methods. They are very familiar with the advances in technology and communications which are becoming ever more important in every aspect of life throughout the world. Last but not least, they can remind more experienced professionals - who just might have become a bit more cynical - of their original drive and motivation.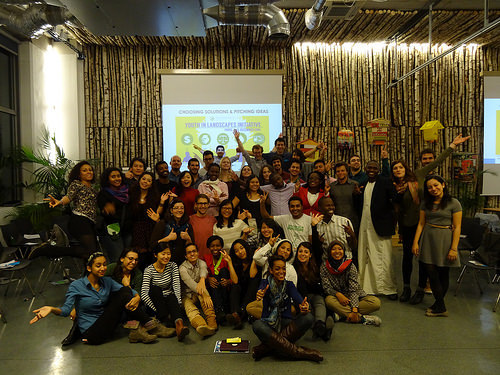 The 50 Youth Innovators after 4 days of working on their solutions. Source: YPARD - Youth in Landscapes Initiative
Youth, now as well as throughout the following decades, will be facing enormous challenges such as climate change, having to feed an increasingly growing population with less available land, ecosystems degradation and natural resources depletion, not to mention all the resulting social issues. This reason and all of the above are why they should be involved sooner and more directly in finding solutions.
This was recognized by the organizers of the GLF, giving the floor to one of the youth innovators at the closing plenary. After giving the most compelling and vibrantly acclaimed speech of the forum, calling for action to involve youth more actively, she was invited back to be part of the panel to share her thoughts on the way ahead.
If the 1.5 degree Celsius goal that might very well be the keystone of the Paris agreement is to be met, we are going to have to start thinking differently. We need to see the immense opportunities for synergies, taking advantage of complementarity in people's skills and knowledge. We have to recognize the importance of bringing together people within and across landscapes, as well as across generations. We need to think Landscapes.