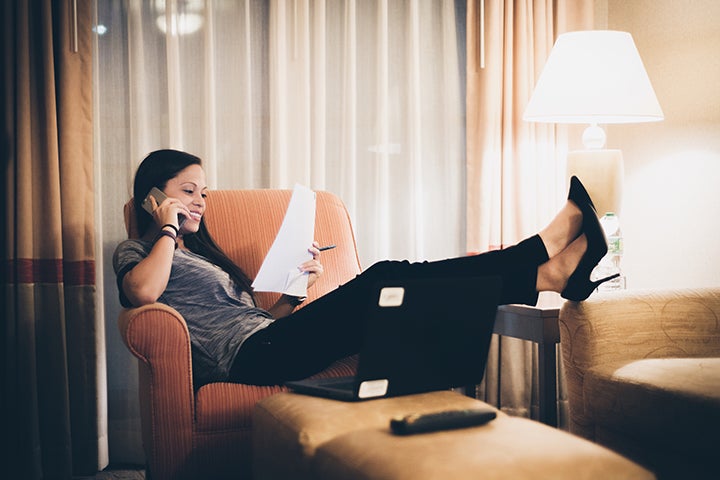 Whether it's running an Etsy craft shop or building the occasional website for a friend, there are few of us out there who've never had a side gig. Not only does it help you pursue a passion, but having the extra income can also help you pad your budget and make progress toward your financial goals all the faster.
But the benefits that come from a side gig don't stop at the payout. For many, it can be a good way to test-drive a new career, get a foot in the door of a new industry or polish skills that can ultimately help lead to a more fulfilling or lucrative full-time job.
Ed McMasters, director of marketing, communications and design for FusionWRX, a marketing engagement agency in Crestview Hills, Kentucky, says he hired his current graphic designer because he was impressed with the work she put into her side gig as a designer of invitations.
"We had a couple people come in [who said] they had side gigs or were freelancing but they only had one or two pieces of work—whereas her portfolio showed she had been doing invitation design for years. It was fantastic," McMasters says. "In my opinion, [giving time to your side gig] is broadening your horizons and giving you the opportunity to learn something new and different, and ideally you can adapt it to your 9-to-5."
Inspired yet? To show you some examples of how a side gig can help you get ahead in your full-time job, we asked three people to share their successful career-shift stories.
'My side gig helped me get a foot in the door of my dream industry.'
Who: Brittany Johnston, 27, marketing assistant, New York City
Former Job/Side Gig: Elementary school teacher/Style blogger
How My Side Gig Helped Me Land My New Job: I graduated from Penn State University in 2011 with a degree in elementary education, so the natural thing to do after school was to get a job as a teacher. My real dream, however, was to work in fashion in New York City, but everyone around me said getting a job in a field unrelated to my degree was slim.
I had started a fashion blog in 2010, but not much came of it because I wasn't confident enough to publicly put it out there and I didn't know exactly what I was doing. So I just kind of had it on the back burner. After graduation, I was determined for it to take flight. When I finally launched my new blog NotAnotherBlonde.com in January 2015, it received a lot of positive responses, and it's been growing ever since.
I then decided to switch paths from education to marketing because I didn't see a lot of growth opportunities as a teacher. In marketing, the sky's the limit. If you're good at it, you can create the life of your dreams, and I also saw this as a way to pursue my dream of getting a job in fashion in New York City.
In January 2016, I took a leap of faith and moved from Doylestown, Pennsylvania, to the Big Apple. After 80 applications and eight interviews, I was beginning to lose hope of getting a fashion job, until I finally came across a creative recruiting agency, 24 Seven. I interviewed initially as a recruiter, but that position didn't work out. I was heartbroken and had one month's rent left in my bank account when I got a call saying they had another opening, this time in marketing.
I interviewed for that position and nailed it. I had put my side gig on my résumé because that was something I'd been consistently working on, and the skills I had gained through that were invaluable: digital and social media marketing, trend forecasting, networking, content curation, photography, self-discipline and time management. I can confidently say my side gig didn't just help me, but it was essentially the deciding factor in landing the job.
My Advice for Others: Find someone who's doing what you want to do and copy their strategy. Listen to what they're saying, but more importantly, watch what they're doing and how they execute. Look for the little gems in what they do, because nobody puts something out there without a strategy behind it.
'My side gig helped me ramp up my professional experience.'
Who: Ryan Taylor, 38, network operations center manager, greater Los Angeles area
Former Job/Side Gig: IT system center administrator/Co-founder of a website that connects parents with local child sports teams
How My Side Gig Helped Me Land My New Job: Sports has always been a big part of my life. Growing up, I played baseball and basketball, and I've also coached a girls' Little League softball team.
In fact, it was while I was coaching and sitting on the Board of Directors of the local Little League that I realized parents needed help figuring out what teams their daughters could join next after they reached the age ceiling. So one of the other board members and I decided to start a directory of youth sports teams called AllTeamz, which enables players to find teams and teams to find players. We've been going strong for over three years.
At that time, I worked in IT as a system center administrator, but about a month after I launched AllTeamz, I got laid off. I can say, however, that the skills I developed working on the site helped me land my next job. I'd been working in IT management for some time but prior to developing AllTeamz, I always felt like I was the least experienced person in the room.
Now I could say I was the site's administrator, architect, development team, sales and marketing team and, last but not least, the sole individual responsible for our customers. I leveled up my technical skill set and quickly became a jack of all trades. I learned more about infrastructure build and maintenance, coding and customer empathy, among other key skills. All this helped me land my current job as an engineer and tech manager for a major provider of tax and accounting software.
I've been with my current employer for about three years, and being part of operations here means being responsible for the availability of services to external customers—and lots of them. I wouldn't have been able to operate in this environment without the knowledge I gained from my own side project.
My Advice for Others: Too many people give themselves roadblocks for why they can't do something. The truth is, the best thing you can do is just start. When I decided to launch AllTeamz, I first went to a whiteboard and drew what I thought the site should look like. Getting started was the secret sauce.
'My side gig helped me launch my own business.'
Who: Melissa Weinberg, 46, sunless-tanning entrepreneur, Wellington, Florida
Former Job/Side Gig: Mortgage post closer/Spray tanner
How My Side Gig Helped Me Land My New Job: In 2010, I was diagnosed with skin cancer and being fair-complected, I knew I would never be able to achieve a tan the natural way again. So I purchased a spray-tan machine and started airbrush tanning myself. Once I noticed that there weren't many businesses offering spray-tanning services in my area, I decided to give that a shot as a side business and began taking on clients on the nights and weekends.
At the time I was working in the mortgage sector, and since the recession, I'd been unsure about the future of the industry. I really felt that I should follow my passion and learn about the beauty trade, just in case something happened to my full-time career. Plus, I really wanted to do something different at this stage of my life.
So I continued to grow my clientele and knowledge of the industry, and in June 2014, even launched Perfect Glow Sunless, my own proprietary line of professional airbrush tanning sprays, along with Melissa Weinberg Tanning & Beauty, a retail self-tanning and skincare line—all while still working my full-time job. But I got to the point where I knew I needed to give up the comforts of the corporate world in order to expand my brand. It was scary giving up things like a steady paycheck, health benefits and my 401(k), especially as I was basically a one-woman show, doing everything from sales to customer service to marketing to packing daily orders. With so much going on, I just couldn't continue to do both jobs.
So in June 2015, I finally left my day job. This was the right decision for me. My business has continued to expand at a fast rate; my products are now used in over 300 spray-tanning salons. I am currently looking for larger retail and warehouse spaces, and I recently brought on my first sales account executive.
My Advice for Others: First, your side gig has to be something that you enjoy, because your passion is going to fuel everything. Whether it's a beauty service or a tangible good, people can read honesty, and if you're passionate about what you're doing, it's really going to show. Second, your side business has to be feasible—there has to be a need for it. If it doesn't fulfill a need for somebody, then you might run into problems being successful in the long term.
LearnVest Planning Services is a registered investment adviser and subsidiary of LearnVest, Inc. that provides financial plans for its clients. Information shown is for illustrative purposes only and is not intended as investment advice. Please consult a financial adviser for advice specific to your financial situation. LearnVest Planning Services and any third-parties listed, discussed, identified or otherwise appearing herein are separate and unaffiliated and are not responsible for each other's products, services or policies. LearnVest, Inc. is wholly owned by NM Planning, LLC, a subsidiary of The Northwestern Mutual Life Insurance Company.
Popular in the Community