'Finding unexpected ways to display flowers can become a joyful obsession'
For many of us, the fragile beauty and delicate nature of flowers can make the art of floral arranging seem a little daunting -- much like approaching a gathering of beautiful women, it can be intimidating. Will you be found wanting? What if it doesn't work out? Though I am constantly creating my own arrangements at home, I often still find myself admiring large, professional bouquets in hotels and restaurants with a huge sense of awe, appreciation and arrangement-envy in equal measure. So how does one build up their confidence and break out of Wallflower mode?
All it really takes is a little practice, patience and a willingness to think outside the vase. The addition of fresh flowers to any room is sure to evoke a happier space, but sometimes it's fun to spice things up just a little by finding unexpected ways to arrange and display your flowers. "A rose is a rose..." as the poem goes, but a vase needn't always be a vase.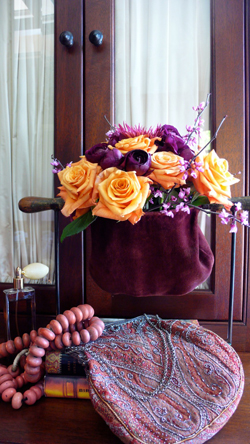 The biggest challenge you'll surmount in choosing an interesting vessel will be to throw caution to the wind. Begin by looking around your home at what you might have that could possibly be utilized to hold flowers, besides the obvious. My attitude has always been if it can hold water (or be jury-rigged to do so) it's fair game for an arrangement.
Antique stationary boxes, liqueur caddies, tins from your food pantry, perfume or tincture bottles, even hats, straw handbags and footwear can, believe it or not, all make beautiful containers. Once you're game to experiment, the possibilities are truly...well, let's just say your kids might be hiding their lunch boxes. More traditional combinations such as silver and china teapots, or teacups filled with old fashioned roses and lilacs offer a gorgeous English Country House appeal (leave a little lilac sprig or a few rose petals on the saucer). Baby's Tears and moss in a small wooden crate or basket pairs well with any decor (try scattering a few wild mushrooms on the top). Daisies and sunflowers in vintage glass milk bottles, especially if you find them in the old fashioned delivery racks or sprouting out of a pair of Wellington boots, are fun by the kitchen door.
For a more luxe look, try riding boots filled with Cala Lilies in a front entry hall. Instead of going to the vase cupboard, check out your clothes closet. Wrap an otherwise boring vase in a beautiful silk scarf -- show those French girls a thing or two. Orange roses with chocolate brown, pink Gerbers with olive green or turquoise, and white tulips with a black and white scarf are all divine combinations. Flowers in a simple farmer's market bunch wrapped within the pages of a foreign newspaper (just make sure it's good news!) and tied with heavy twine makes a simple, charming brunch centerpiece alongside French-pressed coffee and croissants for weekend guests.
Although we all have our favorites -- roses, hellebores, lilac, Lily of the Valley, (stop me, before I plant again) and our 'Not So Muches' (fiendishly colored carnations!)--even the simplest arrangement of branches, palm fronds or seed pods can be beautiful when approached in a unique fashion. Try a single branch or frond repeated several times in the same type of vase along a mantelpiece or window ledge.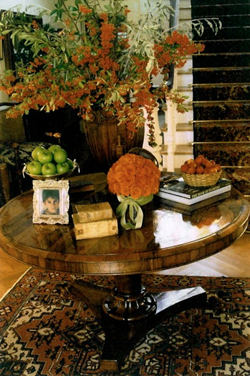 Keep an eye out for interesting vessel possibilities at flea markets and antique shows and you're likely to find containers that you will want to set aside just for the holidays or specific rooms in your home.
Most importantly, don't be afraid to fail. I won't say that's half the fun, but many are the floral arrangements I've attempted that began their short lives with all the hopes, aspirations, dare I say "Showgirl" dreams, of Entrance Hall glory only to end up, hours later, virtually legless and humbled by the powder room sink.
Remember, there are no rules! Your imagination is boundless, and with all that help from Mother Nature, how badly can it go?
Stock up on lots of individual plastic water tubes as well as a good supply of plastic liners in all shapes and sizes, both green and clear. These are available at most hardware and florist supply stores.
f you have the storage space, save some unusually shaped waterproof containers to set within more challenging decorative vessels. (If you're a Virgo or wish to go full Martha, you might want to label these if they're not used often.)
Most of the time I have much more success with small bouquets by "building" them in my hand and then placing in the water container.
For larger arrangements, always start with the hardiest stalks to create some structure. Then add the most delicate, expensive or pivotal flowers last.
Invest in a light watering can with an extra long, thin spout.
If you are working in multiples, uneven groupings are usually more pleasing.
Lastly, remember to always test your containers to make sure they are not leaking.
Popular in the Community