In my last entry, I talked about some of the challenges and pitfalls of finding a good voluntourism opportunity to add to your trip to Africa. That wasn't intended to crush your spirit and good intentions, but to help you think critically about volunteering... As promised, I've compiled a couple of alternatives to volunteering that give back to people and communities in meaningful ways:
Bring Goods to Donate: Pack for a Purpose
Rebecca Rothney of Pack for a Purpose notes that if she were going to dinner at someone's house, she would bring a bottle of wine or dessert as a thank you for their hospitality and believes it's good manners to do the same when visiting someone's country. Pack for a Purpose is a good option for several reasons.

It is easy. Just look up where you are staying on Pack for a Purpose's website, see if they have a partner community organization listed and then use a portion of your checked luggage allowance to bring exactly what that school, orphanage or community organization needs. Anything from pens to soccer balls to printer cartridges to stethoscopes.
You are bringing exactly what the organization has decided it needs. Pack for a Purpose allows the organization to define their own priorities and communicate them to you. If you use the list they provide, you can bring something that is guaranteed to be helpful.
There is a lot of transparency built in the structure. The organizations listed on Pack for a Purpose have established relationships with nearby lodges, are required to update their list of needed goods regularly (on both their own website and with Pack for a Purpose) and to report back to Pack for a Purpose on the total weight of good received several times a year. In some (but not all) cases, you can arrange for a trip to the organization to hand over your donation in person.
Here are a few additional words of advice from Founder Rebecca Rothney for those thinking of bringing donations:
Only bring what organizations ask for; they know what they need.
Feel free to bring candy...but only if you are planning on also bringing a dental clinic. Otherwise, it's not a great idea.
If you are going to bring medication, make sure it will not expire for at least 8 months. Although you might use expired medication yourself, it may be illegal for the organization to dispense it.
Stay at Lodges and Camps that Emphasize Sustainability, Conservation and Community Involvement
If you want your trip to give back in some way, another great alternative to volunteering is to find camps and lodges that prioritize conservation, environmental sustainability and community development; there are MANY such properties throughout Africa. Here are a few great examples from a handful of countries where Extraordinary Journeys works:
One great example is Lewa Downs. Led by the Craig/Douglas family, several large land owners came together with pastoral communities in the area to create the Lewa Wildlife Conservancy (LWC). The LWC, now a 1.5 million acre private conservation area, is home to a number of endangered species including 10% of Kenya's black rhinos and is a hub for conservation research. All guests pay a conservation fee to the LWC when they stay at one of the partner properties, which means that just by going on safari at LWC you are directly contributing to the conservation of the wildlife you came to see.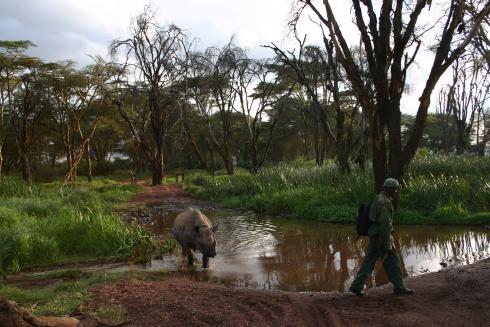 In addition to contributing toward conservation through the LWC, you are also supporting employment of the local community. Calum Macfarlane, owner and manager of Lewa House, boasts that his staff members represent all of the surrounding tribes including the Maasai, Samburu, Meru and Kikuyu. In addition to employing as many local staff as possible, Lewa House and other members of the LWC support health clinics, a women's micro-credit scheme, community water management, reforestation and sustainable agriculture programs, several local school feeding programs and adult literacy classes. Guests can visit all these programs, choose to donate to those they particularly like and then receive regular updates on the projects. Calum notes that this gives guests "peace of mind that their money isn't disappearing into some big fund with no defined aim - it will go exactly where they want it to go, with tangible results." He also points out that these community development projects help protect Lewa's wildlife because "if the community sees that the wildlife is improving their quality of life via these projects, then they will do their best to protect the wildlife (from poachers, etc.)" because they see it as in their interest.
Nuarro and Guludo in Mozambique:
Because of a civil war that ended in the early 1990s, the tourism industry in Mozambique is smaller than in some of its neighbors (it has only really picked up momentum in the past decade). The upside to this is that the government of Mozambique has learned a lot from its neighboring countries and put some good policies into place with regard to environmental and cultural preservation, and the relationship between lodges, hotels and the local communities. As a result, many of Mozambique's properties have close relationships with their local communities through hiring local staff, revenue sharing, and various community development projects. Two great examples in Northern Mozambique are Nuarro Lodge and Guludo Beach Lodge. Nuarro is an eco-lodge where a portion of the profits from each guest and each activity goes to the local community. Guludo Beach Lodge and its charity, the Nema Foundation, work with 16 communities with a combined population of 24,000. This includes a school feeding program for 800 children, providing clean water for over 12,000 people from 30 water points, providing over 7,000 mosquito nets to mothers of young children and supporting more than 100 students with secondary school scholarships.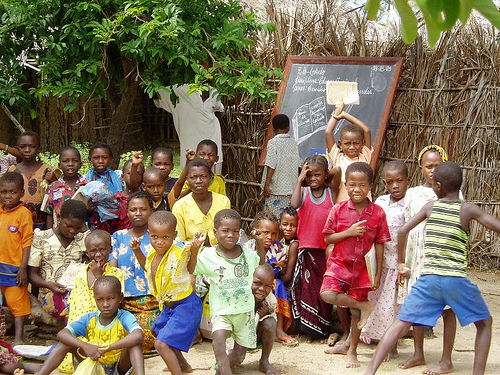 Phinda Private Game Reserve in KwaZulu-Natal in South Africa is an award-winning game reserve. In 1991, Phinda undertook the biggest game relocation in a private reserve in the world at the time, restoring 34,600 acres of degraded farmland to pristine wilderness. The Reserve has now grown to a total of 56,830 acres of protected land. Phinda has 7 distinct eco-systems that can be explored on foot or on game drives with an experienced ranger and tracker team while staying at any of Phinda's 6 great properties. Many of Phinda's rangers and guides are drawn from the surrounding communities and have attended the reserve's full-time ranger school. Phinda was one of National Geographic Adventures top 50 eco-lodges in 2008, and has won awards for wildlife conservation and its contributions to wildlife research. Guests have the option to visit Phinda on safari or to get involved in research and conservation projects run through the Reserve (similar to the Samara and Ant Hill Lodge programs I mentioned in Part I). These include white rhino monitoring, big cat research and elephant population monitoring.
Damaraland Camp in Namibia:
Owned and operated by the local community, Damaraland Camp is a sustainable ecotourism venture that has won numerous accolades, including the 2005 WTTC Tourism for Tomorrow Conservation award. The camp itself is set on the northern slopes of the Huab River, a staggeringly beautiful and remote location. Click here for a great itinerary that includes Damaraland Camp and other notable conservation and community development projects that I rate among Namibia's best.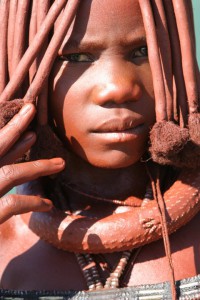 By bringing your business to these properties you are supporting businesses that take environmental sustainability and community participation seriously and are the experts on what their communities need. There are lots of resources that rank, rate and review properties for their eco-friendliness and community engagement but working with an experienced travel consultant who has seen these properties firsthand always helps!
Finally, there are many safaris that provide an intense cultural experience. Learning about another culture can be as rewarding as a volunteer experience while also providing economic benefit to your hosts, who are thrilled to have the opportunity to share their way of life. One of my favorite itineraries in this category is a walking safari with the Maasai, a pastoral tribe in Kenya. It is a great way to get out into the Loita Hills, an area of Kenya that most tourists will never see, and to get to know a people that have managed to blend their traditional pastoral lifestyle with the elements of the modern world they find useful (think cell phones charged in the bush by car batteries). For the full itinerary click here.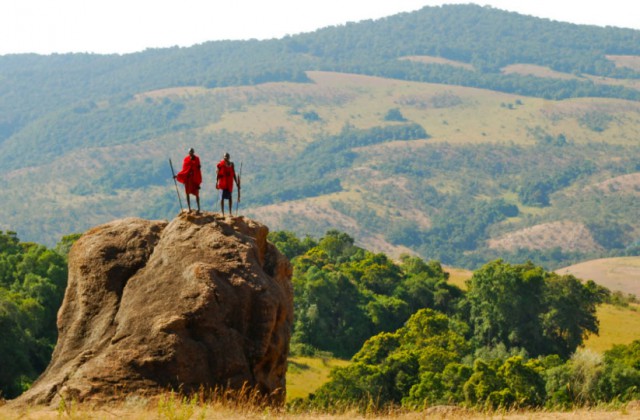 Given all the alternative it's clear that if you don't feel you have time, haven't found the right project or it's really not your thing, there are lots of other ways to give back and have a great experience other than volunteering. And remember, tourism the sector is a significant contributor to the economies of many countries in East and Southern Africa. As of 2007, tourism accounted for 12 percent of Tanzania's GDP, and directly supported an estimated 36,000 jobs and probably as many indirect jobs, so just going on safari is an important contribution in and of itself.