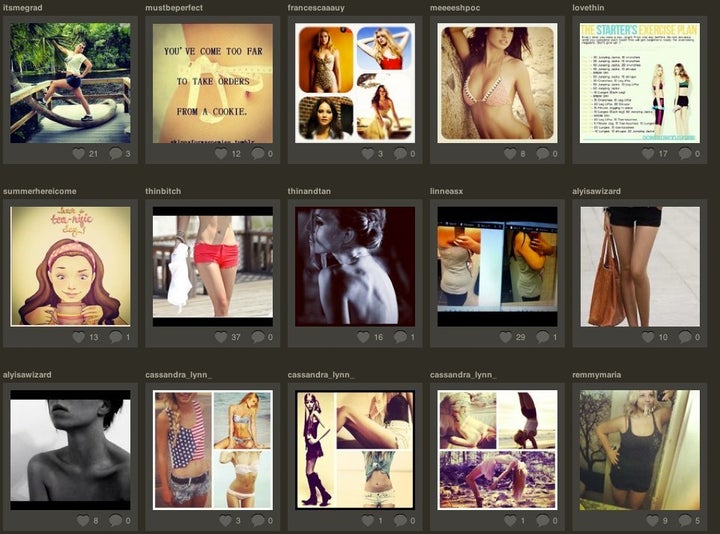 Online 'thinspiration' communities -- where members share photos of emaciated women, weight loss tips, and 'motivational' quotes -- have recently been thrust into the national spotlight. The phenomenon was first documented on Tumblr, with Pinterest following suit soon afterwards. But there's one pro-anorexia network that has remained in the dark: the 'thinspo' community on Instagram. This lesser-known mecca of extreme dieting could be the next site to go under fire for allowing its users to promote self-harming practices.
Comparable to Tumblr in terms of its devoted teenage following and relatively parent-free atmosphere, and like Pinterest in its photo-based layout and content, the Instagram app is an unsurprising home for the community, which has been pushed off of larger platforms.
A search for the tag 'thinspo' on Statigram -- a site that allows users to search trends and tagged Instagram photos -- yields over 30,000 Instagram images. Over 12,000 images are tagged 'thinspiration' and 13,000 are tagged 'ana' (thinspo short-hand for anorexia).
With other platforms changing their content policies as a result of media attention on self-harmful content, Instagram may begin to feel the same pressure to crack down on these communities.
Instagram's community guidelines claim: "Remember that our community is a diverse one, and that your photos are visible to people as young as 13 years old. While we respect the artistic integrity of photos, we have to keep our product and the photos within it in line with our App Store's rating for nudity and mature content." However, the images still exist in abundance on the app itself and on sites which allow users to search for and manage photos, like Statigram.
With apps for the iPhone, BlackBerry, and soon, the Android, Instagram has become one of the most popular apps among teens and adults alike. It was named the 2011 Apple's "iPhone App of the Year". Attesting to the app's popularity among young people, teen celebrities like Selena Gomez, Demi Lovato have professed their obsessions with Instagram, frequently tweeting Instragram photos. Selena even got BF, "Boyfriend" singer Justin Bieber, on board, and he recently became the first Instagram user to hit one million followers.
Do you think Instagram should follow Tumblr and Pinterest's leads and crack down on self-harm content? Share your thoughts in the comments below.
Popular in the Community