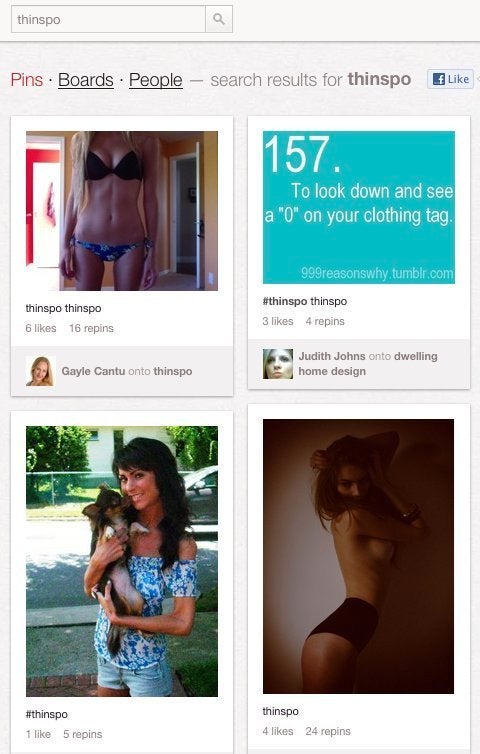 Despite campaigns to take down "Thinspo" content from Tumblr and Pinterest, the material continues to emerge on different online communities, causing some to question if the bans are effective.
With more than 30,000 Instagram images tagged with "thinspo," some have suggested that the photo-sharing site will soon be under fire for promoting harmful ideals.
But the scrutiny these sites are under has done little to reduce or prevent thinspo material from spreading to other online platforms.
Results include photos and quotes, such as "Don't stop until you're proud" and "I look at thinspo like boys look at porn," that are accompanied by the #thinspo hashtag.

"There is a real sense of shame, isolation and a need to connect with other people who 'get it.' The Internet offers anonymity with community. You don't have to reveal who you are, but you can connect with others. But if you are connecting with people who aren't working towards health and recovery, you will be stuck in your sickness too."
Models, including Karlie Kloss and Kate Moss, were criticized after their photos have inadvertently served as thinspiration or ended up on pro-ana sites that promote eating disorders.
Although some thinspo bloggers acknowledge their eating disorders are unhealthy, they say they won't turn away others looking for a sense of belonging.
"But if a girl comes to me and she's trying to shove her toothbrush down the back of her throat, I'm not going to tell her to stop because [...] it's just going to drag her further away," she added.
Still, some say banning the images isn't the answer to promoting a healthy body image.
"If we can't find it on the internet, all we would have to do is thumb through the pages of the infinite glossy magazines," Nick Watts, a trustee for Men Get Eating Disorders Too, wrote in a blog for HuffPost.
Related
Popular in the Community