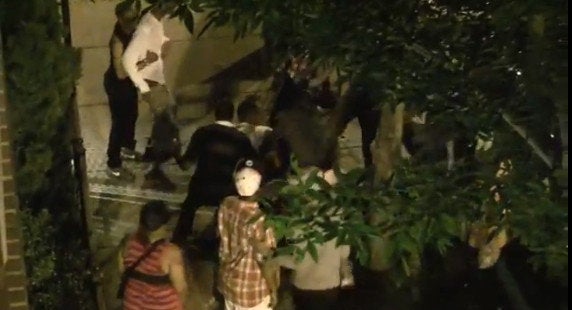 The long, hot holiday weekend had deadly consequences for several throughout the city of Chicago, but nowhere has violence gone more viral than in the heart of the city's Boystown neighborhood in East Lakeview where residents, already on alert from seemingly heightened recent crime, captured a stabbing on video late in the evening on July 3.
The incident took place around 11:54 p.m. near the intersection of Halsted and Aldine, according to the Windy City Times. During the altercation, a 25-year-old man was surrounded by at least a dozen other people who stabbed and then kicked and hit him while he was on the ground. The Chicago Sun-Times reports that the victim was taken to Advocate Illinois Masonic Medical Center in good condition, though a video posted on YouTube shows him enduring multiple stab wounds.
(Scroll down to watch the video depicting the July 3 incident. WARNING: The video is expectedly graphic.)
The Sunday stabbing follows close on the heels of at least two similar incidents, including a June 18 stabbing which HuffPost Chicago reported on last month, in addition to heightened reports of robberies and other violence taking place in the neighborhood. The perception of a trend prompted some residents to create a Facebook page titled Take Back Boystown and call for a "positive loitering" walk, which was held Saturday, July 2 in the same parking lot where the June 18 stabbing victim was injured. Their stated goal was to raise awareness about safety and noise concerns in the area.
The Facebook group has now attracted nearly 2,000 followers, and the "positive loitering" event attracted some 50 walkers, according to the 23rd District's police commander Kathleen Boehmer. But some are concerned about the tone of the conversation surrounding violence in the area. During the Take Back Boystown event, a counter-demonstration was held. About 30 protesters, many affiliated with the group Gender JUST, said queer youth of color in the neighborhood have been targeted following the recent reports of violence.
The two contingents' presence ultimately led to a dramatic stand-off and two arrests that have reignited a long-standing tension in the neighborhood. In recent days, the Facebook page's wall has blown up with comments addressing the crime, some critical of the original response the neighborhood's alderman, Tom Tunney, has made to reports of heightened crime: Providing residents with whistles. One poster, in particular, steered the conversation in a controversial direction through June 28 comments that appear to have since been removed by Facebook administrators, though not the page's moderators.
"Boystown was built and created by gay whites with hard earned money years back to make Boystown a great neighborhood that is is today … Boystown was meant to be a happy place with open arms full of hugs and love for all of us gays who wanted a place to feel safe and have fun w/o the the bulls*** and crime. Its sad that Boystown has been taken advantage by these f***ing savage monkeys."
Another user chimed in on a similar note Tuesday:
"They also happen to be very noticeably out of place!! So why are they not questioned and asked to leave by the police is amazing! Check their ID and if they don't live there ask them to enter an establishment or leave!!! …They travel from all over the city to infest 'Boystown' with their ghetto mentality and violet [sic] attitude! Watching that video really has sickened me!!! It is what it is, and they were all Black!"
Some posters speaking out against racist language claim their comments have been removed and they have been blocked from the page.
In a post published Tuesday on his office's website, Tunney wrote he is "extremely concerned" with the recent attacks and indicated that "safety in the 44th Ward is my top concern and Halsted is one of the priority streets for late night attention."
"Police are working to put more foot, bicycle and tactical officers on the beat. The Northalsted Business Alliance also works with our police on providing additional security on weekend," Tunney wrote. "We also rely on our constituents to help us be vigilant: make sure to call 911 each and every time you see suspicious or illegal activity. If you can, make a written complaint with officers to help them make arrests and convictions that stick."
Tunney also directed concerned residents to the Wednesday CAPS meeting, scheduled for 7 p.m. at the 23rd District police station where Boehmer and he plan to "discuss proactive ways we can work together with Police to combat crime."
That meeting is expected to be a crowded one, as nearly 200 attendees have already said they will attend on one Facebook event page.
UPDATE: Apparently such a large turnout is expected for the CAPS meeting that it has been moved to Inter-American Elementary School at 851 W. Waveland Avenue. The start time remains 7 p.m.
Popular in the Community