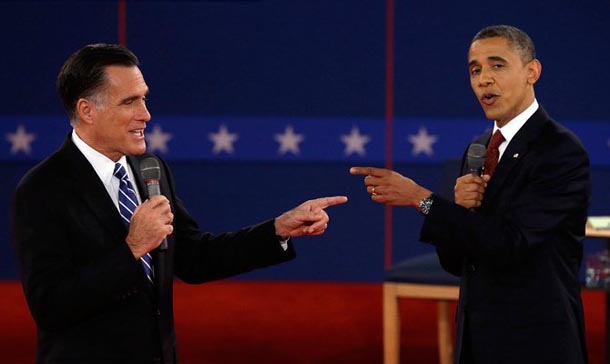 What a difference four years makes.
In 2008, during the second presidential debate--a town hall format similar to what we witnessed a few days ago--an audience member asked the two candidates: "I want to know what you would do within the first two years to make sure that Congress moves fast as far as environmental issues, like climate change and green jobs?"
In response, John McCain and Barack Obama both acknowledged the reality of global warming. Obama said it is "one of the biggest challenges of our times" and called for investments in solar, wind and geothermal technologies.
Last Wednesday, both presidential candidates were asked a less direct question. It was an ill-informed one about the Department of Energy's role in lowering gasoline prices, but it opened the door for both candidates to discuss energy issues--and climate change. But instead of reminding Americans about the threat posed by continuing our reliance on fossil fuels, Gov. Romney and President Obama jousted over the price of gasoline--which a president can't control--and bickered over who would do a better job promoting coal, oil and natural gas.
Yes, Obama did mention "clean" energy technologies as part of his "all of the above" strategy, and Romney said he "believe[s] very much in our renewable capabilities."
And yes, although the first two presidential debates and the vice presidential debate skirted the climate change issue, Romney and Obama did have a brief, heated exchange on it at their respective party conventions and have mentioned it sporadically on the campaign trail.
But given the audience nationally televised debates attract--and the importance of this issue to the economy, public health and the future of the planet--scientists, environmentalists and public officials have been urging debate moderators and the two candidates to address it directly.
So far, that hasn't happened.
There is one more debate, however, and appropriately, it will be held in Florida.
Why do I say "appropriately"?
When Romney gave his acceptance speech at the Republican National Convention in Tampa in August, he criticized Obama for promising " to slow the rise of the oceans and to heal the planet."
"My promise," he continued, "is to help you and your family."
The line was a reference to a statement Obama made in 2008 after winning the Democratic presidential nomination. "I am absolutely certain that generations from now," he said, "we will be able to look back and tell our children ... this was the moment when the rise of the oceans began to slow and our planet began to heal."
As it turns out, Florida is already struggling with rising sea levels from global warming.
Earlier this month, more than 120 Florida public officials, scientists, engineers and economists sent a letter to the two leading presidential candidates urging them to explain at campaign stops in the state and during the October 22 debate, which will take place in Boca Raton, what they will do about the problem.
The sea level jumped more than 8 inches along Florida's coast over the last century, the U.S. Army Corps of Engineers projects a 9- to 24-inch rise by 2060, and roughly 40 percent of the U.S. population most at risk from storm surges driven by sea level rise lives in the state. This presents a major headache for local officials. Cities and counties in South Florida likely will have to spend billions of dollars to deal with flooding and drinking water contamination, according to a recent Miami Herald story.
Fort Lauderdale, Hollywood, Miami Beach and other South Florida municipalities have struggled with seawater backing up into stormwater pipes, flooding streets and neighborhoods. Their stormwater pipes are designed to funnel water, which accumulates on city streets in heavy rains, into the ocean. But during seasonal high tides and extreme high tides like the one that occurred earlier this week, the pipes can become submerged by seawater. The seawater then backs up into the pipes onto city streets. To try to alleviate this problem, Miami Beach officials are considering a $206 million overhaul of their drainage system. Hallandale Beach, meanwhile, just spent $10 million on new drinking water wells because saltwater seeped into six of them located near the coast.
"Florida is ground zero when it comes to sea level rise," said Broward County Commissioner Kristin Jacobs, one of the officials who signed the letter. "Residents see this first hand, which is why local governments are leading the way in establishing policies to minimize and adapt to climate change."
Local attention to such climate change impacts as flooding is all well and good, but we also need a concerted federal response, and that has not happened. The federal government currently provides no funding for cities and counties to prepare for climate change, and attempts in Congress to place a cap on carbon emissions have failed. The letter, circulated by the Union of Concerned Scientists (UCS), calls on the next president to take action to mitigate sea level rise and help state and local governments adapt to it.
The upcoming debate is supposed to focus on foreign affairs, but global warming, as the term plainly states, is indeed a global problem. Last week, UCS contacted CBS News anchor Bob Schieffer, the moderator of the Boca Raton debate, urging him to pin Obama and Romney down on climate change. Tune in on Monday to see if Schieffer rises to the occasion.
Elliott Negin is the director of news and commentary at the Union of Concerned Scientists.
Popular in the Community