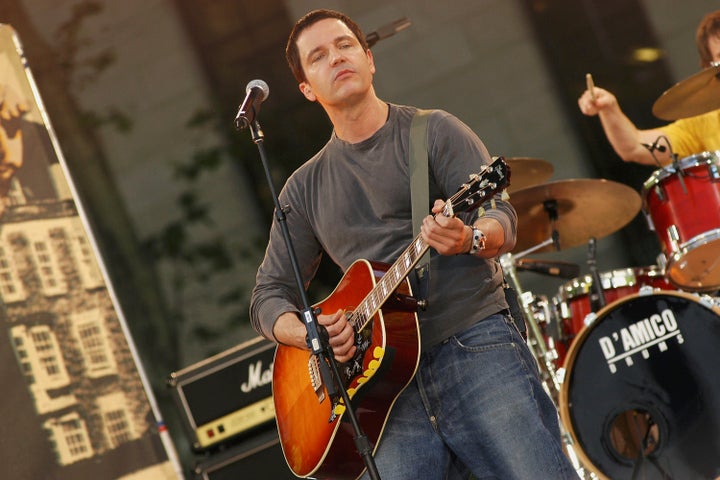 Never one to step back from the ledge separating music and politics, Third Eye Blind frontman Stephan Jenkins has penned an ode to the Occupy Wall Street movement.
Entitled "If There Ever Was A Time," the San Francisco alt-rock mainstay's newly released protest song kicks off with a bang--an audio clip taken from the gristly aftermath of a police-lobbed tear gas canister fracturing the skull of Iraq War veteran Scott Olsen at an infamous Occupy Oakland protest.
From there, the U.C. Berkeley valedictorian (really) says Zuccotti Park is everywhere and calls on the youth of America to take to the streets--all done in Third Eye Blind's trademark glossy post-grunge style.
The track can be streamed or downloaded on the band's Facebook page.
"I think college students are going to come to terms with the unfairness of student loans, the hallowing out of jobs from finance based capitalism, and the depletion of public wealth," said Jenkins in a post on Third Eye Blind's website. "When you take money out of politics, which is what Occupy Wall Street is about for me, you reverse these trends. This song is meant to encourage their participation. I hope we flood this movement with music."
Jenkins has long been outspoken politically and often embedded political messages in his songs. In a tongue-in-cheek blog post on Huffington Post San Francisco earlier this year, he advocated for Oracle billionaire Larry Ellsion to become the next Republican nominee for president.
if there ever was a time, it would be now
is all I'm saying
if there ever was a time to get on your feet
and take it to the street
cause you're the one who's getting played right now
by the game they're playing
come on meet me down at Zuccotti park

oh where are the youth, we need you now
come speak the truth, come break it down
where are the youth, we need you now

if there ever was a time, it would be now
to make the masters hear this
if there ever was a time to get downtown
and get non violent and fearless
things only get brighter when you light a spark
everywhere you go right now is Zuccotti park

and news corps says you don't have a plan
well sit down man, i'll tell you again
the plan's to stand together up to greed
and a tear gas can in a veteran's face
won't change the case

(chorus)

if there ever was a time, it would be now
for the rest of us
if there ever was a time it would be now
cause money and power are incestuous
a moment makes a movement
or it fades out in the dark
come on meet me down at Zuccotti park

and i saw a sign in the oakland spring
it said "occupy everything!"
or by and for and off won't mean a thing
Check out this video of Jenkins discussing the politics behind Third Eye Blind:
Calling all HuffPost superfans!
Sign up for membership to become a founding member and help shape HuffPost's next chapter