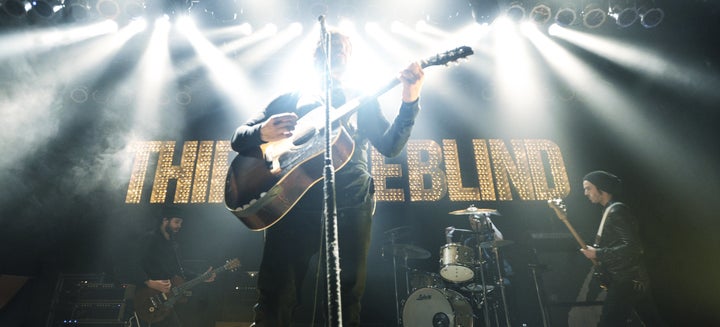 There was a hint of irony in the final song Third Eye Blind performed Tuesday night to a crowd of people in Cleveland for the Republican National Convention.
"If you do not want to see me again, I would understand," frontman Stephan Jenkins sang during a performance of "Jumper." There was a good chance event organizers didn't particularly care to see the group ever again.
The band stopped periodically during its set to, as Jenkins said, "repudiate" the Republican Party's platform.
Third Eye Blind closed its show, which featured mostly new material, with the 1998 hit single "Jumper" in order to advocate for gay rights, Billboard notes. The song is "a noir about a guy who jumped off a bridge and killed himself because he was gay," Jenkins explained from the stage. He asked the crowd to be more open and accepting of others, including people like his cousins, who are gay:
"Raise your hand if you believe in science," Jenkins said at another point during the concert. Many people responded by booing.
The jeers didn't seem to bother Jenkins. (The clip below contains some explicit language.)
The invitation-only concert, which raised money for charity, was not officially sanctioned by the convention. However, the Recording Industry Association of America, which sponsored event, specifically scheduled it to coincide with the Republican gathering.
Third Eye Blind declined an offer to play at a private party during the GOP convention in 2012. Jenkins explained in a Huffington Post blog post that, while the band is "happy to play for Republican fans," performing at the convention would be a "tacit endorsement" of "a party dedicated to exclusion."
In a Facebook post published Wednesday afternoon, the band stood by its decision to perform at the event.
This article has been updated with Third Eye Blind's Facebook post.
Before You Go
Best Photos From The Republican National Convention
Popular in the Community