If you're a digital marketer or website owner in 2015, chances are your third eye is on search engine optimization (SEO) now more than ever. Why? SEO not only tops the charts for generating leads and creating new business, but it's also one of today's most sought-after skills and talents. Businesses small and large recognize the precious value of digital marketing and the positive impact SEO can have on the health of a business.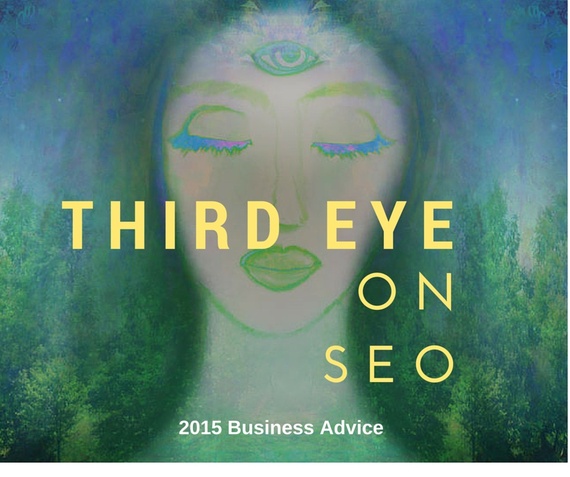 In its simplest form, SEO dictates the relationship between search engines and a website, regardless of device. If your website or blog doesn't have a good "relationship" with the likes (and links) of Google's algorithms, this can mean little-to-no visibility in search results. Not showing up in search results for your targeted keyword phrases related to your business's products or services means a drastic loss of potential business.
While the term SEO has only been around since 1997, the marketing process has gone through many transformations, iterations, interpretations, and even exaggerations over the past two decades. Thanks to Google's constantly changing (and secret) algorithmic recipe, webmasters who once held the keys to controlling search results are no longer in charge, and influencers such as quality content and social media activity are playing a larger role in search marketing.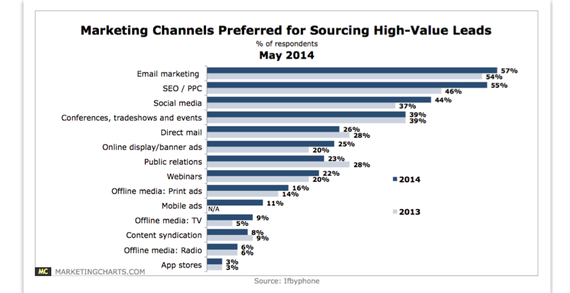 Factor this in: organic search remains the leading way U.S. adults find online information and websites, according to a Forrester Research survey, beating out social media gorilla Facebook, good old-fashioned TV ads, and even trusted and true news stories.
Because of this, brands have no choice but to put their time, money, and resources where the search is, as experts predict SEO and search engine marketing (SEM) will continue to capture the largest share of online spend at 47 percent, or about 14 percent of the firm's total marketing budget.

Winning the SEO Learning Curve
Since SEO is no longer dictated by a webmaster's bag of tricks and is becoming more of a mainstream business line item, the need for education across multiple departments, generations, titles, and positions is increasing.
The influence and potential of SEO is more of a team effort ranging from keyword and competitive research, content writing and optimization, visual and multimedia, linking and, of course, understanding how to avoid the wrath of Google penalties.
In 2015, silos are being broken down and SEO is becoming more of a joint effort involving roundtables of input from traditional marketing, online marketing, and public relations. Influencing search results is now a team effort more than ever before.
Until higher education catches up to the digital marketing revolution, however, there will continue to be a lack of official SEO degrees. Until then, it's up to individuals, brands, and agencies to create a self-taught curriculum as a means to:
guide themselves, but also guide clients;
intelligently interpret data reports; and
hire the right talent.
So what's a business owner or marketing professional to do to stay ahead (or at least in the know)? One option is to take advantage of reliable and reputable sources offering free guides, content and tutorials on all aspects of SEO. And as SEO becomes more mainstream, it has become a worthwhile investment for marketing service providers to dedicate a large portion of their own content marketing resources to educational and online learning tools that come with an attractive price tag: free!
The Business of Education
"We built our business on a foundation of training and education, helping people understand the why behind the best practices and the search engine guidelines behind white hat SEO methods," said Mindy Weinstein, Bruce Clay, Inc.'s Director of Education.
"Within our website, the SEO Tutorial has always been a top SEO asset and traffic getter. In revamping the SEO tutorial we set out to make the most up-to-date, comprehensive step-by-step resource that is useful to everyone with a business website."
Free, Do-it-Yourself SEO Curriculums
Bruce Clay, Inc.'s SEO Tutorial provides a robust SEO tutorial in a step-by-step guide that teaches you how to optimize a website for search.
"We've even integrated free tools that you can run from the tutorial - tools that let you research keywords, analyze competitors, identify on-site technical issues hurting your rankings, report your indexed pages and uncover inbound links to yours or a competitor's site," said Bruce Clay, who founded the Internet marketing agency, Bruce Clay, Inc. in 1996, two years prior to Larry Page and Sergey Brin founded Google.
Digital Relevance offers a resource center packed with cheat sheets, guides, and white papers ranging from SEO to content marketing to analytics.
What was first designed to help teams within Google understand SEO is now available for free to webmasters or anyone interested in learning straight from the source.
Hubspot, the inbound marketing platform around since 2006, serves up an entire marketing library, including debunking the latest 2015 SEO myths and more.
Launched as an SEO agency in 2004, Moz is a now dominating marketing software company offering a packed, free learning center with a beginner's guide to SEO, webinars, the Moz academy, and SEO quizzes to test your knowledge.
Based on the periodic table of SEO, Search Engine Land's SEO Guide is a practical, step-by-step guide about the ins and outs of SEO.
The Content Marketer's SEO Content is Working
SEO tutorial and guide publishers are finding that many types of business professionals are using guides as a first step to train staff, since wasn't likely taught in college.
"Most of the people we know who use the Moz guides are either entrepreneurs or lead marketing teams that are hiring outsourced SEOs (and thus want to have a good understanding of the basics so they can make smart choices about their contracting), or they're teams/people hiring full-time marketers to focus on SEO that want resources to help train those folks up. Both are great use-cases, and the guides can also be helpful for individual entrepreneurs or website operators who want to make sure they're following basic best practices," says Rand Fishkin, Wizard of Moz and co-founder.
The logical step beyond the freebies are next steps such as paid webinars, certifications, and, of course, conferences.
But, Fishkin offers this advice: "Real world experience! Seriously, running a website, producing content, trying to earn rankings, spending time reversing the success of a savvy competitor, and/or auditing a site to understand what's working vs. not is a wonderful way to teach yourself and stay sharp. As you encounter questions, you'll go digging for answers, and at the end of that process, end up wiser than any guide (even Moz's!) could make you."
If you're looking for a deep dive into the world of search marketing and want live interactions and networking opportunities take the opportunity to earn credentials such as a certification.
Paying to Play: SEO Conferences and Classes
Online Marketing Institute: Offers SEO subscription-based or on-demand learning in addition to corporate training events.
Pubcon: Known for its Las Vegas destination and after-hours networking, as much as for its hardcore SEO speakers and attendees. "Attending Pubcon or other top industry conferences is a logical next step to expand your knowledge base and peer network. This industry moves very quickly," says Joe Laratro, Pubcon's Lead Moderator and Advisory Board Member. "Knowing who to listen to can be just as valuable as knowing what to listen to."
Search Marketing Expo: With Search Engine Land's founder Danny Sullivan, this conference offers a mix of SEO and social content for beginners, the advanced, marketers, and other agency professionals.
SES/ClickZ Events: Ranked with a broader digital marketing agenda, here you can find an array of local events, online training, and regional digital marketing conferences.
Search Engine Journal Events: 2015 includes an agenda of local #SEJSummit events in locations such as Chicago, Miami, and Santa Monica.
What do the SEO content experts say about 2015?
Bruce Clay: New behaviors

"2015 will be a year of radical change driven by new behaviors in mobile use, voice technology and shopping. Amazon will become as dominant as Google this year, and that might shift budgets within PPC. SEO becomes much more important and competitive as ranking factors shift. Big changes ahead so keep your eyes open and finger on the pulse."
Rand Fishkin: Logic and holistic
"In some ways, SEO is becoming more logical and more holistic, thus requiring less deep specialization for those who aren't SEO professionals. However, because of the broadening of both signals that impact search rankings and the increasing and the broadening of tactics/opportunities available for SEO success, there's a ton more knowledge that can actually help you do better."
Joe Laratro: Diversification
"Diversify! Organic search can not be depended on as an everlasting resource for traffic. The time spent on SEO should focus on best practices, innovating beyond the basics of content marketing and building your brand in every possible way. I am very bullish on using traditional PR this year. Mobile SEO compliance will be a thorn in webmaster's sides if they are not doing it properly."
Danny Sullivan: Mobile user experience
"Pay even more attention to mobile, not just in terms of ranking but more about the landing page experience, ensuring that your arriving search visitors from mobile are getting a great experience. I think we'll also see continued growth of structured data opportunities. We'll also likely see Google to continue to grow direct answers, which will probably make SEOs nervous about whether they're going to lose traffic. I think even despite this, however, SEO traffic will remain strong."
What if Google Doesn't Like You?
Taking all your toys and going to play (or sell) somewhere else might be an option. Sure, you can find other search engines or social media friends. But considering Google dominates as the world's largest search engine (owning 67+ percent of the market), you might want to think twice about staying on its good side.
"Having a firm understanding of the fundamentals of SEO is critical to the business of any website, digital marketing strategy, or related effort, where a strong SEO foundation is essential to ensure success," says Aaron Kahlow, CEO and founder of Online Marketing Institute.
"Our recent Digital Marketing Talent Gap Study showed that Content Marketing, Mobile and SEO were among the top skills employers felt they needed but yet could not find and with nearly 91% of the executives saying they need more help with getting traffic to their site, its no wonder SEO is more important than ever."
Whether you choose to educate via free, paid, or real-time experience of running your own website, SEO is here to stay. And it promises a future of change and opportunity for those who keep a third eye on SEO.
Calling all HuffPost superfans!
Sign up for membership to become a founding member and help shape HuffPost's next chapter