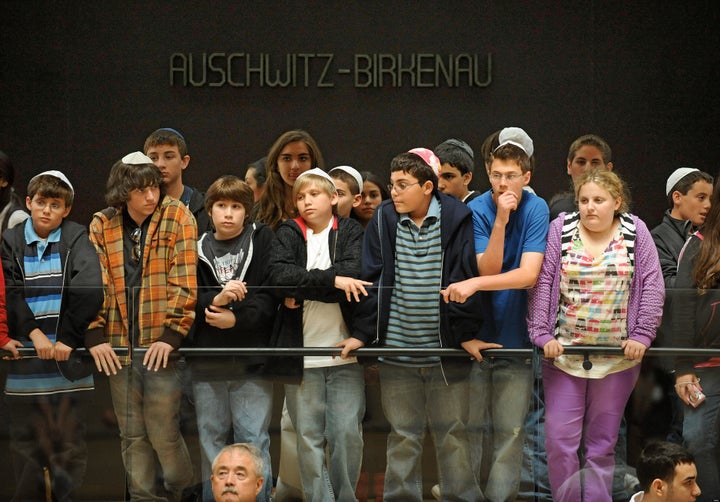 By Ken Garfield
Religion News Service
CHARLOTTE, N.C. (RNS) A new voice is rising up to say "Never Again."
In the language of the Holocaust, they are known as the 3G'ers--the third-generation grandchildren of Holocaust survivors who are devoted to recounting the stories of their elders.
As survivors die and their sons and daughters advance in years, a growing number of 3G'ers understand that it's their turn now to talk to school groups, maintain websites, create Facebook pages, write blogs and bond with their peers--all in hopes of keeping history alive.
Throughout April, as Yom HaShoah (Holocaust Remembrance Day) gatherings recall the death of 6 million Jews and 5 million others at Hitler's hands, 3G'ers like 14-year-old Elyse Bodenheimer are lighting their own candle.
"We're the next generation to tell the story," she says.
In many ways, Elyse is a typical American adolescent: She fights with her little brother and insists she's outgrown Miley Cyrus for Taylor Swift. But how many 14-year-olds created a website so other grandchildren of survivors can post their family stories? It's been Elyse's passion since the fifth grade, when her class was assigned to write about someone who witnessed history.
She picked her paternal grandfather, Bert, who grew up under Nazi rule in Germany before fleeing for Switzerland and then New York in 1939. Bert Bodenheimer eventually settled in Stamford, Conn., with his wife, Ellen, and became an engineer. He died in 2008 at age 79, but in a sense, he lives on through Elyse's site, http://www.myjewishlegacy.com.
As Elyse shares when she talks to school groups or meets Holocaust survivors for lunch and conversation, myjewishlegacy.com has been viewed 4,000 times since the site went live last year as part of her bat mitzvah, the coming-of-age rite celebrated by Jewish girls at age 13.
People in Canada, Israel, Poland and Russia have come to her site to share their family history, and to read other survivors' stories.
Mindy Prosperi posted a story about her late grandfather, Leon Fajgenbaum, who survived Nazi rule in Poland: "Despite the immensity of the pain he carried with him, he never lost his even greater capacity for love," she wrote.
After Elyse spoke at a local middle school, several students posted thank-you messages on the Web site's guest book, including this one from a girl named Elizabeth: "I'm really interested in the Holocaust, but sometimes it's just too overwhelming for me to research, so I always appreciate hearing stories from other people about it. I'm 100 percent Irish, and I'm the third generation from Ireland, but my grandfather Herbert `Skinny' Dugan got drafted to fight during World War II. Thank you very much!"
Other 3G'ers--many of them older than Elyse--are finding other ways to keep the stories alive.
Earlier this month in Boston, a group called Boston 3G co-sponsored a "Frozen Memorial" at famed Faneuil Hall: Dozens stood frozen in place at 1:20 p.m. for three minutes to honor the memory of the 1.2 million Jewish children who died in the Holocaust.
In Washington, Aaron Biterman says 3G'ers have gotten together at ballgames, picnics and through Facebook. Biterman, 27, whose grandfather survived a dozen Nazi camps, says social events and social media allow the grandchildren of survivors to encourage one another to keep telling their stories.
In Chicago, the 3G group's Facebook page is promoting a Holocaust Survivor Cookbook--"Recipes Your Family Will Enjoy, Stories They Will Never Forget." And there's Biterman on the Chicago Facebook page, promoting his grandmother's April 28 speaking engagement in Milwaukee. Tauba Biterman, he writes, escaped death by first being hidden and then passed off as a German from the Black Forest.
In New York, 3G'ers gathered recently to view artist Julie Mauskop's work, "Survivors," which honors her grandparents' survival at Auschwitz. 3G NY has also hosted happy hours, book readings and a genealogy workshop for participants to trace their roots.
In Los Angeles, the University of Southern California's Shoah Foundation Institute, which has videotaped 52,000 survivors' testimonies, is hoping to engage 3G'ers in helping to preserve more survivors' stories.
"It's their legacies," the Institute's Talia Cohen says.
In Philadelphia, Rita Ratson, 62, whose parents survived a Siberian labor camp, is in charge of reaching 3G'ers for the group Children of Jewish Holocaust Survivors. She says it's not easy convincing busy 20-somethings to slow down and focus on such a dark moment in time, perhaps even giving up a Friday night to tell their family's story at Sabbath services.
"They're young," Ratson says, "raising children, making a life."
But as challenging as it is to pass down determination from one generation to the next, the Philadelphia group isn't stopping with 3G'ers. They're organizing a breakfast matching those who survived Dachau, Buchenwald and other concentration camps with 400 of their great-grandchildren--call them the 4G'ers--many of them 11 and 12 years old.
Back in Charlotte, Elyse is already thinking about what she wants to do beyond eighth grade. She's taking a long look at law. Whatever she does, Elyse says, she's determined to get into public speaking so she can "just keep talking to people about the Holocaust to make sure it never happens again."
Popular in the Community