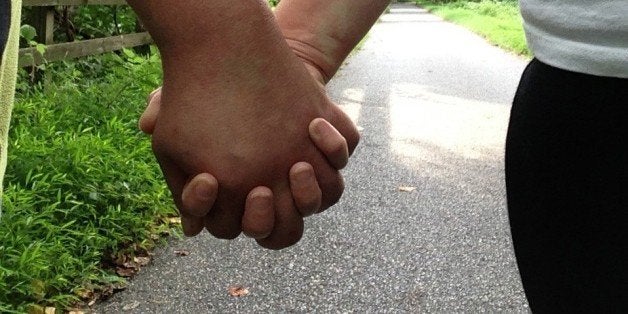 When James and Dana* got engaged in 2004, they thought they would do the "stereotypical, you get married, you buy a house, you have a baby, have two cars in the driveway" thing, Dana said.
Both worked for nonprofits in Washington. She was a programs manager for an organization that focused on HIV prevention and women and children's health in Africa. He was an attorney tasked with researching cases and writing briefs. They both planned to stay in their fields; Dana was passionate about the issues she worked on, and James had always felt that law was his calling. At first, they felt engaged in their careers, and Dana recalls that their "stress level was actually pretty low."

Then things started to change. Within a few years, James became more and more unhappy at his job.
"I missed working with people day to day, talking to people," said James, who did most of his work in law libraries.
So he quit his well-paying lawyer gig and got a job at Whole Foods, working his way up to become a store manager. Dana worried about money at first -- she had gone back to grad school at that point, and although James now makes slightly more than he was earning in the legal job he left, he took an initial pay cut of almost 50 percent.
But she discovered she was relieved, too. "I wanted him to be feeling like he was doing what he was cut out to do," she said.
Five years after James changed careers, Dana had a professional crisis of her own. She had a nonprofit job she loved, but because of the long hours, frequent travel and competitive culture, her stress levels skyrocketed. "There was always that feeling of needing to work extra to prove that you were really dedicated," she said.
She didn't have time to exercise or visit her family in Boston. Her schedule meant that James was often home alone, and when they were together, he was soothing Dana. "I tend to be the more tightly wound one, and he's very good at taking me by the shoulders and saying, 'let it go.' He was doing that every single day."
"My whole life was focused around work," she said. "I felt physically unhealthy, mentally unhealthy. I was losing touch with everything."
Confident in her abilities and the network of contacts she had amassed over the years, Dana quit, too. She took on consulting work while she figured out her next move, but what she thought were filler projects ended up suiting her more than the job she'd left behind. Now she spends half of her time as a breastfeeding counselor to new parents, and the other half freelancing on international maternal and child health projects.
The change in Dana and James' life was immediate. "I just started feeling better. I was happier," said Dana, which meant James was, too. "Not being as stressed makes me a less grouchy person who he wants to hang out with," she said.
Dana started taking Pilates and ran a half-marathon with friends a few months ago. "I never would have before. I said, 'I can actually fit this in now.'"
But that was just the beginning of what they describe as a larger and more gradual shift in priorities.
Ironically, finding jobs they enjoyed resulted in work playing a less central role in their lives. "We're certainly dedicated to our careers, but we no longer think in terms of moving up," said Dana. "We really have focused on having jobs that we enjoy and feel fulfilled by, and if it takes a little bit longer to advance, that [is] OK."
Money has become less of a focus, too. "I don't care if I'm ever rich," said James. "We definitely want to be comfortable, but I don't need a bunch of fancy cars." The only new car either of them has ever owned is the one they bought together a year ago.
"D.C. is a very high-pressure city," Dana said. "When we were younger and James was a lawyer, he had friends at the big-name firms making lots of money. They had really nice cars and bought homes when they were 24 years old. When you're surrounded by that, it's hard not to think that's what you want. Maybe around the time we were getting married, we thought, 'in 10 years when we're in our 30s, that'll be us.' Now we're here, and we want to be comfortable, but we want to enjoy life in a different way."
Their focus on building a third metric life for themselves is part of the reason they've waited to start a family. It's not just that parenthood is known to put a strain on marriage. James and Dana believe the time they've invested in building a balanced life together will benefit their future children as well.
"It's worked out," said Dana. "I think not following the path that we thought we would, will actually make us better role models for our kids."
*Names have been changed.
Related
Before You Go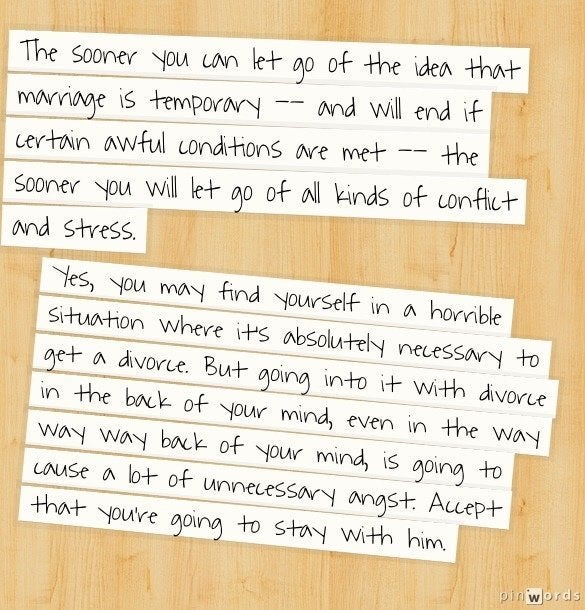 How To Have A Stress-Free Marriage