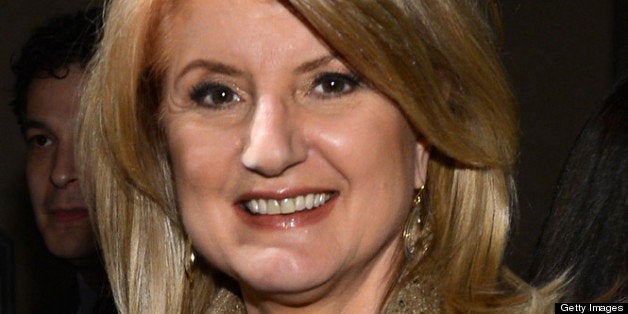 The current (predominantly male) model of success virtually requires driving ourselves into the ground.
What if as a culture we decided to make a dramatic shift? What if we decided to gauge success in terms of well-being, wisdom and the ability to make a difference in the world?
To explore that question, The Huffington Post is hosting its first ever women's conference, "The Third Metric: Redefining Success Beyond Money & Power." On June 6, Arianna Huffington and Mika Brzezinski will lead a day of discussions with experts in a variety of fields, from business to media to wellness, around developing saner, more sustainable paths to achievement -- for both women and men.
Though the event itself is fully booked, the online conversation has kicked off already here on HuffPost. We invite you to check out the blog posts our speakers and attendees are writing on the subject and also to let us know if there are any issues you think we absolutely must discuss at the conference. You can tell us about those in the comments below or by tweeting your questions or thoughts using the hashtag #thirdmetric.
To keep that conversation going and to give you a better sense of what the third metric entails, here is a tentative schedule for the conference, including the different panels we have slated and the lineup of our confirmed speakers. Take a look!
The Third Metric: Redefining Success Beyond Money And Power
10:00 - 10:15 - Welcome: Arianna Huffington & Mika Brzezinski
10:15 - 11:00 - Leadership & Wisdom
Moderator - Arianna Huffington
Panelists - Penny George, John Mackey, Senator Claire McCaskill, Megan Smith, Tony Schwartz, Padmasree Warrior
11:00 - 11:30 - Mika Brzezinski and Arianna Huffington in a conversation with Valerie B. Jarrett
11:30 - 12:15 - Leaning In & Leaning Back
Moderator - Erica Hill
Panelists - Susie Essman, Cindi Leive, Rebecca Miller, Jennifer Steinmann, Ali Wentworth, Tanya Wexler
1:00 - 1:45 - Managing a Frenetic Life
Moderator - Arianna Huffington
Panelists - Candice Bergen, Susan Cain, Joanna Coles, Angie Hicks, George Stephanopoulos
1:45 - 2:00 - Performance by Grammy Award-Winning violinist Miri Ben-Ari
2:00 - 2:45 - Mind/Body Connection
Moderator - Katie Couric
Panelists - Dr. Mark Hyman, Janice Marturano, Dr. Donna Rockwell
2:45 - 3:00 - Breathing Break with Joan Witkowski

3:00 - 3:45 - Wellness and the Bottom Line
Moderator - Mika Brzezinski
Panelists - Jill Abramson, Mark Bertolini, Ezekiel Emanuel, Patricia Fitzgerald, Sue Gebo, Dr. Dean Ornish, Emily Senay, Diane Smith
3:45 - 4:30 - Taking Care of our Human Capital
Moderator - Pilar Gerasimo
Panelists - Desiree Gruber, Jacki Kelley, Sallie Krawcheck, Alexandra Lebenthal, Susan Sobbott, Agapi Stassinopoulos
4:30 - 5:00 - Re-working Work
Moderator - Jody Greenstone Miller
Panelists - Cynthia Brill, Amishi Jha, Nancy Josephson, Carolyn Buck Luce, Nell Minow, Elsa Walsh, Cali Yost
5:00 - 5:30 - Giving Back and Raise for Women Announcement
Moderator - Lesley Stahl
Panelists - Cathy Isaacson, Sally Osberg, Jill Van Den Brule, Paula Zakaria
5:30 - 6:00 - Our Daughters
Moderator - Christina Huffington
Panelists - Kate DeOssie, Daphne Oz, Clemantine Wamariya, Monica Yunus
6:00 - 6:45 - Do Men Get It?
Moderator - Mika Brzezinski
Panelists - Brian Andreas, Bill George, Adrian Grenier, Tim Ryan, Joe Scarborough, Matt Seiler
6:45- 7:00 - Closing Remarks by Mika Brzezinski and Arianna Huffington
7:00 - 8:00 - Cocktail Hour by Dom Pérignon
~~~~~~~~~~~~~~~~~~~~~~~~~~~
Sponsored by Deloitte and American Express
Calling all HuffPost superfans!
Sign up for membership to become a founding member and help shape HuffPost's next chapter