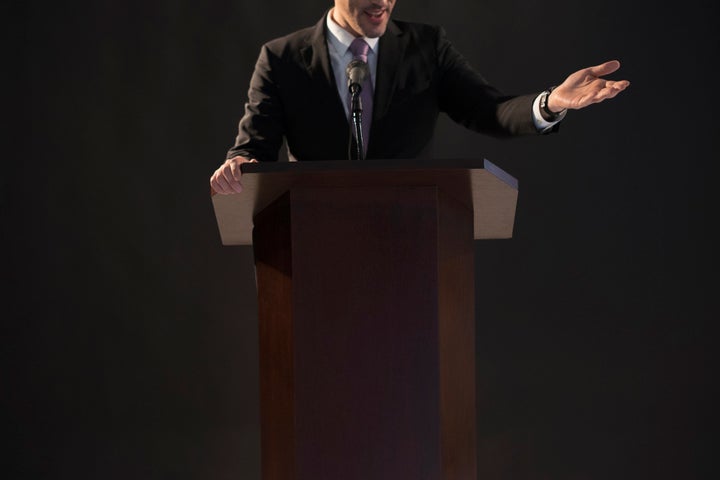 A small but significant minority of voters would be interested in a more ideologically pure alternative to the two likely presidential nominees, a new HuffPost/YouGov poll finds. But that doesn't necessarily mean they'd actually vote for one.
Ten percent of voters say they'd be very likely to vote for a liberal challenger over Hillary Clinton or Donald Trump, with 16 percent saying they'd be fairly or somewhat likely, and 62 percent that they would not be very likely to do so. An equal 10 percent say they'd be very likely to support a conservative alternative to Clinton and Trump, with 57 percent calling themselves unlikely to do so and 21 percent falling somewhere in the middle.
Even if only the "very likely" voters followed through, it would be enough of a bloc to serve as a possible spoiler either for Clinton or for Trump. It would also be a rare feat. While Ross Perot took 19 percent of the vote in 1992, less than 2 percent of voters cast a ballot for a third-party candidate in 2008 or 2012. 
But there's reason to doubt that many of those voters will end up backing someone else in November. Back in April 2012, 40 percent of voters said they'd "definitely consider" or "probably consider" supporting an alternative to Mitt Romney or Barack Obama, according to an NBC/Wall Street Journal poll. Such an insurrection never materialized.
This year, of course, doesn't exactly look like past years. Both Clinton and Trump are historically unpopular. And unlike in other recent elections, a substantial slice of the GOP establishment, rather than falling in line, is actively plotting to take down the presumptive nominee.
But saying you'll desert both the leading candidates and the two-party system isn't the same as actually doing it. A test for third-party support, set up by political scientist Steven Rosenstone and noted previously by Republican pollster Matt Dabrowski, shows that "[a] potential third-party voter must reject both the Republicans and Democrats and both the Republican and Democrat nominees" -- although this year's political climate could make that easier than usual.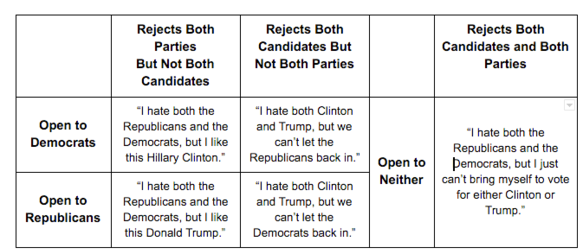 Or, as the Washington Post's Chris Cillizza puts it:
Think of it this way. You are really hungry. You have three options to eat. The first is blood pudding. The second is liverwurst. (Let's assume you are a normal person and hate both of those things.) The third is an unidentified food. You immediately begin fantasizing about what that third food might be. A cherry pie? A nice steak?  Ice cream? Pizza? It's something different for most people. But the fact that it's an option without any specifics attached to it makes it instantly appealing. It could be the exact thing you have been craving!

You inevitably would choose the third option for that reason.
Or, to put it a third way:
Asked to name any politician they'd especially like to see run as an independent, voters in the HuffPost/YouGov poll clustered most around Vermont Sen. Bernie Sanders, who has ruled out a third-party bid if he loses the nomination, followed by Texas Sen. Ted Cruz, who's done the same. Candidates who have actually declared, like Libertarian candidate Gary Johnson and Green candidate Jill Stein, were mentioned just eight times and once, respectively.
There are more concrete roadblocks for a new third-party candidate to enter the race. Time is running out for would-be challengers to get their name on the ballot; in Texas, the state with the second-largest number of Electoral College votes, the deadline has already passed.
Until a viable third-party candidate actually declares for office, polls about one can't reliably predict how likely voters are to defect. But they do serve as a measure of dissatisfaction across the ideological spectrum.
Voters in both parties are more likely than not to be comfortable with their presumptive nominee's ideology, but significant blocs, especially in the GOP, would like to see their candidate move a little further from the center.
Fifty-four percent of Democratic and Democratic-leaning voters think Clinton's ideology is about right, while 26 percent say she's not liberal enough and another 7 percent say she's too liberal. On the other side of the aisle, 47 percent of Republicans and Republican-leaning voters consider Trump about right, while 34 percent say he's not conservative enough and 7 percent say he's too conservative.
The big question is whether that dissatisfaction will be enough to make the staunchest partisans seek out another option, or simply to keep them home on Election Day. In most elections, signs would point to "no" -- and this year, despite the ongoing primary, Democrats are generally positive about Hillary Clinton, and Republicans are warming to their presumptive nominee. But this election has defied predictions before.
The HuffPost/YouGov poll consisted of 1,000 completed interviews conducted May 6 - May 9 among U.S. adults, using a sample selected from YouGov's opt-in online panel to match the demographics and other characteristics of the adult U.S. population.
The Huffington Post has teamed up with YouGov to conduct daily opinion polls.You can learn more about this project and take part in YouGov's nationally representative opinion polling. Data from all HuffPost/YouGov polls can be found here. More details on the polls' methodology are available here.
Most surveys report a margin of error that represents some, but not all, potential survey errors. YouGov's reports include a model-based margin of error, which rests on a specific set of statistical assumptions about the selected sample, rather than the standard methodology for random probability sampling. If these assumptions are wrong, the model-based margin of error may also be inaccurate. Click here for a more detailed explanation of the model-based margin of error.
Calling all HuffPost superfans!
Sign up for membership to become a founding member and help shape HuffPost's next chapter