ST. LOUIS - Shortly into Sunday night's wildly anticipated debate, Donald Trump made a campaign promise that might be more fitting in Vladimir Putin's Russia than modern American politics: If he were president, he told Hillary Clinton, "you'd be in jail."
It was part of a performance from Trump that put to rest the question, if it was still open, of whether Trump is fit for the presidency. Nobody appeared more aware of that reality than Trump, whose strategy seemed to be to extract as much public humiliation from Clinton as he could, rather than to win the election.
His acquiescences to reality also came through in his final answer, when, after trashing Clinton for 90 minutes, the candidates were asked to say one nice thing about each other. Clinton complimented Trump's children, but Trump effusively praised Clinton's indefatigable spirit.
"I will say this about Hillary. She doesn't quit. She doesn't give up. I respect that. I tell it like it is: She is a fighter. I disagree with much of what she's fighting for. I do disagree with her judgment in many cases, but she does fight hard and she doesn't quit and she doesn't give up, and I consider that to be a very good trait," he said.
It was miles away from the opening moment. Walking out on stage, neither candidate offered a handshake to the other. Trump, from the beginning of the night, was in a dour mood, as if he hadn't slept much since the Friday revelations of his "locker room talk." His down-tempo demeanor clashed starkly, however, with the message he delivered. Just 17 minutes after the debate was scheduled to begin, Trump launched into the attack he had telegraphed after the last debate, when he said he went easy on Clinton by not bringing up Bill Clinton's treatment of women, out of respect for their daughter, Chelsea.
"There's never been anybody in the history of politics in this nation that's been so abusive to women," Trump said of Bill Clinton, going on to add that several of his accusers were right there in the audience.
Clinton and her campaign had days to decide how to respond to this move, and the decision they made was clear: ignore it. Clinton pivoted immediately back to Trump's comments that emerged Friday where he boasted about using his celebrity status to sexually assault women.
Trump dismissed his comments as "locker room talk" and denied that he had ever sexually assaulted a woman or done the things he bragged about doing in 2005. But at the very least, he still emerged as the type of guy who thinks it's normal to brag in private about sexually assaulting women.
Trump had hinted for days that he would try to shift away from his problems to Bill Clinton's women troubles at the debate, but he couldn't even wait that long.
With zero notice to the reporters traveling with him, Trump arranged a photo opportunity less than two hours before the start of the debate with three women who have accused Clinton of inappropriate sexual behavior, as well as the woman whose accused rapist Hillary Clinton represented in court decades ago.
Reporters were brought into a conference room at a downtown hotel a few miles from the Washington University campus for what was advertised as "debate prep." There, they listened to four minutes of statements from the women, and then were ushered out again. Some asked questions of Trump regarding Friday's revelations, but Trump did not answer.
Trump, at times, seemed unsure what to do on stage without a podium to stand behind. He unbuttoned his jacket early, and as it hung off him, it added to the perception of his fatigue. He often circled behind his chair, leaned forward against it and closed his eyes.
During one awkward moment early on, Trump creeped a few feet behind Clinton and stood there while she spoke.
The debate turned testy between Trump and the moderators, Martha Raddatz of ABC News and Anderson Cooper of CNN, with Cooper repeatedly asking Trump not to interrupt Clinton. Late in the debate, Raddatz seemed fed up. Trump mocked the U.S. military for telegraphing its attacks on Mosul in Iraq several weeks in advance, giving ISIS leaders time to escape.
Raddatz, instead of moving to another question, began explaining to Trump that sometimes the military has good reasons to make those decisions, including to warn civilians. In any other debate, it would have been an extraordinarily remarkable moment. On Sunday, it was par for the course, wedged between Trump calling Clinton "the devil" and saying she has "tremendous hate in her heart."
For her part, Clinton turned in a less-than-inspiring performance. Her strategy seemed to be to get out of the way of Donald Trump, and just let his dumpster fire burn. And burn it did.
Before You Go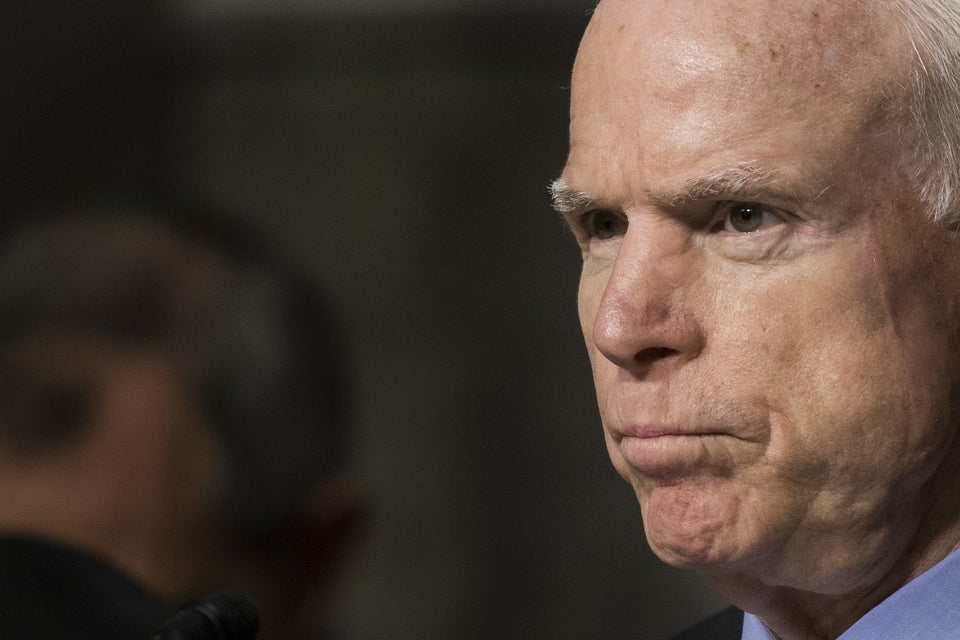 Republicans Who Have Withdrawn Their Support For Donald Trump
Popular in the Community