Yesterday, on the steps of City Hall, former NYC Mayor Ed Koch endorsed Leslie Crocker Snyder for Manhattan DA. saying, "She is the most qualified candidate ... because of her life-long commitment to fighting for equality and justice." Snyder would be the first woman to hold this position (on television, the Candice Bergen character on Boston Legal is modeled after her). Snyder has prosecuted mafia members and drug lords and gang members with endearing names like the Jheri Curls and the Young Talented Children. She created the first sex crimes unit in the United States, writing the Rape/Shield law that, to this day, saves rape victims from malicious and overly-broad cross-examination that sullies them in ways that have nothing to do with the trial. And, perhaps most colorfully, she is a survivor of the extremes of pre-feminist City Hall and has the best war stories about dealing with the issues of being "the first woman who ..." again and again. If she wins in November, she'll be "the first woman who" becomes Manhattan DA.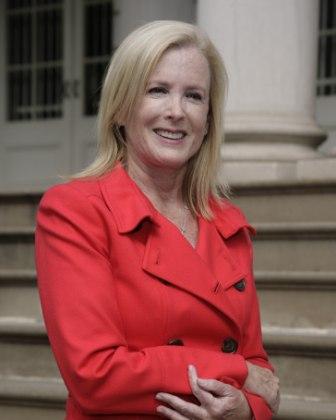 I became aware of Snyder when I read her book, 25 to Life: The Truth, the Whole Truth, and Nothing But the Truth, a riveting memoir of her years on the bench. The title comes from the fact that drug lords nicknamed her "25 to Life" because they received maximum sentences from her with such dedicated regularity.
Did I mention that, back in the darkest days of discrimination, the venerable and mythic former Manhattan DA Frank Hogan asked Snyder, then one of his top-performing young prosecutors, to get a note from her husband before he'd let her try murder cases? Fraud was more ladylike than murder, he told her. I'm not kidding.

Third Screen: Tell me about working for Frank Hogan.
Snyder: I was one of the first women in Manhattan DA Frank Hogan's office. As a woman, you had to prove yourself a little longer and harder. After being allowed to try felonies, I wanted to go to homicide and try murder cases. He didn't think a woman should do that. Finally, on one occasion, he said he'd consider it. If, he said, you bring a letter of permission from your husband. I did not bring a letter and I did get to go to the homicide bureau.
Third Screen: What was it like? Were you shunned like Serpico?

Snyder: Well, I'll tell you a funny story about being shunned by a neighbor. It's different now, but in those days in homicide, if a detective caught someone, you'd get a call, day or night, to go down to that precinct and interview the defendant. One night, I get a call to come down to the homicide bureau and I'm pregnant at the time, very, very pregnant, so my husband walks me down to the marked radio car that pulls up to take me there. A neighbor, a little old lady, all dressed up and probably returning from a gala, looked at me getting into the back of this car, shook her head, and never spoke to me again.
Third Screen: She thought you were being arrested, or abandoning your husband to go gallivanting around in illegal midnight glory?
Snyder: Those were different days. As I write about in the book, I founded the first sex crimes unit in the United States. I was a young DA, assigned my first rape case, and I found out that the laws skewed not only against women but against any victim of sex crimes because the law had extra-evidentiary procedures that made it almost impossible to get an indictment, let alone a trial and conviction, in a sex crime case. You could be robbed, and, as a woman, the jury decided if you were credible beyond a reasonable doubt. But in a sex crime, you couldn't do that. With burgeoning women's groups and women attorneys, it took us five years until we got requirements modified and then repealed, and then the Rape/Shield law protecting against a victim's irrelevant prior sex history.

Third Screen: The rape victim was put on trial along with the rapist?
Snyder: What I had seen was the victim put on trial, yes, and mercilessly cross-examined for hours, especially if they had anything in their past. It was awful to see. We accomplished a lot. There were no sex crimes bureaus then. I founded and headed the first Sex Crimes Prosecution Bureau. I had several DAs, a secretary, and a paralegal, and I was able to hook up with a couple of psychiatrists who volunteered part-time. That, in combination with changing the law, made it possible for us to prosecute a lot of sex crimes cases not previously brought to trial -- children being raped or sodomized; women whose lives had been destroyed; gang rapes. It was brutal work, but also satisfying.
Third Screen: When did you begin receiving death threats?
Snyder: Death threats came later, not when I was a prosecutor but when I became a judge. Before that, I left sex crimes to work with a person who is now a federal judge -- Judge John Keenan -- when I was invited to become his "Chief of Trials." I prosecuted public officials for three years. It was very tough. I learned a lot. For one thing, I learned that it is extraordinarily difficult to put together a successful corruption case. People do not want to cooperate. They don't want to come forward unless you can do wire taps or get damaging conversation on tape. For example, if I was prosecuting corrupt cops, a lot of the witnesses would be other cops, who were sometimes also corrupt. People tended to form a circle around the ones under investigation to protect them. Today, it's a much more sophisticated operation and they're still having trouble.
Third Screen: What did you do next?
Snyder: After that, I had two kids, a small private practice, and then I went back into public service and became a deputy criminal justice for the city. Then I specialized in arson. And then I became a judge. I left the bench after 20 years so I could run for DA against Robert Morgenthau in the last election.
Third Screen: What was that like?
Snyder: Morgenthau? A lot of things can't even be told yet. It was 2004. It was an interesting and difficult process, and I'll tell you why. I'm not a politician. It's the only time I've run other than now. I'm a public servant. I've spent 98% of my career in public service. And even though we all read in the papers that politics can be nasty and dirty, you don't really know how nasty and dirty until you're in it.

Third Screen: Would the issue of your position on the death penalty be a good example? You've moved center from being in favor of it, and your opponents have accused you of flip-flopping?
Snyder: I feel my adversaries have totally distorted a number of things about me. I'd always been against the death penalty except for a very narrow slice of cases, such as terrorism. There was no death penalty in New York then or now. I had a lot of other important issues to put forward, but those issues were completely obscured by opponents constantly sending messages depicting me as a murderess. They truly distorted my position. Since those days running against Morgenthau, when that occurred, I served as lead investigator for the Westchester DA in a wrongful conviction case. A sixteen-year-old was charged with rape and murder even though DNA found at the crime scene did not match his. We spent a year of our own time doing it. I've come to the conclusion, after years of experience, that "life without parole" is fine. But opponents will continue to try to divert attention. I believe in being very tough on violent offenders. I've always diverted a lot of young people into treatment programs, school programs, or job training and I think that's a very important thing. Obviously, the DA's first order of business is public safety. My record shows that without question.
Third Screen: What will you do as the next DA, should you win in November?
Snyder: Three things will make an extraordinary DA of the future. Here's my plan. One, to be proactive in breaking the cycle of crime by continuing to speak out on Rockefeller Drug Reform and all other important criminal justice issues. Two, to go into every community to create or strengthen partnerships with community leaders, law enforcement, business people, church and religious leaders. Partnering in this way isn't cosmetic. You go into schools. You keep in touch on a daily and weekly basis. For example, you ask, do you have a gang problem in school? That's happening at earlier and earlier ages. So you prevent it from getting worse. You go into public housing developments where crime's been driven indoors and seniors are afraid to go out and you stop it when drugs are being sold. Third, you divert appropriate young offenders into appropriate safeguards. If they are young but not violent, the approach must be holistic. Get them back in school. Help them get jobs. Get counseling for them and their families. Be interested, eager, and pick the right people. Lower recidivism means lower tax payer cost. And there are still disturbing trends in domestic violence cases. I've seen so many horrible cases where the victim doesn't want to proceed because she's dependent. And innovate: a "Second Look" bureau t correct mistakes; more training; better technology.
Third Screen: How do you begin?
Snyder: With people becoming involved in public service. You don't have to be an investment banker. You might find it interesting to be a mentor. Or adopt a school and help it improve. If every person mentored an under-privileged kid, they'd get a lot more feeling about how other people live. And the Law & Order shows on television, for which I'd been the legal consultant, have made so many people more interested in the criminal justice system, which is good, but it does depict the DA, while accurately, as reactive rather than proactive. The DA can have a much more important part in the preventative process. Politicians always respond to the idea of the quick fix. There is no quick fix. We have to approach our goals from a number of points of view. But most important? Justice for all.
REAL LIFE. REAL NEWS. REAL VOICES.
Help us tell more of the stories that matter from voices that too often remain unheard.