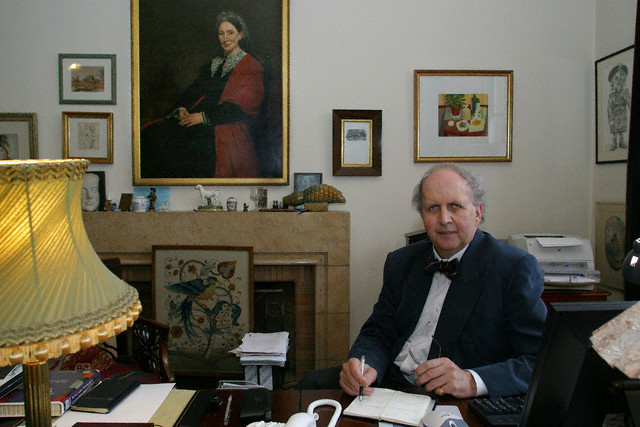 Heard novelist Alexander McCall Smith play in his beloved Really Terrible Orchestra at Town Hall Wednesday night, and all I can say is there is absolutely no danger they'll get good any time soon. I know he was relieved to hear this.
It is an orchestra for people without talent, and so far, they're all keepers. The Really Terrible Orchestrea, or RTO, continues to live up to its mission of "inclusiveness," meaning you get to play with them just so long as no one else will include you.
There were approximately 1,400 of us in the audience, and I may have been the only one not wearing plaid, because it was a benefit for a children's orchestra fund and the Tartan Society. The crowd outside, the ones not playing the bagpipes, included one person who told me tickets, which cost $25 or $35, were being sold on the Internet for $500.
The woman sitting behind me in the balcony was a Dutch attorney who had just returned from two years with the U.N. in Afghanistan that day. That day.
Apparently, she'd met the Really Terrible Orchestra's percussionist in India somewhere along her travels, and been invited way way in advance. Do you see her, she asked me as she peered forward, I can't see a thing without my glasses. Not even the guy in a kilt behind the conga drums? I asked her. Not even the guy in a kilt behind the conga drums. There was an extremely old woman sitting behind the tympanny holding a baton, and she never played a note. Not a single bang on a single piece of musical equipment.
That aside, what better way to recover from being a Dutch lawyer for the U.N. in Afghanistan than to be on Broadway listening to an ode to Botswana played by Scots in kilts. In April.
Here's Alexander McCall Smith on himself in the Wall Street Journal this week, with reference to his best-selling detective agency novels, and with references to W. H. Auden, of all things, on the pleasures of crime. In books.
"The issue of reader expectations is one with which writers of crime or mystery fiction have long been familiar. The poet W.H. Auden is among many critics who have commented on how novels in this genre follow a classic pattern: First there is peace, then this peace is shattered by the occurrence of a crime, usually a murder. This leads to a search for the wrongdoer, his apprehension and punishment, and finally a return to peace. We need to see the moral balance restored, said Auden -- a view also expressed by P.D. James, one of the greatest crime writers of our times. According to James, the traditional detective novel reassures us that we live in a moral universe, one in which the detective is the agent of justice. In this respect, she suggests, the detective novel is really doing the work of the old-fashioned morality play."
Calling all HuffPost superfans!
Sign up for membership to become a founding member and help shape HuffPost's next chapter