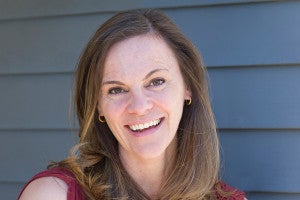 Beth Miller faced a rough path in her twenties, but through sheer determination, she turned her life around and eventually became an adjunct professor at Trinity College in Hartford, CT, and the Executive Director of the Creative Education Foundation. Miller is passionate about education and will be a keynote speaker at the student graduation for the Steppingstone Foundation Spring Conference on March 4th. In light of Women's History Month, I wanted to learn more about her incredible and inspiring story:
What was your experience with higher education like?
I was the first woman in my family to graduate college and get an advanced degree. The former happened at age 31 after two false starts at college. In my late 20s, I went back to college to try for a third time and this time completed my degree. I ended up graduating with a BA in Women's Studies from Trinity College in 2000 with a 3.84 cumulative GPA, 12th in my class, Phi Beta Kappa, and won 5 student leadership and writing/scholarship awards (the work that won me those awards is now a play, "Prudence" by Stefan Lanfer, and playing at the Open Theater in Boston this fall). While completing my undergraduate degree, I was a prolific editorialist, and also played the flute in a quartet. Additionally, I served as a writing tutor for the college, which resulted in the offer of a graduate fellowship (MA in American Studies, Trinity College, '03), and, the next year, with an invitation to teach ENG 101 and to write grants for the development department.
What prevented you from completing your degree on your first two attempts? What inspired you to go back?
When I was 16 years old, my father, then 39, was diagnosed with an inoperable brain tumor. My mother, who worked in a nursing home and who was dedicated to preserving dignity in the face of death, made the decision to bring my father home to die. We nursed him for three months as he gradually lost his mobility, eyesight, and control of his bodily functions before he passed. Two weeks before he passed, I was sexually assaulted. I told no one at the time because I could not bring more grief into my family. I could not make my father feel more helpless, and I was ashamed. The burden of my loss and my violation coupled with being a first generation student with no one in my family to turn to for support set me up for a very rough start at Syracuse University (SU).
After a year and a half at SU, I was barely passing, and my mother called to say we were out of money. I went home to Connecticut and started taking a few classes at Central Connecticut State University (CCSU). One day, I was swimming at CCSU, and the swimming coach came out and started watching me. When I stopped to take a break, he asked, "Can you swim butterfly?" "Sure," I said. "Will you show me?" he asked. I swam two laps and stopped to talk to him. "Do you want to be a walk-on for the swim team?" he asked. I said, "I am not a full time student. I can't afford it." He said, "We can get you some scholarship money." And with that, I became a walk on for the CCSU Division 1 Swim Team, swimming the 500m, 1000m, and 400M, as well as the butterfly leg for relays. After a year and a half, I realized that my eligibility was up. Even though I did not follow through and swim at Syracuse, my eligibility had been ticking away. It is unlikely that the NCAA would have cracked down on the CCSU Women's Swim Team, but I don't like breaking the rules, so I left the team. Without swimming, I lost my heart for college and quit -- again.
I went to work as a waitress, bartender, and professional nanny. I got married. After a couple of years, the people I nannied for told me I had to go back to school, that I was too smart not to finish college, and that Trinity College had a great adult program. I applied and got in with nearly a full scholarship.
Having attempted college twice, what disconnect did you feel with first-time students and their relationship with higher education?
The students with whom I attended college knew they belonged there, or so it seemed to me. At Syracuse, they all seemed so confident in organizing their work on their own, joining activities, managing their social and school lives. I felt overwhelmed all the time, and I was too ashamed to ask for help. In high school, I didn't have to work hard to get B's, so I really didn't know how to do homework. I was also grief-stricken and traumatized. This emotional state compounded my ability to ask for help in an environment where everyone else seemed so competent and well adjusted; I felt alone and like an outsider.
At CCSU, being on the swim team gave me an identity and a community of support with my teammates and coach. When that was taken from me I again felt like an outcast and a failure, so college had little hold on me.
Trinity was difficult for many reasons, not least of which the fact that I was 10 years older than everyone, getting divorced, and living on pennies a day. However, I knew my future was in my hands: I was older and more mature, and I found a wonderful support system there with my professors, the Women's Center, and my fellow Writing Associates. Though I was the wrong age and background, I was well liked and, I realized, wicked smart. I found my place through my scholarship and writing.
Having been a non-traditional student, what unique challenges did you face that traditional students do not?
When I started at Trinity College, I was a couple of years into my first marriage. I was attending part time because I still had to work to help support our household. Then, I blew out my left ACL and could not waitress anymore (I had stopped nannying because I needed to take day classes). I suggested to my husband that I enroll full-time so I could finish my degree faster and get to work faster. He agreed, and I became financially dependent upon him. The marriage began to deteriorate and became very unhealthy for me. I was offered a position at College as an academic mentor, which came with a single room in a First-Year dormitory. I left my husband, took the room, and started my Senior year. During that last year, I handled my own divorce, was living on $3,000, and became a very successful student and prolific writer. I went from being a nearly homeless undergraduate to an adjunct faculty in just one year.
There was never a time when I could take college completion for granted. Lack of money, lack of a support network that understood the rigors of college, and lack of ability to ask for help all guaranteed that my first few tries at college would fail.
How did this experience affect your career?
I am deeply passionate about educational access. I am also very tuned in to the many obstacles to educational attainment that have nothing whatsoever to do with intelligence. This experience taught me that I have great courage and tenacity and that when I am being brave, it is seldom pretty (think streaming tears and snotty nose), but I am, ultimately, successful. The opportunity provided to me by Trinity College and my grit changed the trajectory of my life. Today, I am proud to serve on the TC National Alumni Association Executive Committee, and I was proud to teach writing at Trinity for 10 years. My teaching career evolved into a non-profit leadership career, and I am now at the helm of the Creative Education Foundation, the organization that invented "brainstorming." We train people in critical and creative problem solving, innovation skills, and change leadership. I want to expand our work to serve public schools and nonprofit leaders. I want more people to know that they can face incredible odds, that there is no shame in asking for help, and that there is no shame in failure. An easier path would have been nice, but I am proud of what the challenges in my life have forged in me.
Beth Miller is a beacon of the human spirit and of our ability to transcend the obstacles stacked in front of us. Here at GlobalMindED we appreciate the work Miller does and we are honored to highlight her success story. Miller's story is reminiscent of the GlobalMindED Conference's mission, which is focused on access, equity and opportunity for first generation college students, underserved populations, those who work with them and those who hire them.
Calling all HuffPost superfans!
Sign up for membership to become a founding member and help shape HuffPost's next chapter
This post was published on the now-closed HuffPost Contributor platform. Contributors control their own work and posted freely to our site. If you need to flag this entry as abusive,
send us an email
.