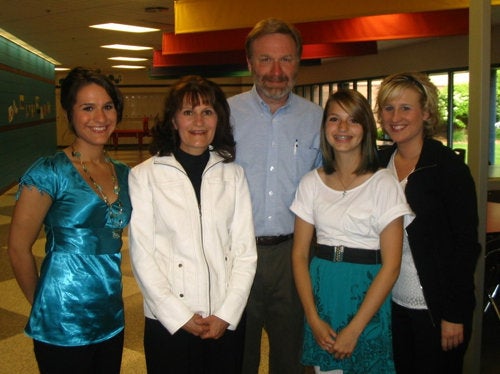 In her new book about the challenges facing the American middle class, Arianna profiles families struggling to recover from the recession. In this excerpt, she writes about Jim Laman, a Michigan father who, unable to find a job after he was laid-off from his engineering job in November 2008, began commuting to Chicago for work.
Jim Laman of Holland, Michigan, is another great example of how resilience can get you through tough times. He spent twenty-one years working at furniture manufacturer Herman Miller before he was "downsized" in the economic tailspin that followed 9/11. He found his next job at a smaller company, but in 2006 he abruptly lost it in a mass layoff. "There was absolutely zero warning," he says. "My benefits ended that night at midnight, as did my pay. I was devastated. Never saw it coming. They even kept the bonus that I had earned for the past year. I was bitter for a long time about that and it still bothers me, as the company was supposedly so 'family oriented.' I guess that came with a caveat!"
Laman found another job, this time at a manufacturer of truck transmissions in southwest Michigan. It was sixty-five miles away, but he kept his gas bill down by riding his motorcycle, even through treacherous weather, which saved him about sixty dollars per week. Then, in November 2008, as the economy reeled from the financial crisis, his company issued a round of pink slips-- and once again, with just twenty-four hours' notice and a month before Christmas, he was out of a job.
"It was not a merry Christmas," he remembers, "but we got a few gifts for the kids and a free tree to put them under. I started selling things on eBay to help make ends meet, and have continued to do so sporadically to this day. Classic Herman Miller furniture is quite valuable, so we sold a few pieces and I parted with a classic Saab and the parts I had collected for it for many years. I've sold about five thousand dollars' worth a year on eBay, and it has helped tremendously. In the meantime, my wife lost her contract job at Herman Miller, which was another blow to us. During this time we were very worried about losing our home, and my parents helped us a little. I was so stressed that there were days I wondered if I could go on much longer, frankly. Unemployment benefits and the remainder of our retirement savings got us through. I looked into selling blood, any sort of factory work, doing odd jobs, anything for some income . . . but no takers."
He filled out almost five hundred job applications. Frustrated, Laman broadened his search, first to Indiana, and then as far as Chicago, where he finally received an offer in mid-March 2009. In a complete upheaval of his life, he accepted the job.
"Soon after, I found a room to rent up in Evanston, about six miles north of where I work, and I still live there. I commute home to Michigan every Friday night, returning on Sunday evenings, so weekends are rather short, but we are making it work. People thought at first that my wife and I were separated or getting a divorce. But no, we are fine. We just live in different states! Kind of funny really, but I got a better cell phone plan and with that and email, we stay in fairly good communication. At times, I find out what is going on via Facebook, too! . . . I think it is about attitude and priorities: If you go in with a good attitude, good things will come your way. As a result I am involved in many things that I never would have done before, including company volunteer work, a softball league, and exploring the city on my own on my motorcycle. All new stuff--and kind of fun. Things I never would have imagined doing back in 2006 when I lost my job."
REAL LIFE. REAL NEWS. REAL VOICES.
Help us tell more of the stories that matter from voices that too often remain unheard.