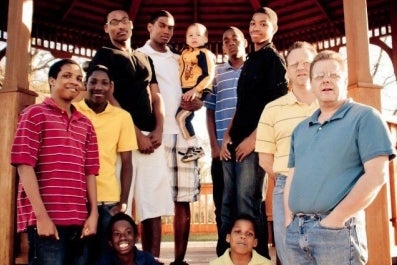 Clint McCormack recalls a time when he and his partner Bryan Reamer did whatever they wanted, whenever they wanted it. "We could travel. We had excess money," he chortles, "but that isn't the case anymore."
That was 16 years ago. Like many parents, Clint and Bryan (who live in a four-bedroom house in suburban Farmington, Michigan) traded in some of the freedom afforded by childless living for the boundless joy of parenting. What sets their family apart is scale: the couple's family has grown to 10 adopted children and three foster kids.
"It's non-stop activity in our house — and I like that," Clint says. "I think my partner would probably disagree. The volume can be quite loud sometimes!"
Parenting enough kids for a soccer team isn't for everyone, Clint acknowledges. He and Bryan didn't initially know they had it in them; they had planned for only two or three.
"When you receive a call about a child that needs a family, it's hard to say no," he says. Although they have declined some offers, the pair has also made some decisions that weren't part of their plan.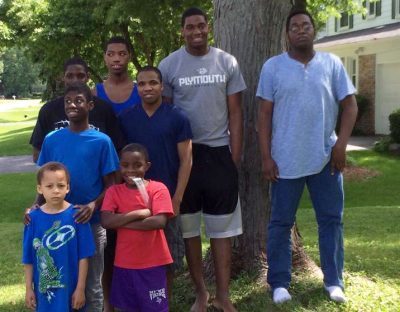 It started with choosing to adopt 7-year-old twins when they had sought just one sibling for their first son. As soon as that adoption was finalized, they received a call for a 3-year-old boy, Caleb.
When Caleb arrived at their home, he weighed just 19 pounds. Born with cerebral palsy, he wore braces on his legs. He didn't speak. He had been born HIV-positive. Clint resisted the adoption, fearful that Caleb would not survive long, but Bryan insisted.
"He's our gift," Clint says. "If my partner had listened to me, we wouldn't have the son we have now." Caleb now walks independently and does well in school. At 15, he's begging to learn to drive and "has a mouth on him," Clint reports with fatherly anxiety.
Around the time when Caleb's adoption was finalized, the agency asked if they would consider adopting three brothers. With a house full of boys already, the couple was skeptical, until they learned the boys had been waiting for placement too long.
"They told us if we weren't interested in adoption, they'd probably have to split them up," Clint says. "So as soon as we heard that, we said, 'No, you can't do that. We'll adopt them.'"
Clint and Bryan placed few restrictions on the kinds of children they would consider, but they were far from careless in their choices. The couple has adopted both through the foster care system and private agencies, including agencies that match adoptive parents with birth mothers.
Children coming through the foster care system each come with an enormous case file detailing every potential behavioral, emotional and physical problem they may suffer.
"We ran through their background with a fine-toothed comb," Clint says. But they weren't looking for "designer children," as he calls them: kids that fit an ideal profile. "Every kid in the foster system is going to have issues."
With time, they learned to sift through the piles of information to answer one important question: Could their family financially, emotionally and physically meet this child's needs? They considered the impact on their relationship and on their children.
Most important to them was bonding with each child during their initial meeting with him.
"There are so many children who are bypassed because of what's wrong with them, but you have to give them a chance to shine on their own," Clint says. "And they have."
After welcoming the three brothers into their family, Bryan, a business analyst at the Ford Motor Company, and Clint, who is a stay-at-home dad, thought they were through adopting. As time passed, though, Clint began to miss having an infant in the home.
"I sort of conned Bryan into agreeing to get another infant," he chuckles. As they had done with their first adoption (the only infant they had taken in) Clint and Bryan worked with a private agency that could match them with a birth mother wishing to find a gay couple to adopt her child.
Pretty soon they had not just one, but two very young kids in the home again. With 10 kids, the couple again declared they were done for sure — although they do still make their home available to foster children. They are currently fostering three kids.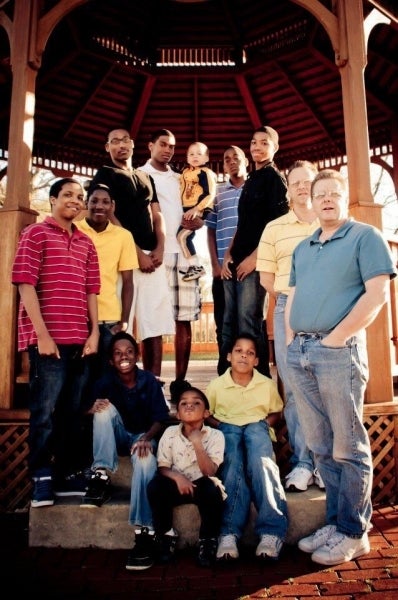 Now Clint can't imagine having only a couple of kids as they had planned.
"You learn to go with the flow of things and you learn to roll with the punches," he says. He doesn't think raising 13 kids is more stressful than raising just one or two. "Stress is stress."
Raising kids from foster care does present unique challenges, like catching up educationally (several of the children were far behind) and helping the children cope with emotional distress caused by events in their past.
One of their older sons suffered severe physical and sexual abuse and still experiences nightmares. For a time, the struggle was emotionally taxing for the whole family. "Going through it, we felt like the only people in the world who had been there," Clint recalls. But to Clint and Bryan, all that is a part of parenting.
"Children aren't merchandise. You can't return them," Clint says. "We've taken children no one else wanted. Thank god, because now they're our children."