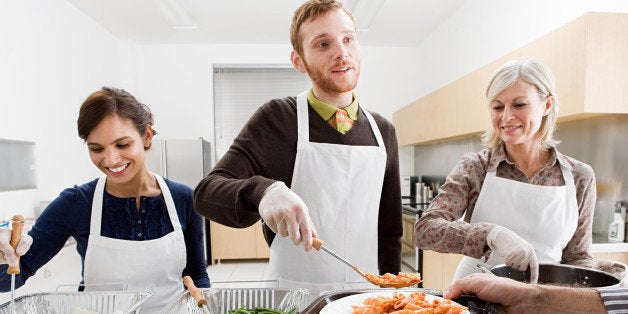 My life has been transformed! I've moved from feelings of low self-esteem, failure and anger to great levels of joy, gratitude, clarity and more. How'd I do it? By serving others -- something anyone can do.
Last year I left my dream job without a plan for my future. Unfortunately, the job I once loved became something that negatively impacted me, and I realized I had a choice to make: I could either stay tied to a dream or I could wake up, see my reality and create my next dream. I chose the latter.
Suddenly I found myself without the stress of my career, but also with an enormous amount of free time. I tried many ways to fill my time, but none were very fulfilling. So as I continued to brainstorm, the idea of Thirty Days of Service was born -- to complete 30 service projects with 30 organizations in 30 consecutive days.
After two months of planning, I embarked on my journey. Thirty days later, I emerged transformed. It was fun and challenging, but I never expected to experience such revelations. My 30 days helped me see things differently -- my community, my fellow man, my past, my present. Here are a few of the gifts I received from serving.
During my 30 days of service, I experienced joy on a number of occasions, but one day sticks out. I was working with a 74-year-old veteran, Benito, delivering meals to homebound seniors. While such an activity isn't an obvious source of joy, Benito's outlook on helping others, paired with his effervescent personality, made it rather joyous.
While driving around Hollywood, Benito reminded me that when serving you must focus on the good you are doing rather than on the struggle of those you are helping. Instead of only seeing someone's poor living conditions, he soaked in their smile, honored the human connection being made and took that with him. Putting his example into practice led me to positive interactions that, although brief, touched my heart. By the end of the day I realized that while the food I was delivering was important, I was really delivering joy by acknowledging that these seniors matter. That realization filled me with the greatest sense of joy I have ever known.
Holding gratitude in our hearts does amazing things, perhaps most profound of all is that it multiplies. Through my service, I started to see aspects of my life, past and present, somewhat differently and with a much greater sense of understanding and gratitude.
One day I volunteered with the Dream Foundation, an organization that grants wishes to adults battling terminal illnesses. In doing so, I had the privilege of helping deliver a family vacation to Jean, who is battling cancer, and her family. Jean does not dwell on her illness; instead, she is deeply grateful for each day she wakes up, for all she has experienced in life, for having had the opportunity to be a mom and for so much more.
Visiting Jean got me thinking about how much I have to be grateful for, as well as how often I take things for granted. Because of her, I now try to express gratitude for merely waking up and having a body and mind that allow me to pursue my dreams. I am also more conscious of all I have, especially the many people in my life. And I've even become grateful for each wrinkle on my face, as they remind me that I've had a lifetime of smiles.
Clarity is a funny thing; you can be clear on something only after you look back and acknowledge that you were lacking clarity. As I entered my 30 days, seeking clarity wasn't on the agenda, but I sure did find it.
My eighth service project was to record a video for the It Gets Better Project, an effort that brings stories of hope to those facing the challenges of figuring out their sexual identity. Like many other gay men, I struggled with my sexuality for years and was, at times, the victim of bullying. My life is now proof that "it gets better," which is why I wanted to share my story.
Recording this seven-minute video forced me out of my comfort zone, as I rarely talk about my childhood challenges and my struggles as a young adult. By doing so, I realized that not all of my old wounds are healed and that I still carry shame with me -- not shame about being gay, but shame related to how my peers saw me. The clarity I gained from this experience cleared the way for me to truly be free, not something I ever expected from a service project.
Mahatma Gandhi said, "The best way to find yourself is to lose yourself in the service of others." How true! My hope is that you will go out and serve. If you try something and don't find it rewarding, try something else. But use every service experience to learn or affirm something. Going into my project, I was not expecting my world to change, but it did. And so can yours.
Related
Popular in the Community