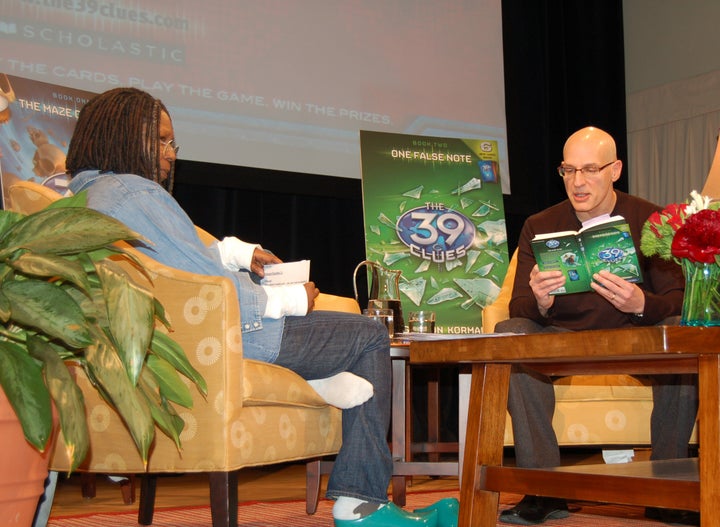 Earlier this year, I was on a very specific mission. I wanted to buy my favorite books I had read as a boy. That goal took me to Doug Miller Books in Toronto, where I struck the motherlode:
A treasure trove of Gordon Korman novels.
While some of them were recently republished and easily bought on Amazon ("I Want to Go Home," and the Macdonald Hall series — now a set of movies), I couldn't find the other classics as easily ("Losing Joe's Place" and "No Coins, Please").
I have absolutely no idea what compelled me to pull "I Want to Go Home" off the shelf over a decade ago. But from that first book, I was hooked.
This was the starting premise behind "39 Clues," the multi-author young adult novel series that Korman worked on with Scholastic in 2008. It would pool together each author's audience, tie it in with an overarching brand, and introduce audiences to new authors. While the book made the New York Times bestseller list in its earlier years, its momentum has since tapered off.
"It's nine years since the beginning of '39 Clues.' So it's really faded. '39 Clues' does not sell remotely, even a fraction of what it did when it was #1 New York Times bestseller," he said. Take this statement in with the fact that it's sold over 8.5 million copies. "But, if you went to a school librarian, and you said, 'Do your kids read "39 Clues?'' she'd say, 'Yes, those books fly off the shelf.'
"And it wouldn't really be that different than it would've been when these books were #1 on the bestseller list. So here are these books that are every bit as much a part of the culture as they used to be, but from a marketing standpoint they're not really working anymore. They're not selling the way they used to. But they're still as revered as they used to be."
He said, "I think that that's a weird thing, there's sort of a difference between books that people read, and books that people buy. I've still never quite put my finger on exactly what that is, except that it's obviously become a cliche word at this point, but buzz.
"Buzz sells. It's oversimplified. When I talk to kids, and they're always fascinated by your most and least famous books. A lot of people think that a successful book is a book that everybody loves. An unsuccessful book is a book that nobody likes.
"And what I say is, 'No, a successful book is a book that everybody's heard about, and an unsuccessful book is a book that you have no idea whether you like it. You might! You're never going to cross its path. You're never going to have a chance to buy it or pick it up. If we can agree, talking to a group of 300 kids, that a certain book is the worst book we've ever read in our lives, I guarantee you that book is a major bestseller. Because we all know it! But the book that didn't succeed is the book that none of us even know was ever even out there.
"I'm certainly super, super, proud of '39 Clues,' and I think the kids really did love those books. But '39 Clues' in a way — some of it was almost successful before the books even came out. It just caught people's interest," he said.
Korman started his career with paperback novels like "39 Clues." "When I first started writing, I was publishing original paperback kids books in Canada. I was making very little money, and I always looked at film and TV as the holy grail," he said.
"So I spent the longest time wishing for that, and thinking about that, if only I could get a 'Bruno and Boots' TV series, because we were very close to one early, early, on. And also a 'Bugs Potter' movie. So those were my two first film options," he said, also mentioning that a lot of his books get optioned — but few ever get made into actual TV shows or movies.
"The more I realized how completely random and outside your control that is, but at the same time, I realized also how a successful book — if a book sells, you don't really need [a film deal]. And in a way, what you're going to earn from the film, unless it's an absolute blockbuster, like 'The Hunger Games,' or 'The Maze Runner,' or something like that, for the most part — it's not that film deals are not worth that much, it's just that it's not life-changing.
"My advice would be to focus on the writing, and figure out a way to make a living, and look at the other things as just these great things that can but probably won't, or might, happen.
"That said, I know James Dashner really well, who writes 'The Maze Runner' series. That is a movie franchise that has really changed his life from a standpoint of just how much money he makes, and it's really vaulted his books even higher… He would probably be the counterargument to that.
"But on the other hand, I know, and from '39 Clues,' Rick Riordan, the 'Percy Jackson' guy. And there have been a couple of 'Percy Jackson' movies, but 'Percy Jackson' the books are so successful, I'm sure the movies didn't approach their audience, even though we tend to think of movies as big and books as small.
"So I understand that it's very seductive to look at the movie as the huge, ultimate, step in the journey, and the thing that really makes it work… It depends on the size of the book, sometimes the movie is so famous it subsumes the book. Probably more kids today grow up thinking of 'Harry Potter' as a movie series than like a book series. Or maybe even 'The Hunger Games' too, are they still really reading the books that much?
"The way I looked at 'Swindle,' for example, which — I wouldn't compare it necessarily to 'Harry Potter' or any movie in the theater — but when Nickelodeon did 'Swindle,' it was their highest rated show after the Kid's Choice Awards, which is their big annual thing. And when I think today, a lot of kids remember seeing 'Swindle,' and a lot of kids, when I talk about 'Swindle' the book, are like, 'There was a movie a lot like that on Nickelodeon!'
"In a way, books don't make the splash that movies do, but I think they tend to have a longer shelf life."
He didn't have to tell me twice. It's been twelve years, and I've picked them back up.
Gordon's latest book, "Restart," will be released May 30, 2017.
Related
Popular in the Community