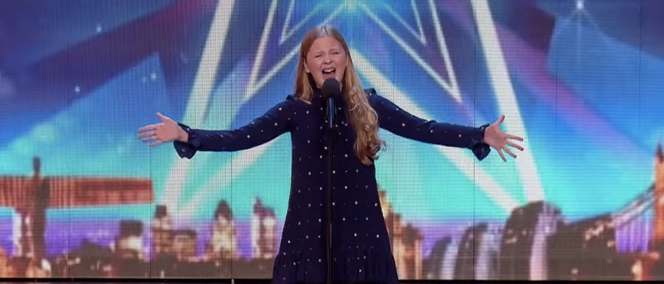 Simon Cowell couldn't have been less enthused when 12-year-old Beau Dermott said she wanted to sing "Defying Gravity" on "Britain's Got Talent." But only moments into the song, Beau ended up blowing all the judges away.
After announcing her song choice, Cowell let out an "Oh wow" and a snarky "good luck," while fellow judge Amanda Holden quipped, "That's a hard song to sing."
Beau's mature singing voice and confidence quickly drew the attention of the audience and after the preteen let out her first big note, the crowd roared with applause.
The audience continued watching in awe, as Cowell and the rest of the judges flashed toothy grins.
Just wait for those last two, epic notes. You'll have goosebumps by then, guaranteed.
Watch the entire performance below:
After Beau hit those final notes (and gave an amazing look), the audience leapt to their feet to give her a standing ovation and began chanting.
Judge Amanda Holden then pushed the Golden Buzzer, which allows Beau to skip straight to the live semifinals. If you didn't burst into tears by then, you're definitely not human.