Football season in full swing, which means tailgating is back. We all know the key to an awesome tailgate party is – of course – barbecue. It's always important to have a go-to tailgate barbecue recipe that's not only easy to make, but also delicious.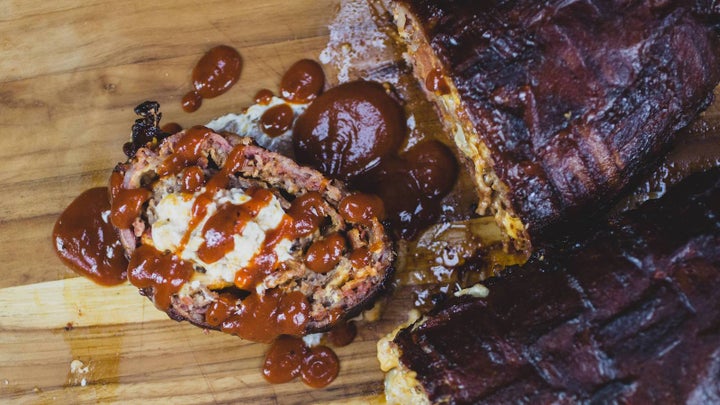 This year, let Stubb's Legendary Bar-B-Q Sauce be your coach in making one of the most unique barbecue bacon creations that's sure to score points with the crowd, no matter what team you're on.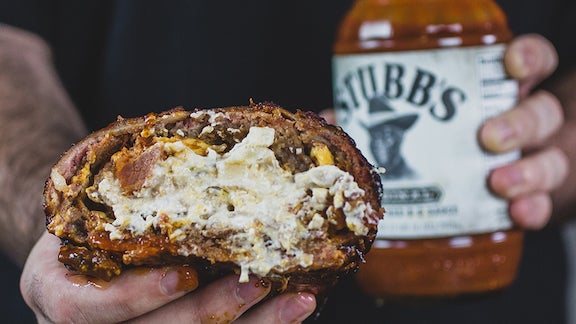 This Stubb's-infused recipe is like a fusion between a giant jalapeño popper and a barbecue bacon cheeseburger that'll tackle any hunger pangs in your belly and satisfy the most meat-centric appetites.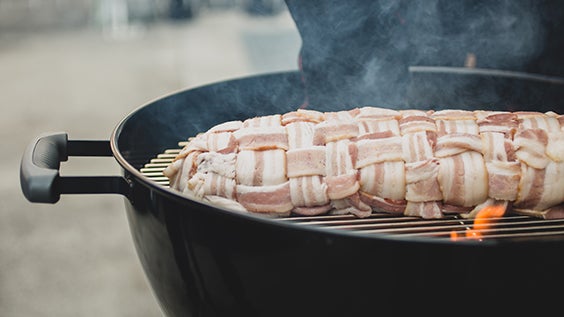 The best part of this beautiful, barbecue, bacon-weaved amalgam of flavors is that you can make it at home, and once you get to your home team's tailgating spot, simply brush it with a healthy layer of Stubb's Original Bar-B-Q Sauce, and throw it on the grill for just over an hour.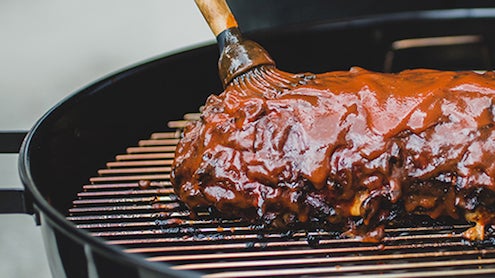 Tell your friends to grab a bottle of Stubb's– we'll see you at the game.
Here's the recipe play-by-play.
Estimated Cook Time: 1 hour, 45 minutes
Total Time: 2 hours, 15 minutes
3 lbs. ground pork sausage
1 cup shredded cheddar cheese
1 package American cheese slices
1 cup Stubb's Original Bar-B-Q Sauce
Dice one package of bacon and add to a medium-sized sauté pan over medium heat. Sauté bacon for 2-3 minutes, or until fully cooked. Remove bacon pieces from the pan, but keep fat.
Add jalapeño and onion to the bacon fat. Season with salt & pepper and sauté until softened. Once fully cooked, remove to a large bowl. Add cream cheese and shredded cheese, and stir until combined. Place a layer of plastic wrap on a cutting board, spoon mixture onto the plastic wrap, and form into a log. Roll the log in plastic wrap and place in the fridge to cool.
To start rolling the first layer of sausage, place another layer of plastic wrap on your cutting board. Spread about one third of your ground pork sausage into an even layer on the plastic wrap. Pull the cheese and sautéed mixture log filling out of the fridge and unwrap.
Place the filling in the center of the sausage layer. Using the plastic wrap for support, pull one end of the sausage up and over the filling. Continue to roll the sausage around the filling until it is completely covered and press the seams together to create a seamless sausage barrier around the filling. Roll the log in plastic wrap and set aside.
Start creating your second roll by placing another layer of plastic wrap on your cutting board. Spread the rest of your sausage into an even layer on the plastic wrap. Spoon a layer of Stubb's Original Bar-B-Q Sauce all over the sausage. Sprinkle crispy bacon on top of the sauce, and then cover everything in a layer of American cheese.
Unwrap the previous sausage log and place it in the center of this new sausage/bacon/cheese roll. Using the same technique as last time, roll it up so the bottom layer completely engulfs the existing log. Press the seams to close up any gaps and wrap the whole thing in plastic and set aside.
Place another layer of plastic wrap on your cutting board, because it's time to start building your bacon weave! First, lay down a layer of bacon strips side by side. Fold every other piece of bacon in half so they are half as long. Place an additional piece of bacon at the very edge of each of the folded pieces, perpendicular to the existing slices. Unfold the currently folded pieces over the perpendicular slice. Next, fold all of the bacon slices that weren't folded previously. Repeat process.
Once you've completed your bacon weave, unwrap the sausage log and set it in the center. Roll the weave around the sausage starting from one end and rolling toward the other so you end up with the bacon seam side down. Tuck in any loose bacon ends to create an impenetrable bacon shield and your log is ready for the grill.
Set up your grill for indirect heat. Bring the temperature up to ~300 degrees. When you're ready to cook, throw on some wood chips. Place the log in the indirect heat zone of your grill and close the lid. Use your vents to maintain a temperature of 300 degrees. Cook the meat on the grill for one hour, and then check the temperature of the internal layer of sausage every 15 minutes until you reach 150 degrees.
Brush on a thick layer of Stubb's Original Bar-B-Q Sauce. Let the log cook for another 15-20 minutes to bring the internal temp to 165 and set a beautiful glaze of Stubb's on the outside. Watch carefully so the sauce doesn't burn or char.
When the sausage is fully cooked and the Stubb's Bar-B-Q glaze is thick and sticky, it's time to pull your log off the grill. Set the fatty on a cutting board and let rest for 15 minutes. Then, slice the fatty as thick as you like and serve with Stubb's Original Bar-B-Q sauce on the side.
A journalist focusing on news and anything that's trending. Insists that cherry flavoring makes any soft drink better. Follow him on Twitter or Instagram at @ThatsThatFuego.
Popular in the Community