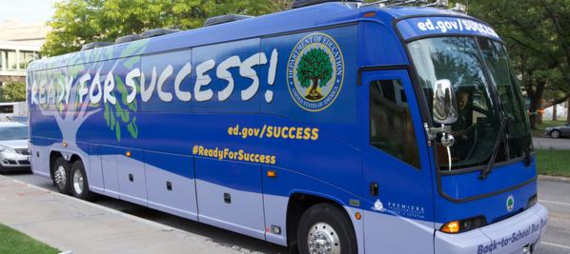 Today, Education Secretary Duncan visits the tiny town of Williamsfield, Illinois. If you haven't heard of it, that's ok - the total population is only around 500-600 people.
I've written previously about open educational resources (openly-licensed, free online materials) and their impact on higher education, but Williamsfield is one of just a handful of K-12 school districts demonstrating that technology and OER can transform education at all levels.
Instead of using a significant portion their budget to purchase hard-copy math textbooks, the district decided to use the funds to build technology infrastructure that would allow them to leverage the tremendous wealth of free, openly-licensed materials from all around the world via the Internet.
Now, in the sphere of higher education, we often talk about the potential for OER to save students billions of dollars in textbook costs, but what's happened at Williamsfield since the switch reveals that the value of OER over traditional learning materials extends far beyond the difference in price.
Just listen to the words of the teachers and staff there:
"The walls break down," Zack Binder, the Pre K-12 Principal and Director of Student Services said. "You're no longer in Williamsfield, Illinois. You have the same access to this information that anyone in the world does."

"No matter how good the pictures are in a [traditional] textbook, it's still just words on a page. It's not living, breathing, current, or what really hits home with [students] and gets them to ask questions." said Lori Secrist, a science teacher in the district. "Instead of having one prescribed way to do things that comes from a textbook, kids can do things where they're truly interested. When they're truly interested, they're engaged. And when they're engaged, they learn."
"I've seen the rest of our staff become less static teachers, and definitely more dynamic teachers," said Kathy White, a Williamsfield business teacher.
Comments like these are backed up by early data and research from Tidewater Community College, the OER Research Hub, and others. Not only is OER more affordable, but it actually improves the quality of education that students receive.
That's why it's such a huge step forward to have the U.S. Department of Education announce the creation of a new position - Advisor for Open Education - at the Secretary's stop in Williamsfield later today. This position will help more schools launch their own transition to OER and follow in the footsteps of Williamsfield community.
Check out this brief video from the Department of Education and Williamsfield Community School District!
Photo Credit: https://twitter.com/arneduncan/status/643553558428827648
Related
Popular in the Community