Camillia Courts and her daughter, Layla, take dress-up very seriously.
For more than two years, Courts, a photographer, has taken photos of Layla dressed as Disney characters, mostly princesses. It all started in December 2014 after a family trip to Disneyland's Bibbidi Bobbidi Boutique. Courts bought a dress for Layla and wanted to get a photo of her in it "while it was still in pristine condition" to share on Facebook.
Family and friends loved the photo so much that Courts and Layla turned dressing up into a hobby, and now the mom-daughter cosplay team have more than 14,000 followers on Instagram.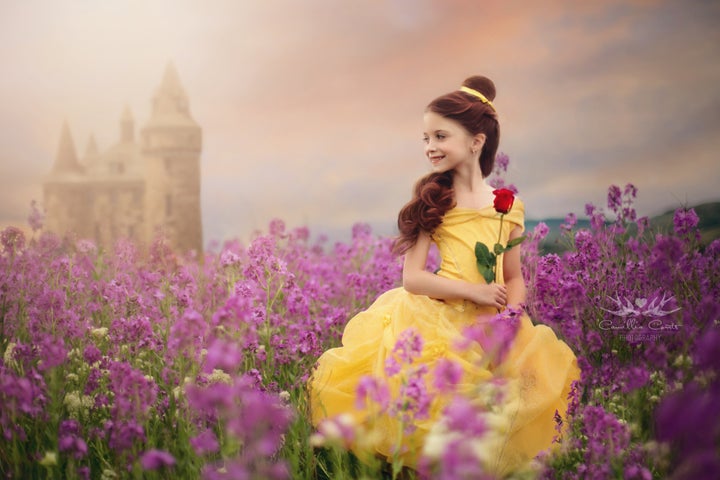 Courts originally bought all the costumes for Layla to transform into Disney's most beloved characters. Now, she or a local seamstress makes them so that they're more accurate and so Layla can put her own twist on them. The creative mom takes the photos in their town in British Columbia, Canada, and sometimes switches out the backgrounds to perfect that magical look.
While many of Layla's photos show her dressed like Disney princesses like Cinderella, Sleeping Beauty and Rapunzel, the 7-year-old has also done her best impressions of Rowena Ravenclaw from Harry Potter and Violet from "The Incredibles." She's dressed as Princess Leia and BB-8 from the "Star Wars" films, too.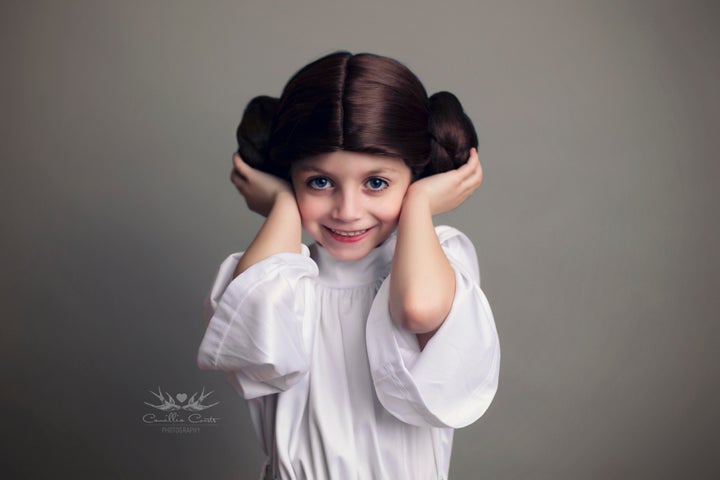 Courts participates in the costume action sometimes, though she prefers the villains to the heroes.
"Every once in a while I like to get in on the fun, and I think being the villain is way more fun than wearing the crown," she said. "I have a fantastic makeup artist named Missy MacKintosh who has transformed me into Maleficent [from "Sleeping Beauty"], The Evil Queen [from "Snow White] and my favorite, Ursula [from "The Little Mermaid"].
Layla's favorite Disney princesses are Ariel from "The Little Mermaid," Belle from "Beauty and the Beast," Jasmine from "Aladdin" and "Moana." Her favorite photo shoot so far has been "The Little Mermaid" project she did in which she dressed as Ariel and her mom dressed as the villain Ursula.
"I think that's because she liked seeing me all purple!" Courts told HuffPost.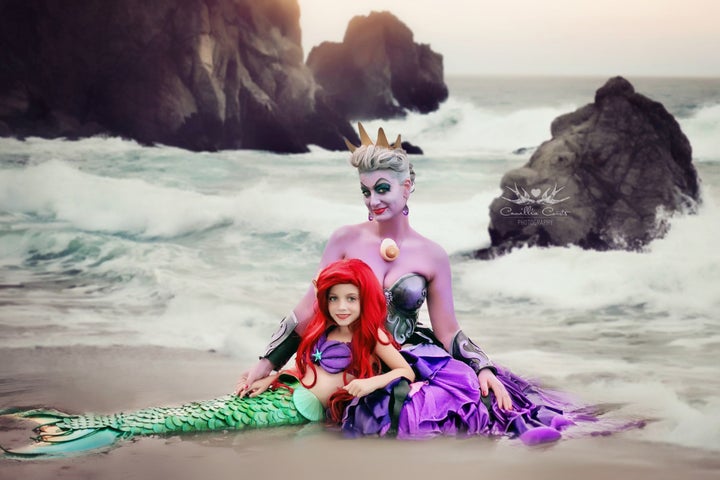 Courts said photographing Layla in costume has been "an incredible and unique opportunity" to document her daughter growing up, and has shown her how much Layla has grown in the last two years. The experience has also given Layla more confidence.
"She's a very shy child and I see her light up when she gets into costume," Courts said. "She's gained a lot of confidence since we started the project and has really come out of her shell."
Courts and Layla work together to choose ideas, costumes and accessories, making it a fun experience for both of them.
"It's really very special and even if she wanted to quit tomorrow, I will look back on how much fun we had playing dress-up," Courts said. "It's truly been magical."
The HuffPost Parents newsletter offers a daily dose of personal stories, helpful advice and comedic takes on what it's like to raise kids today. Sign up here.
Support HuffPost
A No-B.S. Guide To Life
Related
Popular in the Community