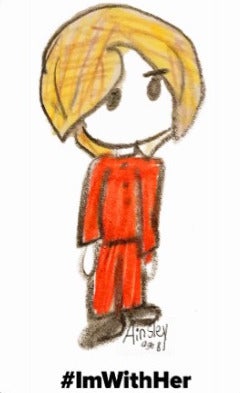 The other day, my Facebook friend, Dana, posted a drawing her eight-year-old daughter, Ainsley, had done of Hillary Clinton during the Presidential debate.
The page immediately blew up with hundreds of people begging for t-shirts.
"I never expected that reaction," admitted Dana. "I just thought it was a cute picture that captured Hillary during the debate."
Ainsley loved the idea of getting her design out to the public since she herself is a decade away from voting, and she thought this could be her way of helping Clinton become the first female President of the United States.
With the support of her mom and younger sister, Annika, she created a Zazzle store, AinsleyAnnikaArt, selling t-shirts, tote bags, mugs and buttons emblazoned with her signature drawing. Half of the proceeds from all sales will be donated to the Clinton campaign. The other half will be divided between Ainsley's college fund and PAWS, a charity which benefits animals.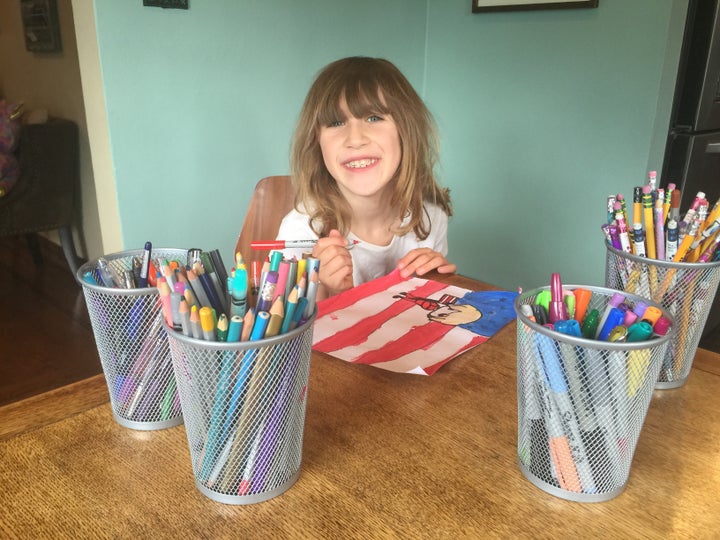 "Both girls have been drawing since they could hold a crayon," said Dana. "They probably draw an hour or two a day. Whenever one of them is upset, they process their feelings by drawing it out. I'm thrilled to see the positive attention Ainsley is getting for her artwork."
I was curious to talk to Ainsley to see what inspired her and to learn more about how this election is impacting kids. Out of the mouths of babes:
First of all, I love your Hillary drawing! How did it come about?
Well, it just kinda came to me when we were watching the debate. My mom said, "You should draw a picture of Hillary and Trump." And so I did.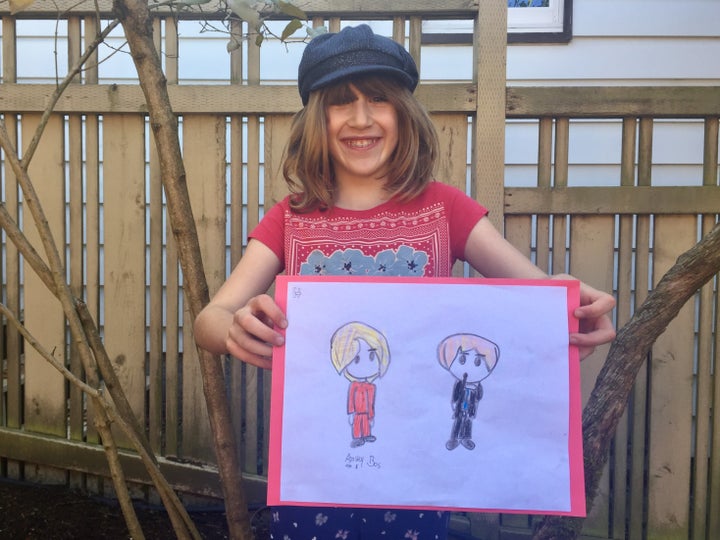 Tell us why you chose to draw that amazing eyebrow and no mouth.
The reason why she has no mouth is because that's just kind of my style of drawing, because I thought it just looked cute. There's also a drawing of Trump and he has no mouth, but he has a microphone. I drew them like that because he's talking and she isn't interrupting; she's just letting him talk and has manners. But every time she talked, he would yell, "WRONG" and stuff over her.
And the reason I drew the eyebrow is because she's being quiet but she's glaring at Trump for something he said. I drew Trump with a microphone because it's his turn and he's saying something wrong, and then Hillary's just thinking, "NO," and glaring at him but not interrupting.
What did you think of the debate?
I thought the debate was good and Trump said some weird stuff like "No, that's WRONG" and he also said "not true" a lot even though I think a lot of it probably was true. I thought he was mean and disrespectful. He was glaring and snorting and sticking his tongue out at her. He's a true Slytherin.
I thought Hillary said some amazing stuff, like about how women should have the same rights as men. And she was right on most of it.
(Except for when she said, "it's nice to see you, Donald," reminded Ainsley's little sister, Annika.)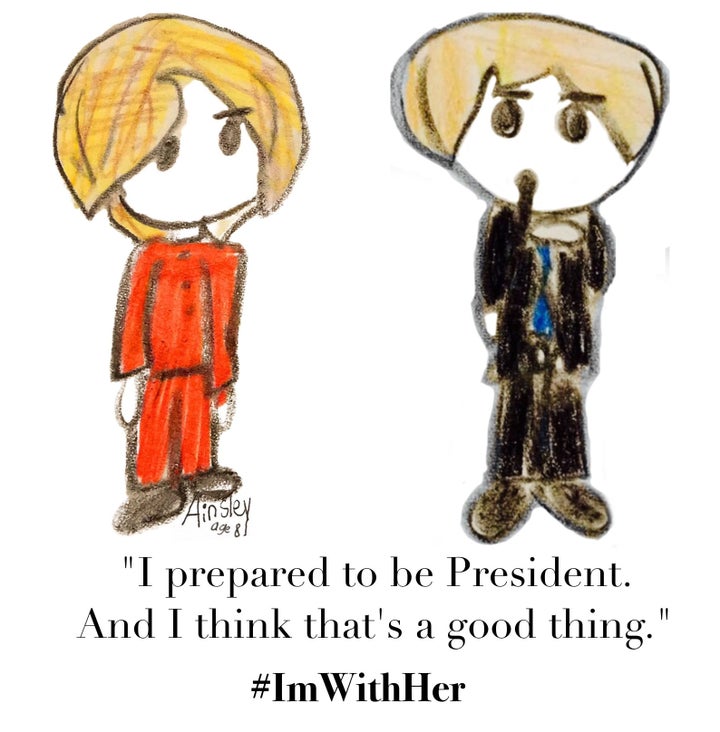 What does Hillary mean to you?
She means loyalty, bravery, and perseverance. She's standing up for all girls, like we might follow in her footsteps.
How does she inspire you?
She inspires me by saying stuff like – this is on a magnet – "If fighting for a woman's health care and paid family leave and equal pay is playing the woman card, then deal me in."
It means like, she's going to stop women getting paid less than men, and she's going to make things fair.
How do you think a Hillary Presidency would affect the world?
It would affect the people who say mean stuff about women and what racists say about black people. Maybe it would change their minds not to be so racist.
What would you tell people who are undecided about who to vote for? Why should they vote for Hillary?
They should vote for Hillary because she's the one who believes in being fair, and equality for all.
When did you start drawing?
I've always been drawing. Drawing is the thing that makes me calm.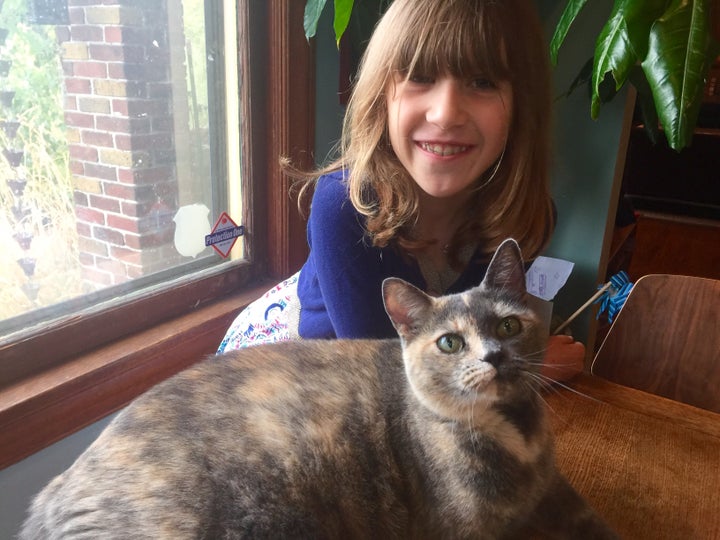 What are your favorite things to draw? Why?
I like to draw people and animals because they have such cool detail and are so interesting to draw.
How did you feel when your mom told you the reaction of the Facebook group to your drawing?
Proud! Accomplished, and half embarrassed because I was getting famous.
Were you surprised at the group's reaction to make t-shirts?
Yes, very. Because that meant they liked my style.
How are sales so far? I bought two t-shirts myself!
Good, and thank you! We've sold more than 70 items and crossed the $500 mark in proceeds today! My mom donated half of the money we had gotten to the Hillary campaign so far, and added in some from our family too.
It's very generous that a large percentage of proceeds are going to Hillary's campaign and to PAWS. Why did you decide to make those donations?
Well, because it's a drawing of Hillary, it just made sense to give money to help her win. And it would be very disappointing and depressing and scary if Hillary doesn't win, so my art is the way I can help, even as an eight-year-old. I picked PAWS because the best cat in the world, my cat Josie, came from PAWS! And PAWS also helps wild animals like raptors. Once I studied owl pellets in second grade, I just fell in love with raptors because they're such cool animals. So I wanted to give to PAWS.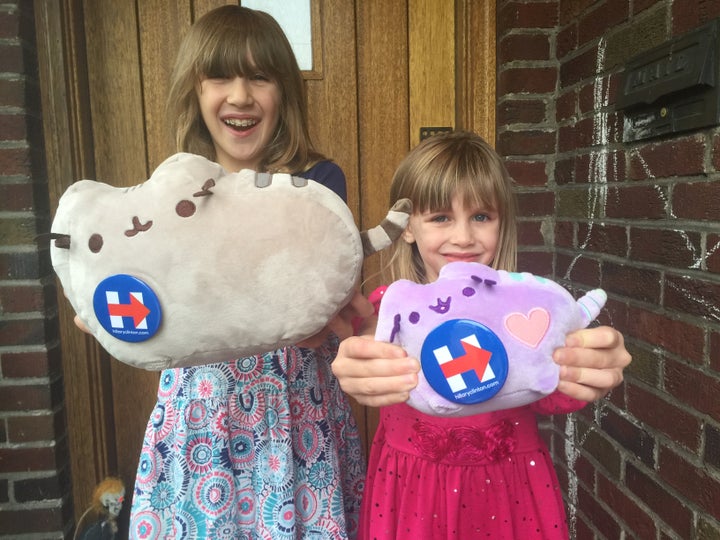 What do you hope your drawing will do for Hillary? What's your biggest wish for her?
For her to see it and make me famous. (laughs)
My biggest wish for Hillary is it will encourage her to keep persevering. And for her to win!
What do you think you'll be drawing next?
I'm going to draw Trump being crushed by a giant Hillary sign — you know, the big H with the arrow.
My sister and I also plan to draw pictures of our favorite animals and put them for sale to keep raising money for PAWS even after the election. Hillary inspires me to keep helping and fighting for what I think is important, and I think saving animals is very important.
If you got to talk to Hillary, what would you say to her?
I'd say, "You're very inspiring and you're totally going to win."
(And I'd say, "You're beautiful!" added Annika.)
Follow AinsleyAnnikaArt on Facebook, where the girls will be sharing their artwork along with photos of people wearing their designs.
Popular in the Community