Mijente, a new "political home for Latinx and Chicanx organizing," is on a mission to "wall off [Donald] Trump's politics of hate" during the Republican National Convention, taking place next week.
In a video posted on the crowdfunding site Indiegogo, Mijente's community organizer Tania Unzueta says the organization is teaming up with The Ruckus Society, Iraq Veterans Against The War, The Other 98%, The Working Families Party, as well as volunteers to build a 15,000 ft. banner wall around the Quicken Loans Arena in Cleveland, Ohio, where the GOP convention is taking place next week. She explains the wall will be a symbol to wall off Trump's hateful, xenophobic rhetoric at the convention.
Mijente is inviting students, veterans, parents, children and community organizers to join them in decorating, painting and erecting sections of the wall. They'll provide the workspace, fabric, paint and stencils necessary to help #WallOffTrump at the convention.
"Our wall won't be the kind of wall that divides cultures and families," the organization's campaign page reads. "But a wall that brings us together to fight for a better future for our children."
Mijente goes on to say Trump's vision for the country is as small as his hands and his "Make America Great Again" slogan "is code to take our country back to a past of racial segregation." Unlike Trump's divisive rhetoric and proposed wall, Mijente says their wall "will celebrate the beautiful potential our people hold."
To learn more about Mijente and their proposed wall, check out their crowdfunding page at Indiegogo or visit wallofftrump.us.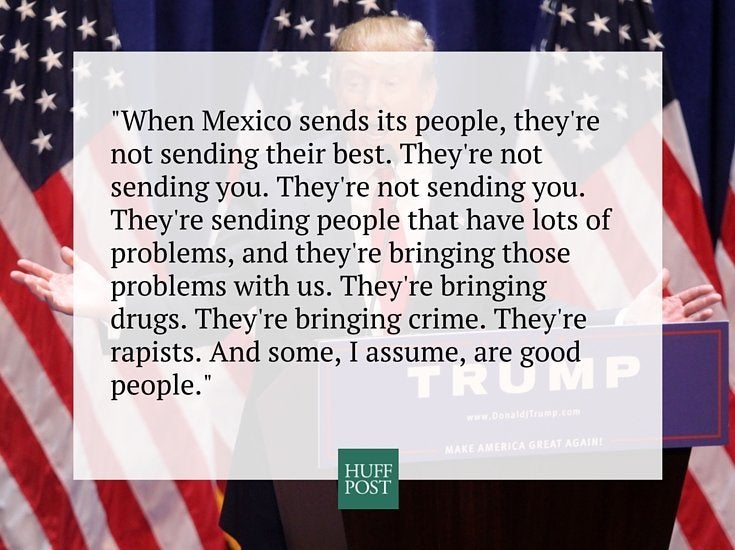 9 Outrageous Things Donald Trump Has Said About Latinos