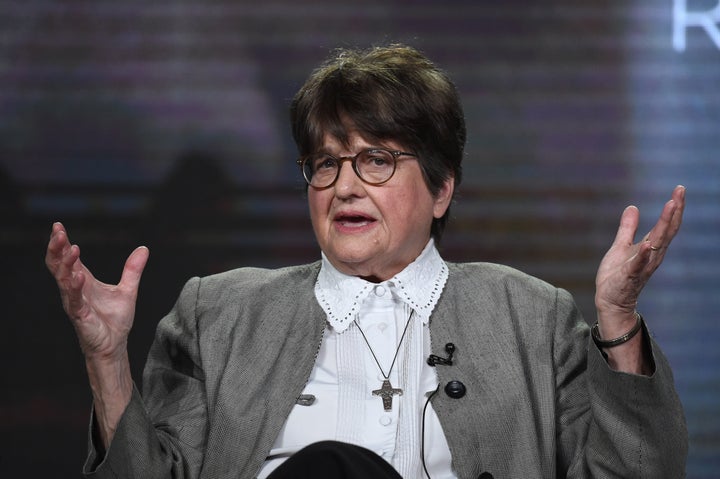 Prejean, whose book about capital punishment, Dead Man Walking, was made into an award-winning film, has been tweeting her concern about Arkansas since February. That's when Gov. Asa Hutchinson announced plans for a flurry of executions. The state initially planned to conduct eight executions over a 11-day period in April, arguing its supply of a lethal injection drug would expire on April 30.
Prejean has been rallying opponents of the death penalty together to call and tell Hutchinson and Arkansas' attorney general Leslie Rutledge to "stop the killing spree."
As a Catholic, Prejean's activism is rooted in her faith. When Gov. Hutchinson tweeted out a Bible verse on April 23, one day before his state planned to carry out double executions, Prejean was quick to respond with some choice words for the fellow Christian. 
Jones, 52, faced the death penalty for the 1995 rape and murder of Mary Phillips, an Arkansas bookkeeper, and for attempting to kill Phillips' 11-year-old daughter. 
Years later, Jones' lawyers said he suffered from poor health. He was a diabetic patient and an amputee. His lawyers worried that the high doses of drugs he was on could prevent the lethal injection from working properly. 
In a series of tweets sent out as Jones faced death, Prejean used research compiled by the Fair Punishment Project to describe the inmate's past. And in doing so, she reminded her followers of his humanity.
Marcel Williams, 46, was on death row for raping and killing a 22-year-old woman named Stacy Errickson in 1994.
Williams, who weighed 400 pounds, was diabetic. His lawyers were concerned that Williams faced a "torturous" death because of his obesity.
Like she did for Jones, Prejean took to Twitter to tell her followers about Williams' past.  
According to the Fair Punishment Project, Williams had apparently grown up in "crushing poverty" and had been the victim of sexual abuse since he was a child. Prejean used the Fair Punishment Project's research to tell Williams' story.
 Williams' death was briefly delayed Monday night after his lawyers expressed concern about how Jones' execution was carried out. The lawyers claimed Jones was "gulping for air," which Arkansas' attorney general denied.
A federal judge lifted the stay on the execution. The AP reports that Williams was pronounced dead at 10:33 p.m.
Gov. Asa Hutchinson initially scheduled eight executions within a span of 11 days, which would have been the highest number of killings in such a compressed period since the Supreme Court death penalty was reinstated in 1976. Arkansas has killed three inmates so far this year, with one more scheduled for Thursday. The four others have been blocked. 
In a Facebook post last week, Prejean reiterated her belief that the death penalty isn't merciful or just ― she believes it's vengeful. 
"The Jesus that I know spoke out against vengeance, even to the point of giving up his own life. Jesus was a convicted criminal executed by the state," she wrote. "That's why I don't understand how Governor Hutchinson can call himself a pro-life Christian while planning to kill 8 people in 11 days. The death penalty is antithetical to everything Jesus stood for and is a gross violation of the sanctity of life."
Calling all HuffPost superfans!
Sign up for membership to become a founding member and help shape HuffPost's next chapter
BEFORE YOU GO