When GQ declared Abbot Kinney the coolest block in America back in 2012, Spencer Falls hadn't yet posted up outside Gjelina with Untho, his van. There's no denying that Falls, an actor best known for his role as Dr. Garrett Whitley on the New Zealand soap, "Shortland Street," has that cool factor that distinguishes him as an Abbot Kinney merchant. Then there's Untho.
Untho isn't just any van; he's a 1980 Volkswagen Vanagon in prairie gold with custom wood floors and a Navaho blanket hanging from the ceiling. Falls tricked it out himself, even going so far as the cut the fabric and sew the curtains. And Untho is filled with flowers, or what Falls dubs, "bouquet art."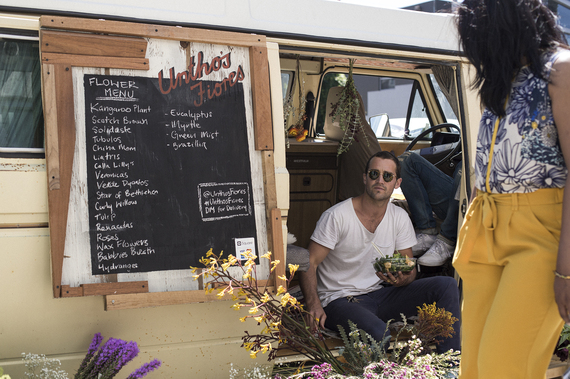 "I have this van. It would be rude not to sell flowers out of it," Falls tells me, when I take a break from (window) shopping (seriously, who can afford the good stuff on Abbot Kinney?) Besides Falls' charisma and infectious energy, which make you want to hang with him and sip a $5 green latte, he's got the most interesting flowers arrangements I've seen in a while. And I'm a flower enthusiast. Falls, whose father was an orchardist in New Zealand, is also extremely fond of flowers. And so, about a month ago, Untho's Fiores, a mobile flower shop, was born. "A lady deserves flowers for no occasion and for every occasion," Falls tells me. As for the bouquets, Falls offers "robust arrangements, where you won't find many petaled-flowers. And no roses. Roses are too easy."
Falls also likes baby's breath to add volume and a "delicate touch" to a bouquet, rosemary for unexpected fragrance, and the silver cock's comb (Celosia argentea) what he calls a "trippy, trippy flower."
When it comes to color, he tells me "white is the black of flowers," and can be very grounding in a bouquet, but colors that pop excite him. "I love the colors of flowers. I'm an earthy neutral toned dude. That's my vibe. The world is too if you think about it, so flowers are a great excuse to engage in color."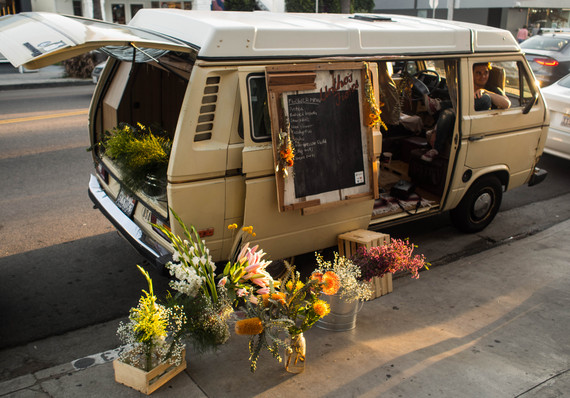 His bouquets run from $15 to $25, a bit more for custom arrangements, which might make them the best deal on Abbot Kinney. Bouquets come tied with twine in a burlap sack made from repurposed coffee bags and filled with just enough water so you don't arrive home with droopy flowers. But people come to the van because the whole situation is intriguing. Falls is a Jack-of-all-trades who wants to populate the world with more flowers. "We live in this urban-scape, so flowers connect us back to the earth."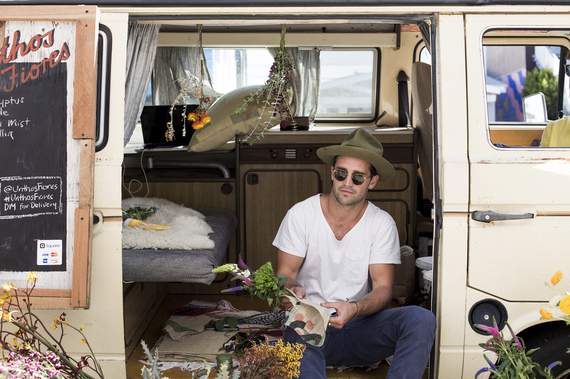 "The flower industry is all about positivity. When you think about it," Falls says, "you give flowers to say 'thank you,' or 'congratulations,' or to express love."
Just in case you need a last minute Mother's Day gift, Falls and Untho will be offering special bouquets for mom.
*Photographs courtesy of Spencer Falls and Ryan Daniell
REAL LIFE. REAL NEWS. REAL VOICES.
Help us tell more of the stories that matter from voices that too often remain unheard.