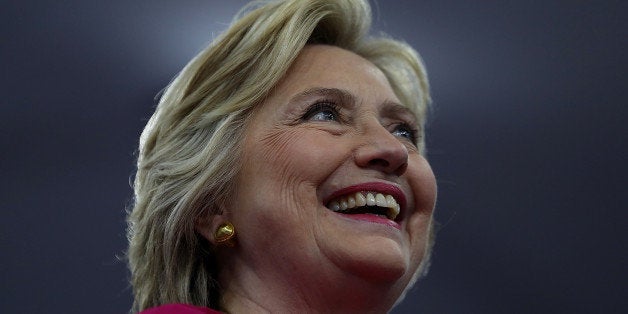 I have tried to write this story before. It's an adoption story. It's painful. It's personal. It is not easy to share. But with Hillary haters working overtime to dismiss, deride and defame her as the embodiment of all evil, I feel an obligation to speak. Because Hillary Clinton plays an essential role in this story. Although she is unlikely to remember us, she helped changed our lives forever.
Every adoption story is different; many begin with loss. Loss of a pregnancy. Loss of fertility. Loss of hope. Ours was no different.
But our story ends with joy, a baby boy with a wide smile, who grew to be a kind, thoughtful and funny young man. I am grateful to his birth mother. I am grateful for every day that he is in my life. And I am grateful to Hillary Clinton, whose simple act of kindness made all the difference.
Pursuing adoption, at least back then, was fraught with uncertainly and disappointment. Doors opened and closed. A private adoption for a baby girl, for whom our friends had already donated maternity clothes, failed when the birth mother changed her mind.
Then I traveled to Guatemala. The orphaned and abandoned children I visited in Guatemala remained beyond reach; with the legal system in shambles, it would have taken several years to adopt and bring a child out of the country.
Our last hope was a domestic adoption agency. We signed up and heard nothing for a year.
Then one night, while attending an American Bar Association meeting in Chicago, I found myself at a small dinner with Hillary Clinton, then the First Lady of Arkansas and a partner in a prominent Little Rock law firm. She had recently been appointed to the organization's new Commission on Women. I was a new member of the Leadership Council for what is now the Section on Civil Rights and Social Justice. It was a small, informal affair.

"Although she is unlikely to remember us, Hillary helped changed our lives forever. "


There were about ten women at the table. I sat directly across from Hillary. I liked her immediately. She was warm, engaging and a bit funny. I no longer recall who organized the dinner, but I remember every detail of the long narrow room with dark wood paneling, and I remember where the pay phone was located--on the wall right outside the room--because when I excused myself to call home, I found that my husband had been frantically looking for me.
The agency had called. There was a baby boy waiting for us in Little Rock, Arkansas. I needed to catch the next flight home.
I returned to the table. Did I blurt out the news? Was it obvious that I had returned from the phone call in an altered state? Little Rock, really?
I recall Hillary's delight at the news, and her helpful tutorial on Arkansas' adoption laws. She offered a recommendation for a good local adoption lawyer and made suggestions for a hotel. I thanked her and returned home to a blur of activity: endless phone calls; documents faxed back and forth; and a proud big sister insistent on putting the nursery in order before we flew to Arkansas.
And then everything stopped.
The agency was slow in responding to our request for medical records. When they finally arrived, they presented a confusing and potential devastating portrait of our baby's health. My husband, a physician, found the medical notes cryptic at best, and the agency, located in another city, was unable to help us.
I needed help on the ground. We knew no one in Arkansas. My husband had no colleagues there. There was no public Internet to help locate trusted medical care. I decided to take a chance and called Hillary at the Rose law firm. I wasn't sure that she would even remember my name or return my call. But she did--within minutes--and quickly grasped the gravity of the situation. She put me on hold, placed a call and made an appointment for our baby with the pediatric practice where she took her daughter Chelsea.

I took down the information. She wished me luck. And with her help our luck changed. Our baby was quickly cleared for adoption.
She called me later to check in. I sent her a thank you note. After that, we did not speak again.
Last month, in her acceptance speech at the Democratic Convention, in an attempt to explain her true self to skeptics in Philadelphia and beyond, Hillary Clinton said: "It's true. I sweat the details...Because it's not just a detail if it's your kid, if it's your family. It's a big deal. And it should be a big deal to your president, too."
Our "detail" came home with us because Hillary Clinton sweated the details of an adoption 26 years ago for a family she didn't know, didn't represent, and didn't expect anything from.
When I asked my son Max whether I could share his adoption story, he quickly agreed. Like countless others, he and his parents have seen the real Hillary Clinton. We will be voting for her in November.
Calling all HuffPost superfans!
Sign up for membership to become a founding member and help shape HuffPost's next chapter