What's more adorable than a young mother-daughter duo in matching outfits?
A mother-daughter duo traveling the world and showing appreciation about the culture there by wearing matching national costumes!
This is what Ahnah Han, a 32-year-old Korean-American woman living in Singapore, is doing with her 21-month-old daughter Senah.
Ahnah posted some photos in the Girls Love Travel group on Facebook to get tips on where to find the Khmer national dress for her family's next trip to Cambodia.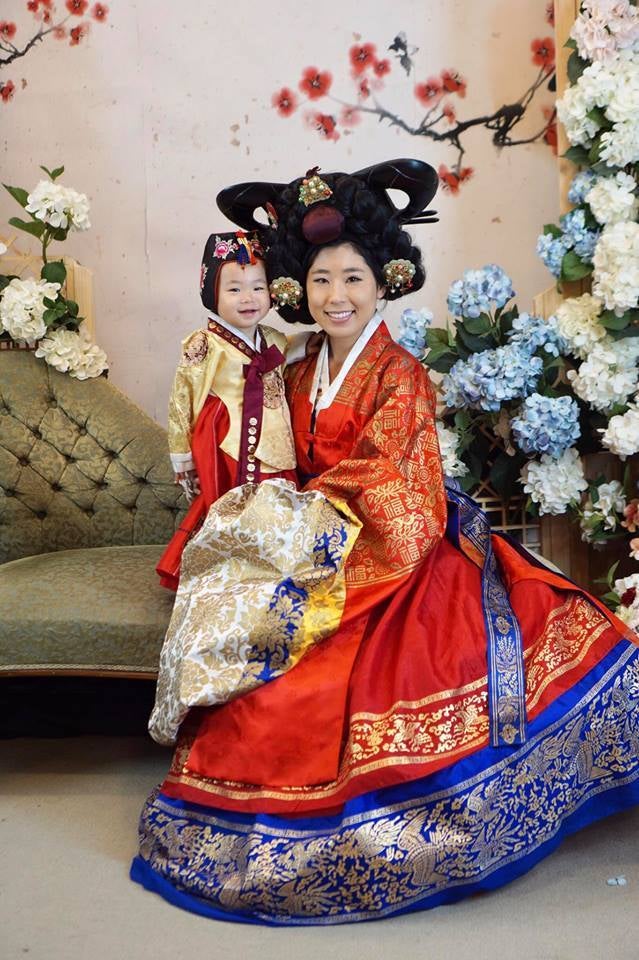 My 21-month-old daughter and I try to twin in the traditional outfit of every country we visit. She has been to 12 countries -- Australia, Canada, Hong Kong, Indonesia, Japan, Malaysia, the Maldives, South Korea, Thailand, the United States, and Vietnam...[and] we would really love to continue this tradition in Cambodia. Does anyone know where I can find matching Khmer clothing for my daughter and myself?
As expected, the almost half a million strong Facebook group went crazy.
"This is so beautiful!" a lot of the women said. "I will copy this when I have kids," said others. It even made a lot of women who didn't want kids dream of having one, after seeing Senah in her traditional outfits.
Ahnah also got invitations from other members to visit their countries and rock their national costumes.
"Come to Bangladesh and try the Saree," one member said. "You guys are so cute. I'd love to see that traditional Canadian outfit," another offered.
Is it cultural appropriation? People said no.
Claudia Hernandez, one member, said it's cultural appreciation.
The garments are all being used in a respectful manner; nothing that would be considered of sacred meaning is being used out of context by her, nor is she taking any one part of what should be a complete outfit being 'cut and pasted' into anything else. She's also not using them in a Halloween party type of sense, but rather in their natural setting, and she's not changing things like skin tone or claiming to have "brought to light" anything that people in the area have been wearing for many, many years. Bonus points that she seems to be trying to find locally made goods as much as she can (thereby supporting local craftspeople instead of just something mass produced).
Ahnah initially thought of the idea when she visited South Korea when she was 17. She saw couples in matching outfits everywhere, and although her husband agreed to wear matching shirts, he was reluctant. She found the perfect twinning partner when Senah was born.
They were in Bali, Indonesia when Senah was less than 1 year old and wore matching dresses she bought in a mall in Singapore. She put on a sarong before they entered the temple to show respect, and decided to put one around Senah, too.
When their trip was over, she looked at the photo of the two of them in matching sarongs at the temple and loved it, and decided to do it in all their travels from then on.
How does she find these dresses?
Ahnah usually contacts someone local to help her, either through the hotel, a friend, or an online acquaintance. In Vietnam, she met someone through Instagram whose sister made pretty ao dais, and when Ahnah told her what she needed, the woman asked her sister to make an ao dai for her and Senah.
"We even met up in Ho Chi Minh City for coffee so she could hand-deliver the outfits to me. I was extremely touched as it was Labor Day weekend and she had plans to take a bus down to visit her family, but she took the time and effort to help us."
Over and beyond taking nice photos of her and Senah, Ahnah continues this tradition so she and her daughter can learn more about the culture they're visiting.
"We would like her to be culturally aware and respectful of every country we visit," she said. "Senah will probably not remember visiting all these countries, but we hope these experiences will shape her to be a more open-minded, curious, and adventurous person."
Follow Ahnah and Senah's twinning moments on Instagram.
About the Author
Aleah Taboclaon is the travel blogger behind Solitary Wanderer. She loves being location independent and funds her travels with freelance editing and writing work. Aleah has been to 33 countries in Asia, Europe, South America, and North America. Follow her adventures on Instagram and Facebook.
REAL LIFE. REAL NEWS. REAL VOICES.
Help us tell more of the stories that matter from voices that too often remain unheard.
This post was published on the now-closed HuffPost Contributor platform. Contributors control their own work and posted freely to our site. If you need to flag this entry as abusive,
send us an email
.