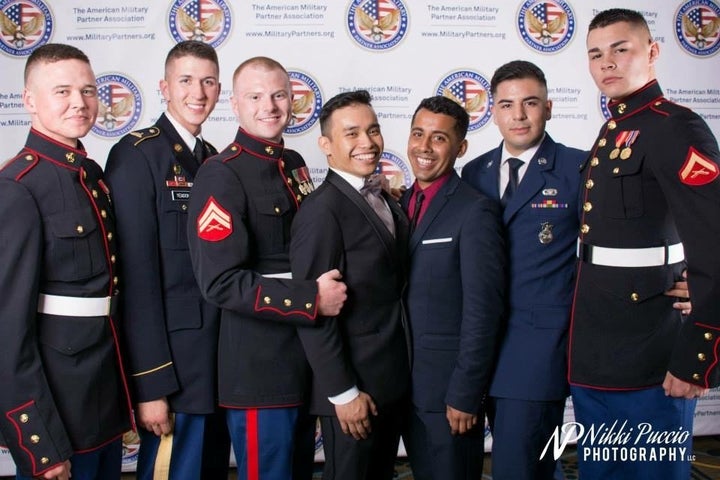 Today's RaiseAChild.US Huffington Post Queer Voices "Let Love Define Family®" series installment is about one of our partners: the American Military Partner Association. Families previously featured on our weekly series share their experiences of how AMPA has assisted in their lives and transitions with the military. Contributing writer Beth Hallstrom details the benefits of having AMPA and the significance it has for, what they call, America's modern military families. 
45,000 members strong, the American Military Partner Association is marshaling the forces of the LGBT community serving our country, leading the charge to battle obsolete policies within the United States armed forces and providing a voice for their heretofore silent soldiers. 
A non-profit organization run completely by volunteers, AMPA is the leading source of education, advocacy and support for what it calls "modern military families" -- the LGBT soldiers, their spouses and children who have been forced to live in the shadows for years.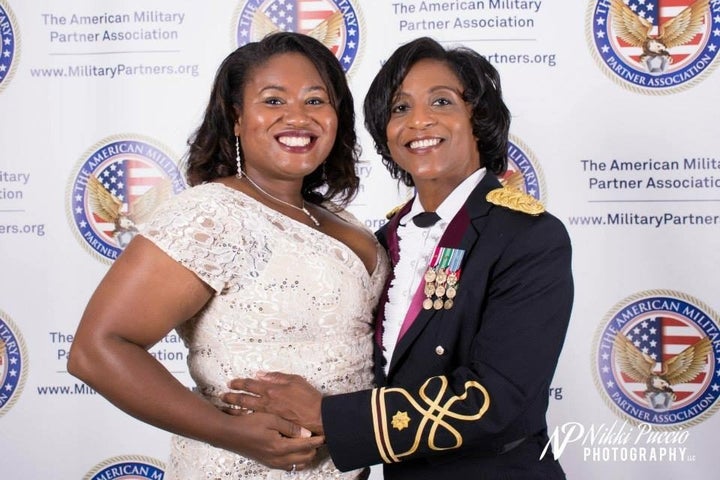 Jonathan joined AMPA when Thomas, a linguist for the U.S. Army, entered basic training. Residents of Baltimore, they are adopting a baby girl and were featured on AMPA's blog during National Adoption Month in November. Jonathan said AMPA was a great help advising them through the adoption process. 
Jonathan said, "At the time, there was marriage equality in just a handful of states and there were so many unknowns. It was so stressful; could he talk about me? What if there was an emergency, would I be notified?
"Then I found AMPA. I got involved with the discussion groups and seminars and when we needed help, we got what we needed along the way."
According to AMPA spokesman Nick Stone, before the repeal of the "don't ask, don't tell" policy and marriage equality becoming the law of the land, fear and secrecy was a way of life for America's LGBT service men and women. 
On a more pragmatic level, the discrimination meant spouses and children didn't qualify for the same benefits, such as health care and housing, other married families did. Same-sex couples couldn't even attend military social functions together.
Then, Nick explained, in 2009 the Campaign for Military Partners was formed to connect and advocate for the same-sex partners of service members. This forerunner to AMPA was sponsored by Service Members United, an organization that worked toward the repeal of "don't ask, don't tell."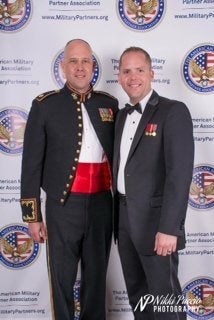 While the policy was abolished in 2010, Nick continued, AMPA was officially organized in 2012 by Stephen Peters, the spouse of a Marine, in Washington, D.C. with a board of volunteer directors.
"AMPA quickly spread around the country, giving families a voice and ways to connect, share information and support one another. I've been a member of AMPA for four years and it has helped me tremendously navigating the world of the military spouse," Nick said.
Nick, a professional photographer, and his husband, Cortney Mansanarez, who serves in the U.S Navy, recently moved from Cortney's former post in Washington, D.C., to his new assignment in San Diego.
Nick explained, "It is AMPA's mission to connect, support, honor and serve the partners and spouses of LGBT service members and veterans -- what we call America's modern military families."
"As the laws are changing, our organization is working closely with the Pentagon. It's been amazing to see the changes come so quickly. We are so glad that now, it's definitely easier to be an LGBT family in the military," Nick noted.
Another AMPA couple, Raquel and Crissel Guerra-Luna of Chino Hills, California, said they found great support from fellow members on a variety of issues, including fostering and adoption.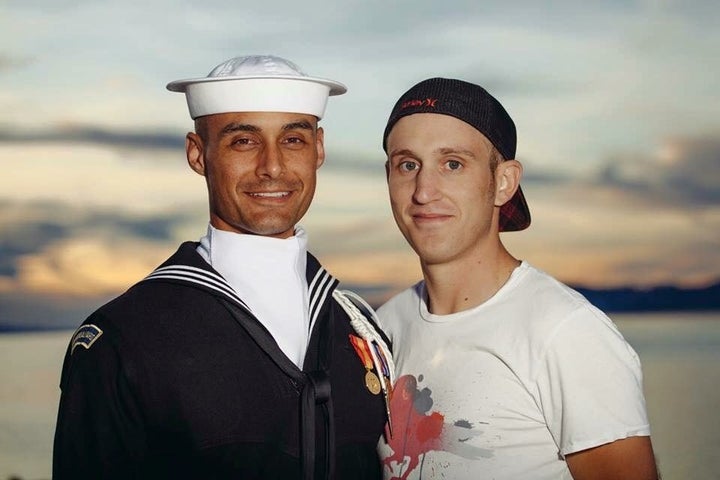 Raquel recalled, "In the summer of 2013, when the Supreme Court ruled that federal benefits would be given to all same-sex married couples, this meant that all soldiers in same-sex marriages would be able to receive all the benefits given to everyone else: healthcare, housing and many other benefits were now available to soldiers where they had never been available before.
When this happened, soldiers and spouses were using AMPA to ask advice on how to get married, tell their commanders and how to navigate the process of adding a spouse as a dependent to receive all the benefits."
"My wife and I were very fortunate to not have any complications, but I know this wasn't the case for everyone. A lot of soldiers were posting their hurt and frustrations on Facebook with people who tried to stand in their way or make things more difficult. Fellow AMPA members immediately offered advice and encouragement to help them get what they rightfully deserved," she added. 
Today, AMPA boasts as the nation's largest private online support network for LGBT military partners and spouses and sponsors national and local events -- both social and educational. AMPA also works with all branches of the service and is constantly evaluating the special challenges and problems of LGBT military families, Nick noted.
"At its heart, AMPA's mission is to bring people together, share information and help solve problems. It is vital to a modern military that functions in an open, honest and fair way," Nick said. 
Raquel said she found AMPA's Facebook page an invaluable way to share information with other families.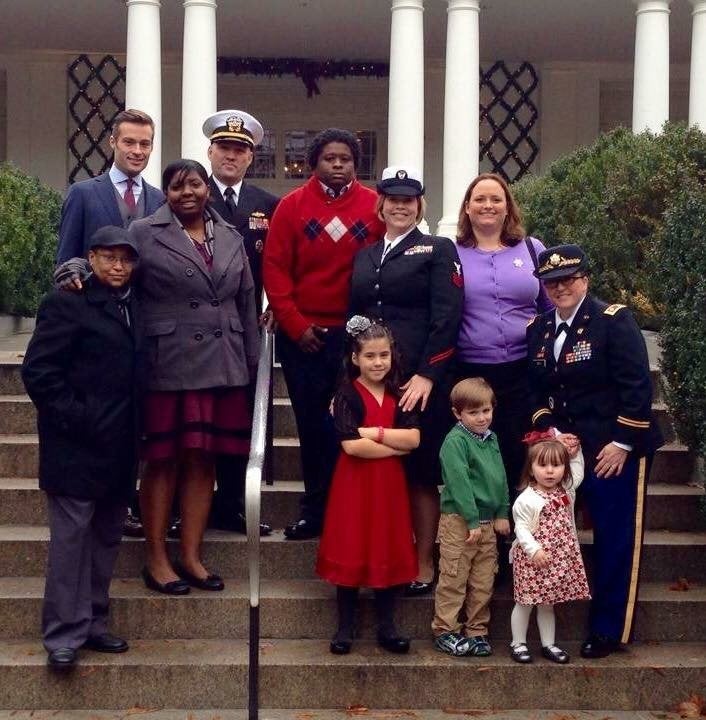 "I did most of my reaching out, responding and communicating through the Facebook page. It's a really good source of information. Soldiers and spouses post questions and others who have experienced similar situations or have answers quickly respond I know Crisell and I called on AMPA advice when we decided to start our family," she said. 
"People also use the AMPA FB page as a way of emotional support. Many times spouses will post their frustration and heartbreak because their soldier is deployed.
Myself and countless other spouses offer support and words of encouragement because we know what it's like to miss our soldiers," she added. 
For more information, visit AMPA's website at militarypartners.org. The site lists a wealth of resources, a blog, a form to join and how to volunteer. It also includes information about events, especially AMPA's biggest party of the year, The National Gala. This year's gala is slated for May 7 at the Hyatt Regency Capitol Hill in Washington, D.C. and tickets are currently on sale.
Have you ever thought of building a family through fostering, adopting, or weekend hosting? RaiseAChild.US is the nationwide leader in the recruitment and support of LGBT and all prospective parents interested in building families through fostering and adoption to meet the needs of the 415,000 children in the foster care system of the United States. RaiseAChild.US recruits, educates and nurtures supportive relationships equally with all prospective foster and adoptive parents while partnering with agencies to improve the process of advancing foster children to safe, loving and permanent homes. Take the next step to parenthood at www.RaiseAChild.US or call us at (323) 417-1440.
Calling all HuffPost superfans!
Sign up for membership to become a founding member and help shape HuffPost's next chapter