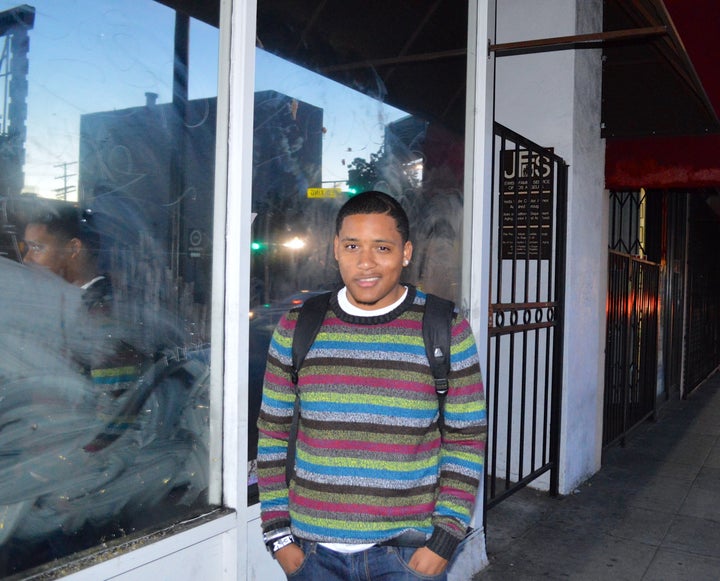 In this RaiseAChild "Let Love Define Family®" series installment for Huff Post Queer Voices, contributing writer Danielle Lescure introduces us to a former foster youth who aims to inspire and help others.
Dominque 'Domo' Ross, 24, is all about positivity. He listens to podcasts and Joel Osteen for inspiration and is determined to use his passion for photography to make a difference. But as a former foster youth who is gay, the path to finding that peace within himself was far from smooth. In sharing his story, he knows he can help empower, educate, and inspire others.
"I just like doing positive things like this," he said.
"I've been in foster care since birth. My aunt raised me. I was with my original family, but my mom couldn't take care of me so I ended up with my aunt who is my legal guardian. My mom would be in and out of my life when I was younger. She would be there sometimes for my birthdays, but not consistently. But when I emancipated she had kind of gotten her life together."
His aunt had two children of her own while also raising Dominque and his older biological brother. Though he was cared for at home and calls his aunt 'Mom,' as he grew older Domo struggled in school and with his growing awareness of his sexuality. These challenges impacted his relationships inside and outside the home making it difficult for him to connect with and trust people.
"I was placed in Special Ed. I had to take special classes in middle school so that was something I had to struggle with, being teased about that," he said. "And being teased about my sexuality. I didn't have a third person to talk to growing up. I didn't have support or feel close to somebody enough to bring it up because on my side of the family it's very frowned upon. We would be watching a show and they'd be like, 'Oh, he's so gay.' When you hear your family say that in front of you and they don't know about you, you kind of step back from being yourself because your family already says out loud what they judge."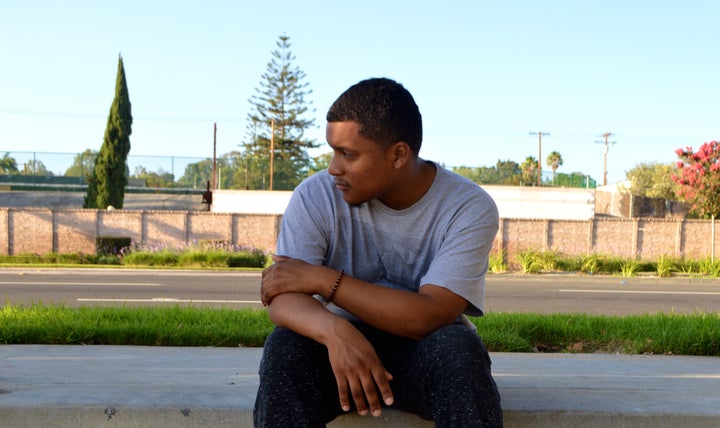 "I did a lot of fighting growing up. I didn't get along with many people. I had a couple of bad experiences because of who I was. I was honest with people and they would start rumors. And I would deny them just to protect myself. I would fight to prove my respect. I ended up in a private school for a while for children who got kicked out of school because of bad behavior."
Additionally, though he was living with birth relatives he was still in the foster care system and had to meet quarterly with a social worker. Even there, Domo felt he wasn't always heard.
"I had three social workers growing up. I can only remember two of them," he shared. "And they were more concerned about what my legal guardian, my aunt, said more than what I had to say about myself, like what I felt was going on with me or my living situation. So that was the other struggle."
"I didn't have that go-to person. So, I dealt a lot with being around the wrong people just because I wasn't sure who I was. I kinda tried a lot of different personalities I guess you can say."
At 18, he emancipated out of foster care and was offered transitional housing, an option available to foster youth until age 24. His first foray into the world as an adult was a less than positive one.
"I agreed to it; it sounded nice. I could get my apartment. At the time I didn't know what I was getting myself into. I go to see my apartment and the door literally doesn't close all the way and the apartment was horrible. There was dirt all over. It was just really old. My auntie and my sister, they always advocate for me, called the supervisor and within two weeks they refurbished the whole place. That was exciting; I had a nice apartment. But then they moved in a roommate. Long story short, I got robbed so they kicked him out. There was nothing they could do. All my stuff was gone."
Knowing he deserved a safer and happier living situation, Domo transferred into the Pathways Program run by United Friends of the Children. It was here he finally began to find the acceptance he had always longed for.
"When I went to Pathways it was better just because the environment was more foster youth and the community was more accepting of who I am. Nobody cared about your sexuality. We had a life skills class so they brought up topics about sexuality; everybody's telling their background story. They had an understanding. And that opened a lot of doors for me just meeting people as long-term friendships or just being comfortable in my environment and being comfortable with myself. Even when I'm down, I'm comfortable with myself no matter what type of setting I'm in. Before then it was, 'Who are you? I don't know you so let me just be quiet.' But now I'm more social."
"For me, I feel that through that program I grew a lot more within myself, knowing myself more and knowing a community that accepts you for who you are and loves you for who you are. I've moved on but they have an alumni program so when they have Easter or Thanksgiving or Christmas parties, I'm always invited. They're still people I can contact if I need a letter of recommendation or just to talk."
It was also around this time he finally came out to his family. In fact, it was the two people he is closest to, his aunt and his mother, who brought it up before he could.
"I would say around 20 is when my aunt and my mom sat down with me and they had, like, an intervention and asked me, 'Are you gay?' and I said yes. I like that they did that than me coming to them for some reason. It just took me awhile to do it. But they just wanted to talk about it and nip it in the bud."
Dominque is all too familiar with the fears LGBTQ youth face. He encourages them to stay positive, to keep trying, and to know that they belong and support is out there for them.
"It's easy to feel like you're alone but you're not. There are people out there that will love you and support you for who you are. It's a journey; it may take time but you have to have patience. Be a part of a healthy community, people that don't mind talking about other people's issues, friends that accept you for who you are, and hopefully find a family member that you can come out to and that embraces you."
Surrounded by the loving support of family and friends, Domo now sees the best in himself and others. He is truly grateful for and embraces the qualities his aunt and mother have instilled in him.
"I love my aunt. My aunt is someone who worked hard for what she gets. If she felt like she needed to say something, she did. I got a lot of speaking up for myself from her. And from my biological mom, I got a lot of my kindness. I have this big heart because of her."
Giving back is also important to Dominque. He volunteers with the National Foster Youth Institute which provides a meeting place for foster youth to talk about issues such as homelessness, healthcare, current housing circumstances, or the abuse from the past. He's able to use his own experiences to offer guidance to others as well as perspective on how the foster system can improve.
"The good parts are some of the resources. The bad part is that some of the resources aren't for you long-term. It's okay to have a cutoff time, but there's a lot of 20-year olds that are homeless or don't know about certain resources because nobody has followed up with them or called them. Just having a format that's better for them to succeed, and it's not that they don't, but you shouldn't have to go out and look for it yourself. I find opportunities on my own and I love that because I continually do want to grow, but some people need that extra reminder or help from someone. At the end of the day, they have to want it for themselves, but they sometimes need that extra support to remind them why. So better communication, better information. Like with transitional housing, I had to leave because I aged out. They give you a lot of chances to get a job and try to get your own apartment, but if that doesn't happen then what?"
"I think some foster youth, they get excited because they're about to get their own apartment, but they don't really know, at least for me outside looking in, what are you getting yourself into? Who will be your roommate? What kind of program is this? Those are the things to look for so that you come out in some way successful."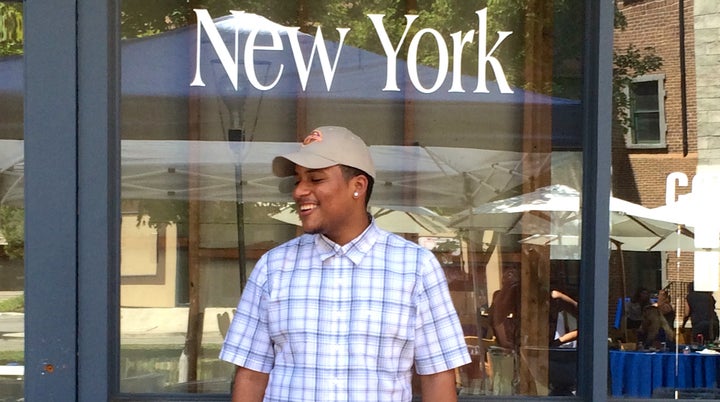 Today, Dominque is excited about his future. He's enrolled in a career development class at Westlake College and currently working full-time as an office assistant through an internship with Ryman Arts in downtown Los Angeles. At Ryman, he's not only gaining valuable corporate and communication skills he's been impressed and inspired by the talented teen artists transforming their lives with art.
His own creative outlet is photography and while he's done some freelance work at weddings and with models, Domo is determined to use his gifts to help others to find their place in the world.
"I'm passionate about photography. I'm trying to work on being an advocate for foster youth and LGBTQ people to show them there's a way to be creative and be yourself. I'm trying to figure out how to use this platform to help others. Just so I can show people I'm a former foster youth but look what I'm doing. You can do this too."
"Do something, because what else are you living for if you're not doing something? We all should have a goal. And deep down we all aspire to be someone in life. It's not unrealistic, you just have to have the pathway to it and the support system and belief."
Studies have shown that about 40% of homeless youth self-identify as LGBTQ. Are you interested in learning how to help? RaiseAChild is a national 501 (c) 3 nonprofit dedicated to building loving families for foster children™. RaiseAChild has engaged more than 3,000 prospective foster and adoptive parents as the nationwide leader in the recruitment and support of LGBT and all prospective parents interested in building families through fostering and adoption. For more information, go to RaiseAChild.org or call (323) 417-1440.
Calling all HuffPost superfans!
Sign up for membership to become a founding member and help shape HuffPost's next chapter