As February dawns, you're seeing a lot more red and more hearts. While that is partly due to Valentine's Day, it also is because -- for the 51st straight year -- the White House has designated February as American Heart Month.
The federal declaration is a powerful way of reminding Americans that heart disease is their No. 1 killer. If you're fortunate enough not to be affected, someone you love almost certainly is.
We cherish this month as an opportunity to further raise awareness, and to honor every person in this fight -- from those struggling with diseases to their caregivers, from pioneering researchers to today's sharpest minds seeking the next major breakthrough.
There are plenty more head-spinning facts and figures, though I'll leave you with only this: 85.6 million, the number of Americans who are living with some form of cardiovascular disease or the after effects of stroke. Call them patients if you'd like; I prefer the term survivors.
Deborah Daw Heffernan is a survivor several times over. Here is her story, a courageous, inspirational tale that kicks off American Heart Month in a fitting way, weaving through many of the most important themes of our mission.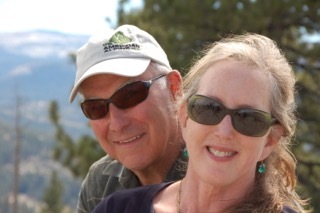 Deborah's first heart attack hit during a gentle yoga class.
It made no sense. She was only 44, thin and fit, and with no family history of cardiovascular disease. Yet there was no mistaking the symptoms, all the classics of a heart attack: the elephant-on-the-chest sensation, arm tingles, hot and cold sweats. A double bypass and defibrillator followed, as did a book and a seat on Oprah's couch to discuss it all.
When Deborah's second heart attack hit, she'd just finished a gentle massage.
It was nine years later, and the symptoms were less pronounced. Pressure on her chest triggered a voice in her head telling her to pay attention to her body, a key warning she urges people not to ignore.
While Deborah's heart attack symptoms were typical, what was going on in her body was not. In each case, a coronary artery had dissected -- or, in layman's terms, shredded. Known as SCAD (spontaneous coronary artery dissection), such cases are often diagnosed by coroners. People rarely live through one, much less two.
Deborah survived the second time because a surgeon managed to insert a stent just as her coronary artery was ripping apart. How extraordinary was this? A fellow cardiologist and buddy of the surgeon marveled at his moxie in even trying it, sending a text that read, "I would've peed in my pants."
A few weeks later, back home in Maine, Deborah's heart went wild.
"I could see my heart popping between the ribs of my chest," she said. "It felt like a fluttering bird was going up my throat."
Acute heart failure was overwhelming her defibrillator. The pain and terror practically overwhelmed her.
Back in the hospital again, doctors fought to get her heartbeat under control. She endured two rounds of cardioversion, an electric shock to jolt the heart back to normal function. Hours after the second procedure, near midnight, Deborah felt settled enough that she sent her husband, Jack, out of the hospital to get some rest.
Around 1 a.m., her heart fluttered wildly again. Deborah describes this moment, alone in her hospital room with her fluttering heart, as one of her lowest.
"I knew that we could go no further, my little heart and I, that the game was up," she said. "It didn't even occur to me to call Jack. It was my moment of reckoning."
The next day, Deborah and Jack gave in to the decision they'd hoped to avoid for nine years. She needed a new heart.
Once a match was found, the transplant itself went fine. Recovery, however, was long and slow, including a nearly fatal bout with kidney failure.
Then came the morning when Deborah looked in the bathroom mirror of her hospital room and was frightened by how red her face looked.
"Is this some kind of rash? Am I allergic to another drug?" she asked her doctor in a panicky voice.
The doctor called in someone else to back up the diagnosis he was about to provide.
"You're healthy," he said, smiling. "Your cheeks aren't red -- they are rosy. Everybody on the floor is talking about how good you look."
Deborah laughed: "I didn't recognize myself!"
Deborah received her new heart in 2006. Today her health is strong. She also is ever-vigilant, maintaining what she considers a "huge responsibility" to her heart donor and the donor's family.
"I'm squeaky clean in my behaviors," she said.
She also continues spreading her unique insights on avoiding, managing, and living with heart disease.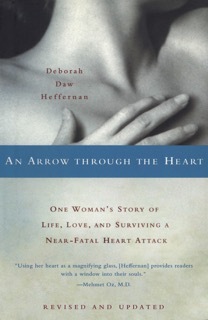 Her first book, "An Arrow Through The Heart," came out in 2002, focused on her first year of life after a heart attack. She recently updated and revised the book for a re-release. The digital version will be available Feb. 10, specifically timed for American Heart Month, with the paperback available in April.
An important note: Deborah donates all her proceeds, and more, to the American Heart Association, Massachusetts General Hospital and other causes, such as SCAD Alliance.
Now 62, Deborah is learning her way around the Internet in hopes of reaching larger audiences. She's set up a Facebook page and will soon launch www.DeborahDawHeffernan.com and www.ArrowThroughTheHeart.com. Followers will learn more about her upcoming projects, such as another book titled "Perfect Stranger" about her transplant.
Through it all, she maintains several core messages: Every morning is a gift. Be present for those you love. And, most of all, love.
"You cannot separate matters of the heart from the muscle," she said. "And love really, really matters, no matter whether you're a patient in a hospital room or an executive in an office on top of a skyscraper running the world. We must surround ourselves with love, and by 'love' I'm referring to kindness, curiosity, compassion, humor, forgiveness.
"Look at the world today," she adds. "It's really hard to put up your love flag. But if everyone did, imagine the difference it could make."

Related