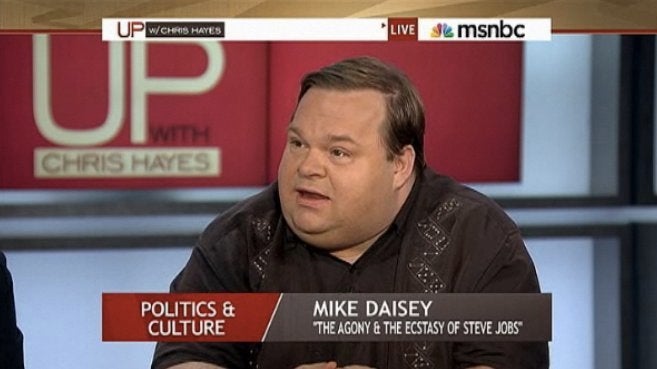 As it reels from its retraction of a story about Apple's factories in China, the producers of "This American Life" might not want to watch a video from last Saturday's edition of MSNBC's "Up with Chris Hayes."
The radio program suddenly announced Friday that it could no longer stand by a story it had run in January. The story mainly consisted of an excerpt from a monologue by actor Mike Daisey, who went to China to investigate the working conditions of Apple's factories. "TAL" devoted a large chunk of the show to its fact-checking process, saying it had examined Daisey's claims very thoroughly.
However, host Ira Glass said on Friday that Daisey had lied to them about the veracity of all of his claims.
Unfortunately, Daisey seems to have been consistent in his definition of himself and his work, if his appearance on "Up" is anything to go by. In almost excruciatingly prescient detail, host Hayes recounted how "TAL" had "put the show through its paces" and asked Daisey to talk about his "obligation to fidelity and the truth in your work."
Daisey was candid in his reply.
"It's a complicated subject," he said. "...I use all these tools that the world of objective journalism doesn't use, because we rely on objective journalism to public accounts that we can read in our papers and have faith in."
WATCH:
Popular in the Community