As an American Muslim journalist, Aymann Ismail is used to receiving hateful messages online and in person about his religion.
Ismail, a video producer and editor for Slate, says that people have told him to his face that Islam is evil. When an act of terror is carried out by a Muslim abroad, the 27-year-old from Newark, New Jersey, said he's often called upon to defend his faith.
If there's one thing he's learned from all these interactions, it's that many Americans seem to be reacting in fear.
In an article for Slate, he writes, "I've come to believe that many Americans are motivated by fear. Fear that I'll force women to cover themselves. Fear that they'll be subject to Sharia law. Fear that I'd kill if given the chance."
On Thursday, Ismail and fellow Slate video producer Jeffrey Bloomer debuted a new video series exploring Islam in America. In "Who's Afraid of Aymann Ismail?," Ismail actually seeks out anti-Muslim activists who are convinced that Islam is a religion that should be feared.
At the same time, Ismail turns a critical lens on American Muslims' cultural practices ― such as how Muslim communities treat queer people.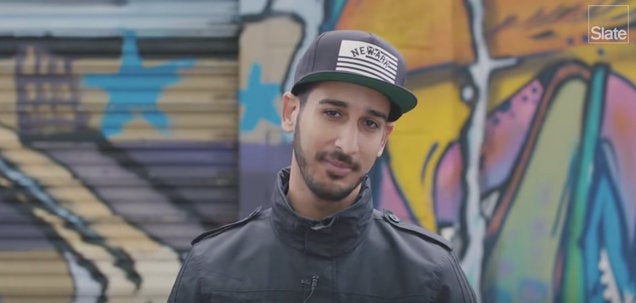 In the first episode of the series, Ismail visits the home of Jim Hoft, the founder of the conservative blog Gateway Pundit. Hoft, who is gay, kept his sexuality private until the mass shooting at Orlando's Pulse nightclub resulted in the deaths of 49 people. The attack was carried out by Omar Mateen, who came from an immigrant Muslim family. Hoft blamed Mateen's religion for the attack.
In the same episode, Ismail spoke with his cousin, Mo, and the filmmaker Parvez Sharma ― two gay Muslims who have faced threats from their communities because of their sexual orientation. Ismail dives into the homophobia that's present within American Muslim communities ― convinced that it's these kinds of conversations that will help stop perpetuating fears about Islam.
Below, HuffPost chatted with Ismail about his new series and the discussions he's hoping to spark.
HuffPost: In the first episode, you said that American Muslim communities have often defended themselves against Islamophobia by defending their faith from ANY kind of criticism. Why does that happen and what are the pitfalls of that approach?
Ismail: It's kind of depressing, but being constantly on the defensive is ingrained in the Muslim American experience. Even since way before 9/11, people use violence committed by Muslims abroad to demonize the Muslim population here in the States.
That means that every time a tragedy occurs that impacts everyone, I've got Twitter eggs in my mentions asking me what I'm doing to save London. So time after time, Muslims are forced to remind everyone around them that we are a massive and diverse demographic that spans hundreds of countries and languages, that we don't even agree on when to celebrate Ramadan let alone the best way to be Muslim. It conditioned me to reject any suggestion that my religion is evil. This ended up hurting me because instead of addressing people's fears, I reject them as xenophobia and race-baiting ending every conversation before it started, perpetuating those fears. It's easy to reject Daesh's enslavement of women or horrific executions of the LGBT.
What's harder is digging deeper and talking about those fears with people who believe that it represents me. By addressing the fears, we can form alliances to reject evil, no matter what direction the perpetrators pray.
What have you learned so far after talking to far-right and anti-Muslim activists? What are their motivations?
This sounds crazy, but I absolutely love talking with anti-Muslim activists. Not in a sadistic way I swear! I just really enjoy talking with people who have total opposite perspectives from me. From what I can tell, most people who hate Muslims are immensely misinformed and are vocal for the sport. Really, they get their info from sarcastic urls like religionofpeace.com. It's like being far-right or liberal is being a sports fan and no matter what happens, your team is the best team and all other teams suck. But once we get past the whole "Islam is cancer" part of the back and forth, there's a lot of earnest fear beneath the hate of societal collapse. That, many Muslims can empathize with given the current situation in the Middle East.
"From what I can tell, most people who hate Muslims are immensely misinformed and are vocal for the sport."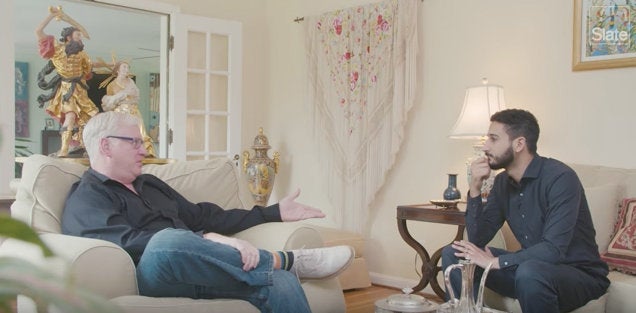 What do you think is causing Americans to fear Muslims?
The Huffington Post ran this really insightful article written by good friend Rowaida Abdelaziz about search engines weighting anti-Muslim websites that pipe anti-Muslim talking points. I'm serious, they get oddly specific, its weird. When I first talk with people, I usually need to spend 10 minutes letting them vent about what they hate about Muslims, but when they find out that I'm also very sternly against crimes against humanity like terrorism, FGM, and pedophilia, we can start to have an honest conversation about what really motivates their fears. I like to think we are all against the same things in America, [we] just really suck at communicating. Maybe we need national couples' therapy or something.
"I like to think we are all against the same things in America, [we] just really suck at communicating."
Who is your audience here? Who are you hoping this video series reaches?
Everyone everywhere. Muslims, non-Muslims, anti-Muslim activists, Muslims who hate Muslims, people who just don't know any Muslims, people who met a Muslim one time and thought they were a jerk, everyone. This entire series exists outside the bubble of partisanship. This isn't about proving any one side right. The goal is to introduce as many different perspectives to a subject that's been oversimplified into oblivion. Truth is, people's personal relationships with their identities are complex, and if you're interested in a nuanced look inside the complicated lives of regular ol' American Muslims, watch this series.
What kind of impact do you hope this series has?
If you watch this series and are confused by it, that's a win. There is no single answer to these giant questions floating over the heads of Muslims in America. Nobody has all the answers and I really strongly believe that everyone should stop pretending to have them. Every Muslim person's experience is different, that's just how life works. I'm already bracing for the ton of hate from both Muslims and anti-Muslims for presenting literally anything about Islam, but that's kind of the point. Be mad, be sad, be happy, who cares. But the people in this series exist and their stories and reality are just as valid as yours. But that's a big ask. Honestly, if you watch and think to yourself "huh?" you'll make this Muslim more happy than Eid dinner.
What other topics are you hoping to tackle in the future?
I've got a doc full of ideas for future episodes. It's like whatever the Muslim journalist equivalent is to Jay Z's rhyme book. The next episode will be about hijab, but it's really about my sister's relationship with her mom. Even though she's not so sure she wants to continue wearing it anymore, removing it would break my mother's heart. I've got my heart set on getting that Master of None's Religion episode vibe for that one. I'm also planning on doing episodes about radicalization, ex-Muslims and criticism of Islam, interfaith relationships, Sharia Law, Blasphemy, and really whatever else Slate will let me get away with.
Related
Before You Go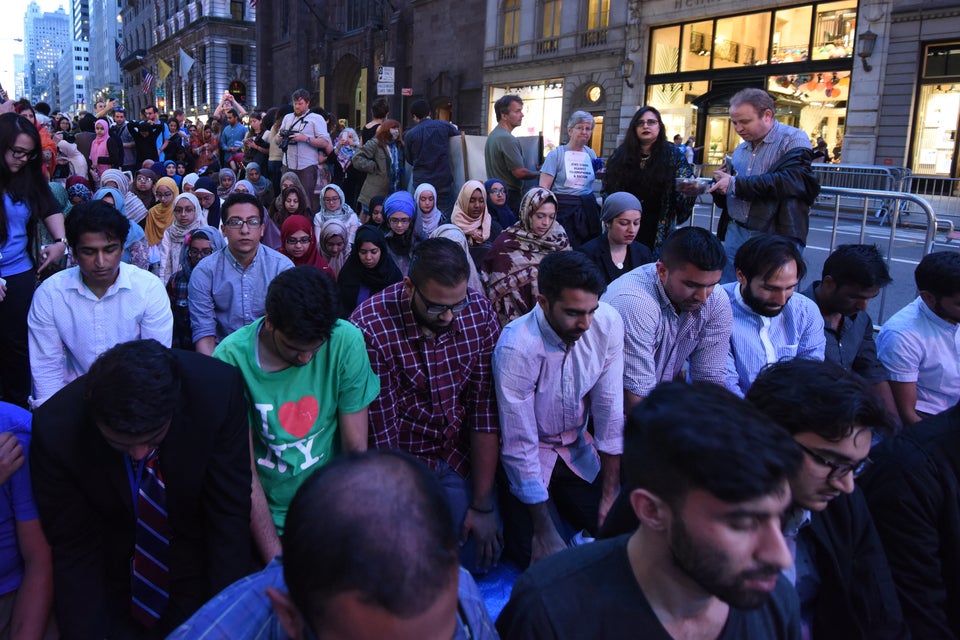 Muslims Hold Iftar Outside Trump Tower
Popular in the Community