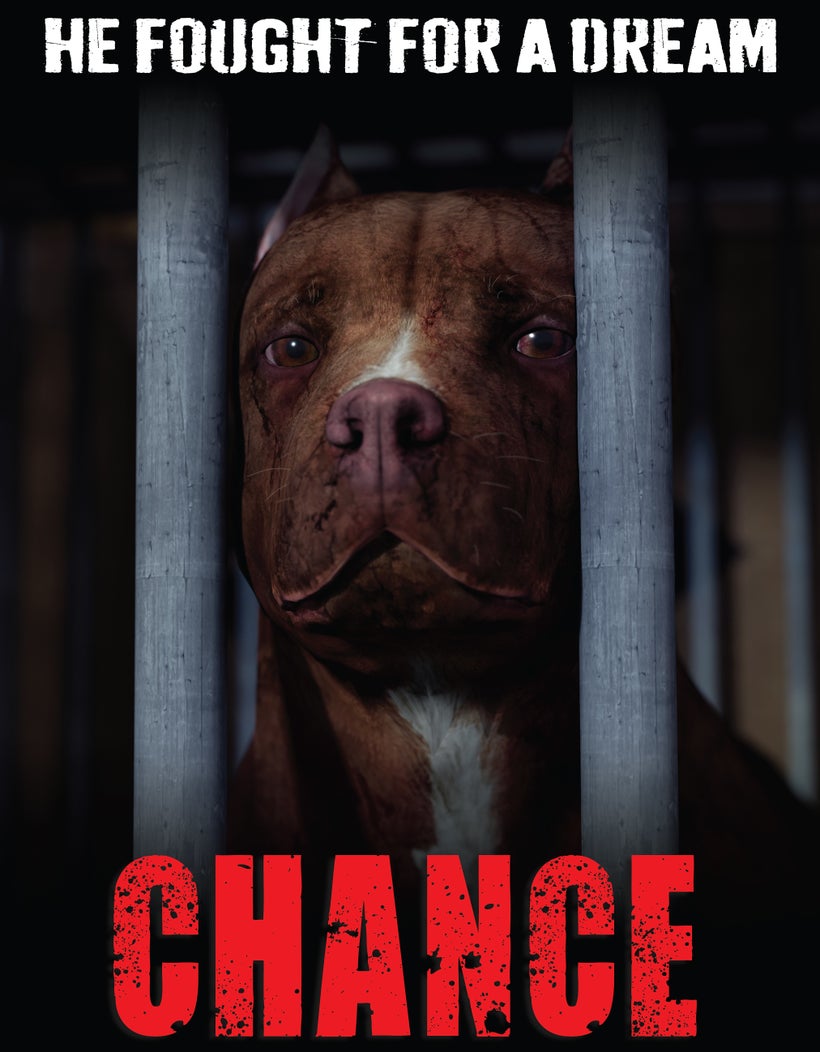 The illegal activity of dog fighting wherein people train, condition and breed particular dogs to fight each other—often until death—for the purpose of entertainment and gambling is still a scourge of America. According to the Humane Society of the United States, approximately 250,000 dogs have been placed in fighting pits nationwide. Florida and California are tied for highest number of dog fighting cases currently under investigation with an estimated 140,000 people involved in this blood sport. Many benevolent breeds such as pit bulls, Rottweilers and Dobermans have earned a bad reputation because of this human contrived brutality.
James Young Entertainment's upcoming animated film Chance follows a young pit bull who is taken from his litter as a puppy and thrown into an underground dog fighting ring. Directed by Kenny Roy, produced by Phil James and written by Kenny Young as a somber film meant to raise awareness of animal cruelty, Chance is not a children's movie. Adult language and violence are present in this film which underscore the seriousness of the issue. Its cinematic style is reminiscent to the aesthetics of machinima, a genre of computer animated film born from video games.
The filmmakers' approach to creating this 90-minute public service announcement was to give a voice to the animals subjected to this vicious sport. Anthropomorphizing animals via animation has long been an effective way to connect animals directly to human emotion. Growing up watching Disney films that feature talking dogs and cats has ingrained in us a human-like empathy for animals. Young taps into cinema's love for humanizing animals and instead of using this technique solely to entertain, he is using it to spread awareness.
"This story transcends entertainment," says Young. "Our goal, which was quite a challenge, was to tell a story that would get you emotionally invested, raise your awareness, break your heart, and piss you off—yet, leave you inspired."
Chance's character is inherently peaceful as he spends his days gazing into the clouds, dreaming of life beyond the yard. After being bought for the purpose of becoming a fighter, he refuses to submit to this new, violent life. The brutal consequences of Chance's passivity tests his faith as we watch his slow and miserable transition into a fighting dog.
After a few adventures outside of the ring with new friends, Chance experiences a rollercoaster of challenges that force deep introspection, eventually making him realize that he would rather fight the system than his friends. Chance's story is also a testament to the human spirit and how strength can be found even in our most broken states. Though this film is in no way a feel-good movie, it does have its moments of humor and sentiment.
Young has partnered with Anti-DogFighting Campaign International to educate and bring awareness about the underground practice of dog fighting. The typical breeds associated with this blood sport are not the only dogs susceptible to these rings. Bait animals, which are often small dogs, puppies, cats and stolen pets, are tied up and used to train fighting dogs. According to the Anti-DogFighting Campaign, people involved in these rings will scour ads for free dogs, sending girlfriends or wives to inquire and collect. Those who post ads for free dogs may not even realize they are supporting underground dog fighters.
"We chose to humanize the dogs enough to connect with humans but not enough to let humans off the hook regarding the cause," says Young. "The character Chance is a spokesman for anyone who wishes for a better life and questions the injustices they see."
Thousands of battered dogs are brought to animal shelters on a daily basis, according to the ASPCA. If you want to help put a stop to dog fighting, visit the Anti-DogFighting Campaign or contact them at anti-dogfightingcampaign@hotmail.com. Please report any dog fighting that you are aware or suspicious of to 1-248-820-0532. All information received will remain strictly confidential.
Chance will be screening at the annual independent film festival Dances With Films at the TCL Chinese Mann Theater on Monday, June 5 at 9:30pm.
Calling all HuffPost superfans!
Sign up for membership to become a founding member and help shape HuffPost's next chapter
This post was published on the now-closed HuffPost Contributor platform. Contributors control their own work and posted freely to our site. If you need to flag this entry as abusive,
send us an email
.