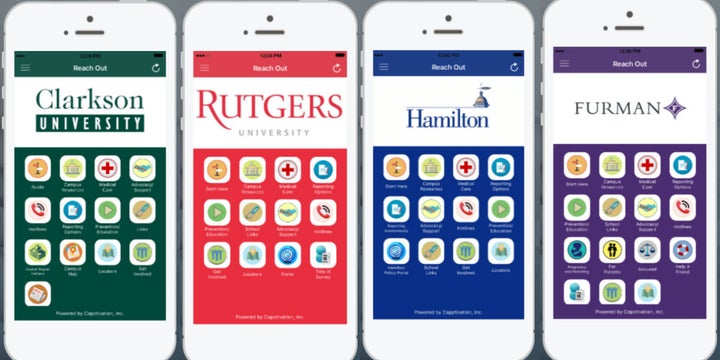 A new smartphone app is putting resources and information in the hands of sexual assault survivors and advocates on college campuses.
Created by four recent college graduates, Reach Out provides actionable stepsfor dealing with sexual assault to both college students and university administrators. Reach Out is part of Capptivation Inc., which is also owned by the four founders of the app: Zach Csillag, Racquel Giner, Billy Sadik-khan and Jack Zandi. All four graduated in 2014 from different colleges across the country.
Reach Out, which is free for download and launched this past summer, allows users to search for their respective college or university. It then directs the user to that college's homepage within the app.
For example, if a student from Rutgers University wanted to look at their university's resources on Reach Out, they would search the university's name and the Rutgers home page (seen above) would populate the screen.
The app houses a database of resources including specific campus information on assault reporting processes, counseling and health services, and a comprehensive list of support hotlines and medical centers nearby.
"The app is essentially a nationwide resource guide for college students that have experienced any form of sexual violence," marketing manager of Reach Out Zach Csillag told The Huffington Post. "It's also a tool for friends to help each other out."
Currently, Reach Out is available to more than 2,500 college campuses across the country, and is supported by a database of more than 40,000 campus resources.
Below are examples of a few of the resources offered by Reach Out: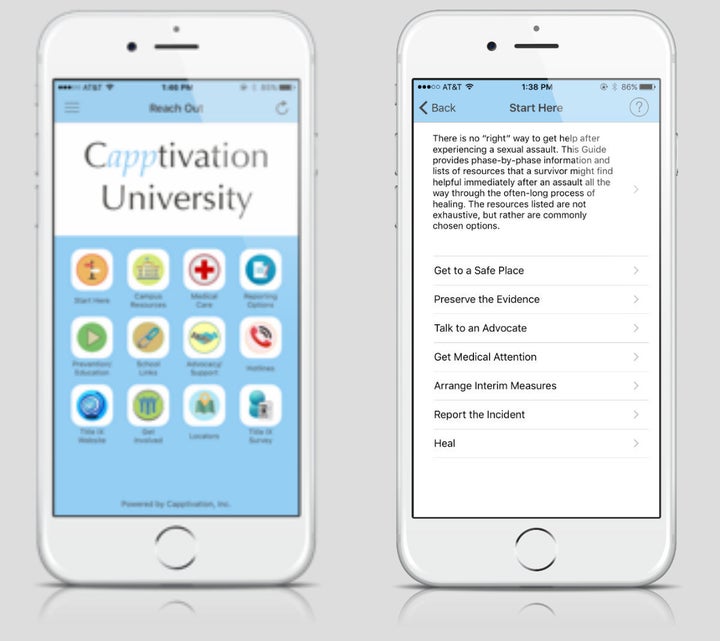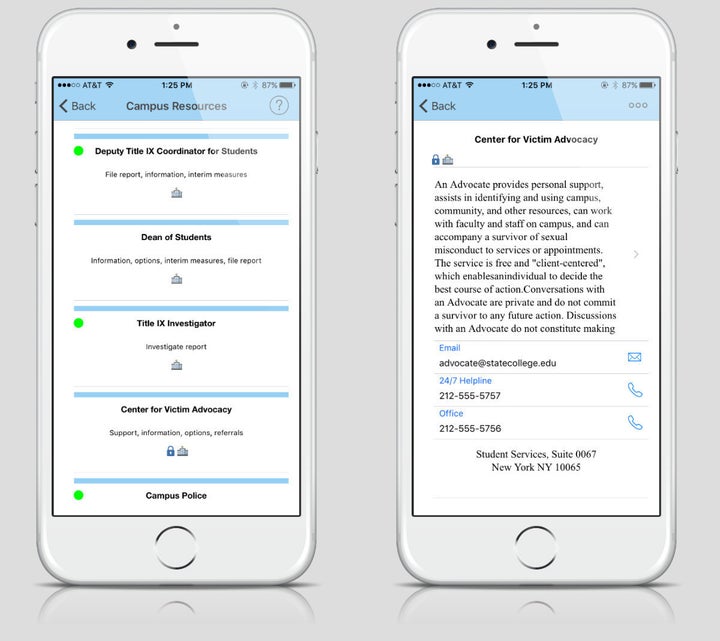 The app's database of information comes from publicly available sources such as government databases and national resource centers, Csillag said. The Reach Out team combs through "every article published on sexual misconduct identified by Google" to ensure the database is always current, according to Csillag. When there's an issue with contradicting information, the Reach Out team contacts the source to clarify.
"Go to any college website any you'll find lots of errors/omissions on their sexual misconduct portal," Csillag said. "This points out the difficulty of keeping information current. We hope to make it easier for schools with a service we call Input Once, Publish Everywhere. The idea here is that when there's a new Title IX coordinator, the new coordinator could update our database with their contact info and with the press of the Save button that information would be updated not only in our app but also on their website. No IT help needed."
Reach Out also offers an email service called CappMail, which allows users to send questions anonymously to their University Police.
Below is an example of what that anonymous messaging system looks like on the app.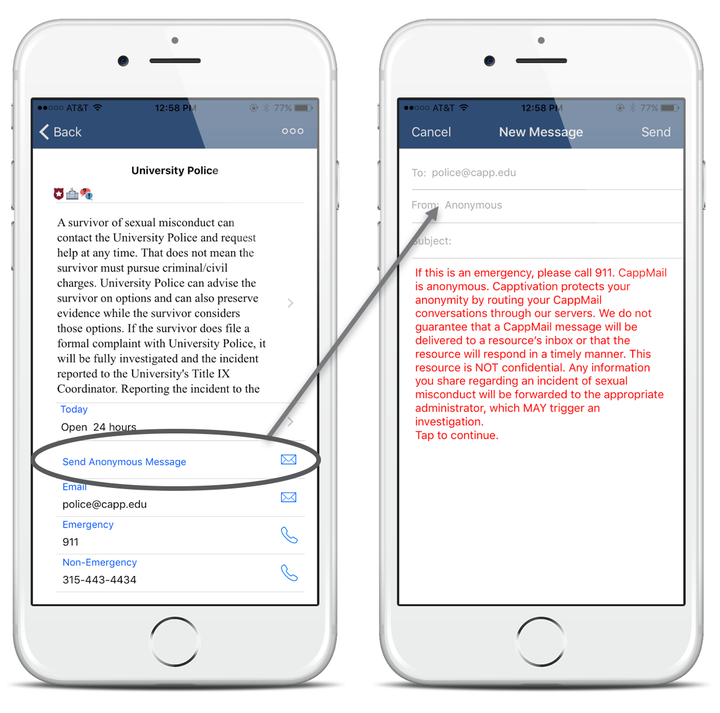 The team is gearing up to launch Reach Out Version 2 in a few weeks, which will hopefully support all high schools and middle schools in the U.S. As Csillag explained, Capptivation is a small start up so the team is relying on secondary schools to license the Reach Out Console and then upload their own resources to the app.
For Version 2 of the app, the team is including resources that address topics beyond sexual misconduct, including resources to support LBGTQ students, and students struggling with eating disorders, mental health issues, child abuse and substance abuse.
"There is no limit to the areas addressed [in version 2]," Csillag said. "Once a high school licenses the RO Console they can customize any way they see fit."
While the app certainly is a welcome resource, it still heavily relies on colleges and universities to address individual incidents of sexual assault. It's important to note that there is a dark history of campus police and administrations ignoring, lying about and covering up these issues. Reach Out also relies on colleges to upload some of their own information to the app.
Cisllag said that the app is really meant to put more power in the hands of its student users.
"The app serves as a tool to empower students with information so that they can make their own decisions about how they'd like to organize their healing journey," he said. "Students that have been affected by sexual violence will know exactly who to contact for help at their school. They'll also have outside resources to go to for help, including law enforcement, healthcare providers, legal aid and others support service."
To learn more about Reach Out head over to their website.
Before You Go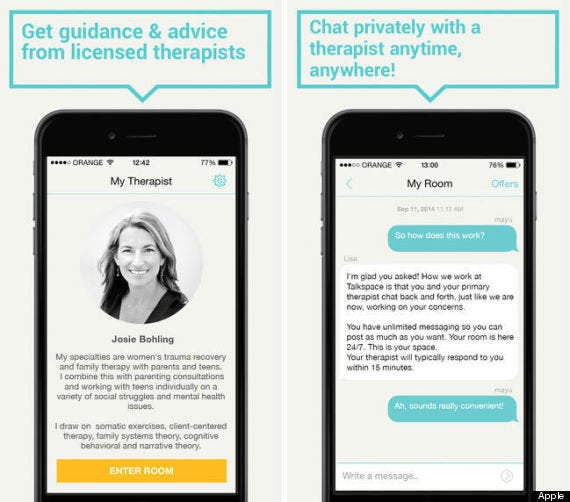 Mental Health Apps
Popular in the Community