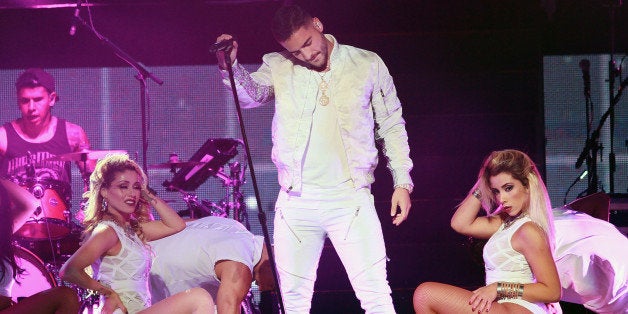 "The first one gets desperate, she gets upset if I cum outside. The second one has the secret and she pays me to plunge it in." These are not phrases from an X-rated film, but the music that many young people today are listening to. The artist, Maluma has been invited by the Spanish TV channel Telecinco to represent the country's new musical talents in the program La Voz (The Voice).
Maluma, whose lyrics pervade the country's clubs, has become a symbol for masculinity in contemporary Spain.
One of his latest works, Cuatro Babys (Four Babys), offers a justification for violence against women. It describes them as simple, interchangeable bodies that are at the service of the limitless, unrestrained and uncontrollable sexual desire of boys. It could be that between the music and the terrible pronunciation of the artist, the message goes unnoticed. But I have given myself the liberty of analyzing some notable verses.
If you have a strong stomach, feel free to watch this video. (Warning: it can produce nausea, vomiting, general discomfort, and anger as it progresses).
"I'm in love with 4 babys. They always give me what I want. They fuck when I tell them to. None of give me a 'but'." This is another example of the Axe Effect that we've witnessed our whole lives: the belief that because you're a man and snap your fingers all the women will fall at your feet and pull down their underwear.
"Two are married. One is single. The other one is kind of psycho and if I don't call her she despairs." Here the flock is presented -- that vague and nameless group of women who are only described in terms of their status with regards to other men: single or married.
"The first one despairs, she gets upset if I cum outside. The second one has the secret and she pays me to plunge it in. The third one makes my stress go away, continuous fucks we always do it three times. On the count of one I bring the moon down for her but she wants with Maluma and with me at the same time." Here Maluma's friend, another very macho man, describes what he does with each one of them. Clearly being a man is associated with having sex with as many women as possible, and as many times as possible. Meanwhile, women are presented as wanting men to penetrate them, to get them pregnant (he gets into detail further ahead), and to go very deep...It's clear that being "very manly" also involves not having a clue about feminine pleasure.
"You have all my bank accounts and the Master Card number. You are my official woman...They all want to fuck me on top of $100 bills...You have me on skates. Buying on Valentine's Day. They're already more expensive than a Ulysse Nardin watch." The man is presented as the hunter of the pack. The man is the one who makes the money and supports the woman (excuse me, the women). The women, since it couldn't be any other way, are nasty and want nothing but to take advantage of him... Yes, this is all very modern.
"None of them get tired of fucking. The redhead when she's drinking gets the most wet. It makes her angry if she calls me and I don't fuck her. We fight and she throws out my clothes and I have to call the chatterbox to pick them up." In addition to being available for sex (I think this part is already clear) the women are also represented as servants who pick up the clothes and for a small tip clean, iron and leave them folded on the bed. Poor "chatterbox" doesn't even have a name.
"I don't even know which one to stay with and it's that they all suck well, they all do it well." Our character faces a tremendous conflict: Which of the girls does he stay with? They all please him sexually and what more can a woman really offer? It goes without saying that the women don't have a choice, but will accept whatever decision he makes.
"Different nationalities but when they fuck they all scream the same. She wants me to take her to Medellin. She wants me to give her rides in new cars. And get the other two together in the bathroom." Let's remember here the phrase of one of the rapists of San Fermin: "She was moaning, she was enjoying it." And then we ask ourselves where these things come from... And in case we don't scream enough we can also do it two by two, together in the bathroom, one in contralto and the other in soprano.
Telecinco chose this artist to give advice to singing professionals. He perpetuates the values that link masculinity with aspirations for nothing but money and sex.
Apparently, one of the coaches on the program, who is also very macho, Melendi, wanted to keep up and gave the guest a warning: "Careful with who you put on stage next time," in reference to a perreo dance between Maluma and the Asturian's ex. It must be that even though they're not together anymore, she is still his property.
I ask myself what the La Voz (The Voice) team was thinking when they invited him on the show. I ask myself what the contestants must have thought when they were advised by him. And I also ask myself what the viewers will think. We're missing the voices of men speaking out about this. Your stomach really doesn't turn a little when you hear this? Do you feel represented in this way? Doesn't it terrify you that your children grow up with these role models?
This post originally appeared on HuffPost Spain and has been translated into English.
Popular in the Community