John Humble: Other Places/Venice Beach | In this exhibition, Humble decided to broaden his scope and "drive around the United States and photograph the American Landscape." Previously, his work was created with a large view camera, but advancements in digital photography enabled him to make his new photos with a hand-held camera, allowing more freedom and mobility. Humble made a series of extensive trips, staying primarily on smaller country roads. It is, of course, significant that his explorations were made in a car, and that his discoveries have become part of a great tradition in American photographic road trips. Like his observations in Los Angeles, these American pictures are about insights in juxtaposition; aged and vacant storefronts sit beside gaudy drive-thrus, hand-painted religious billboards stand in empty fields, as do newly constructed, box-like churches that look more like concrete-slab industrial parks.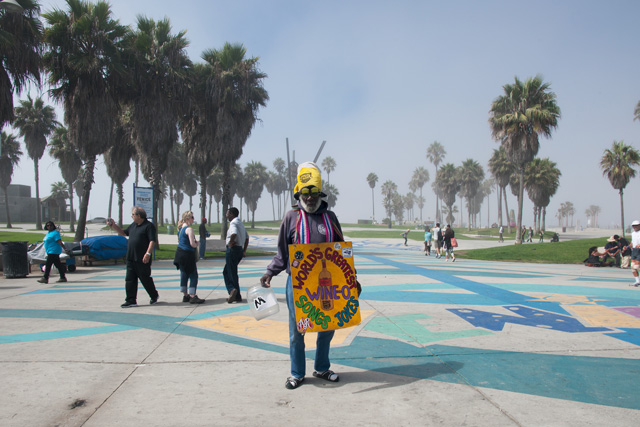 John Humble, World's Greatest Wino, Venice Beach, 2010, Archival Pigment Print, 10 x 15 in. Courtesy of Craig Krull Gallery.
As a counterpoint to photographs of Middle America, Humble will concurrently present a series of photographs of Venice Beach. As the artist describes it, "there is no place in the world like the tawdry three-ring circus of Venice... electric guitar players on rollerblades, marijuana doctors, tarot readers, muscle builders, tattoo shops, drug addicts, entertainers and people speaking every language under the sun."
Opening reception April 9 at Craig Krull Gallery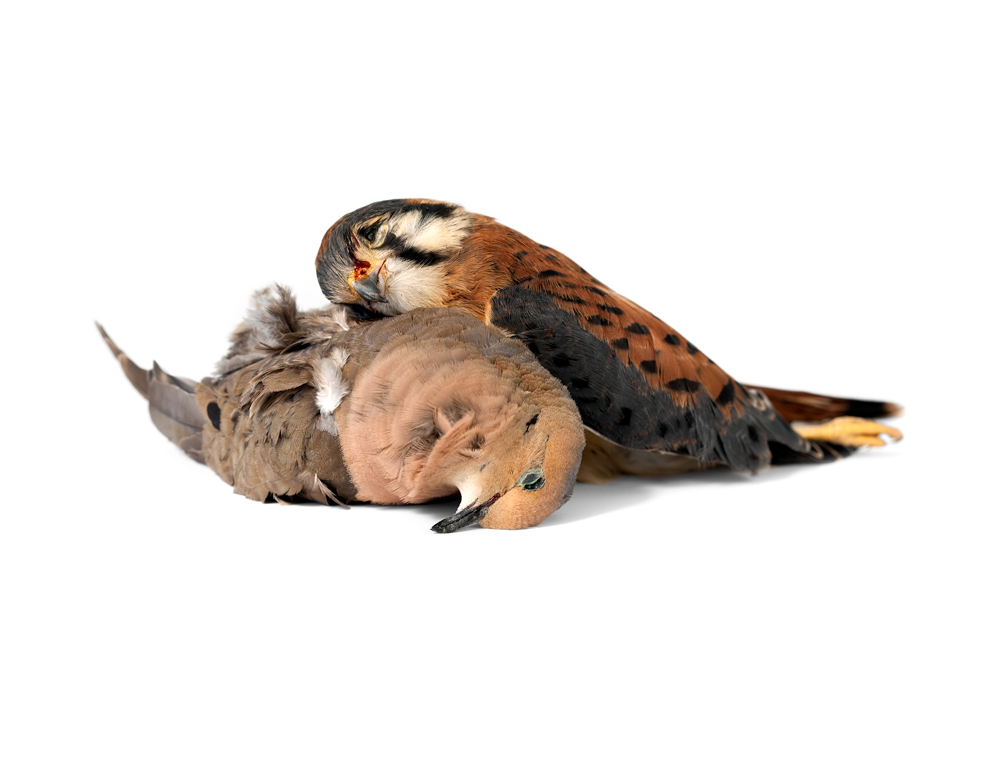 eyes wide shut, 2010, from the series; found birds, 2000 - the present, (image two of twenty-four), archival ink jet print on Hahnemühle photo rag (edition of 5), 22" x 17"
Susan Silas: eyes wide shut| Silas will present selected works from "eyes wide shut, 2010", a portfolio of 24 images from her series "found birds, 2000 - the present"; as well as "embrace", a stop-action HD-video animation. Silas will also premiere her 2010 video performance, "A child of sixties television singing songs that got stuck in her head".
The series found birds, 2000 -- the present is a collection of portfolios developed by Silas during the past decade. The series began serendipitously, when a small sparrow fell dead on the sidewalk at the artist's feet. Silas documents with patient and focused resolve the irreversible transition from being to matter. Revealing aspects of decay and transformation, death and renewal, Silas simultaneously examines the continuum and resilience of life, self-consciously enlisting her photographs to do what photography does best -- mining the medium's ability to expose exactly what existed in front of the lens -- conveying the unique fragility of sentient beings and their inevitable loss.
Opening reception April 9 at CB1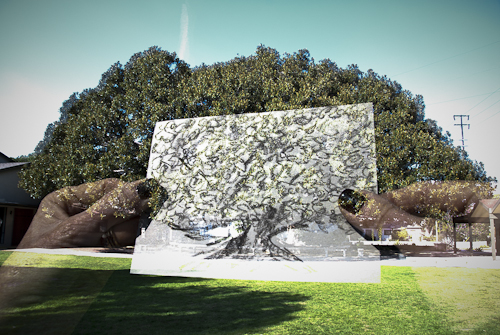 Dan Shepherd, "A Nice Place for Henry to Play", 2011
Dan Shepherd: Draw Me a Tree | For this series, Shepherd has asked people to sketch out the trees that have had some impact in their lives. Together, Dan and his collaborators visit these special trees and document them through a unique photographic process. "One of the few artistic endeavors that we all have in common is drawing a tree," says Dan and he asks "Do you remember when you had a stubby crayon in your hand and happily scrawled out your house, your pets, a blue sky with the sun up in the corner and a tree in the yard?" The Draw Me a Tree series shows how intrinsically connected to nature we are through a series of visual tree stories that can be found everywhere in our yards, parks, gardens, forests, and streets.
Opens April 9 at the new f/9 Photography Collective gallery space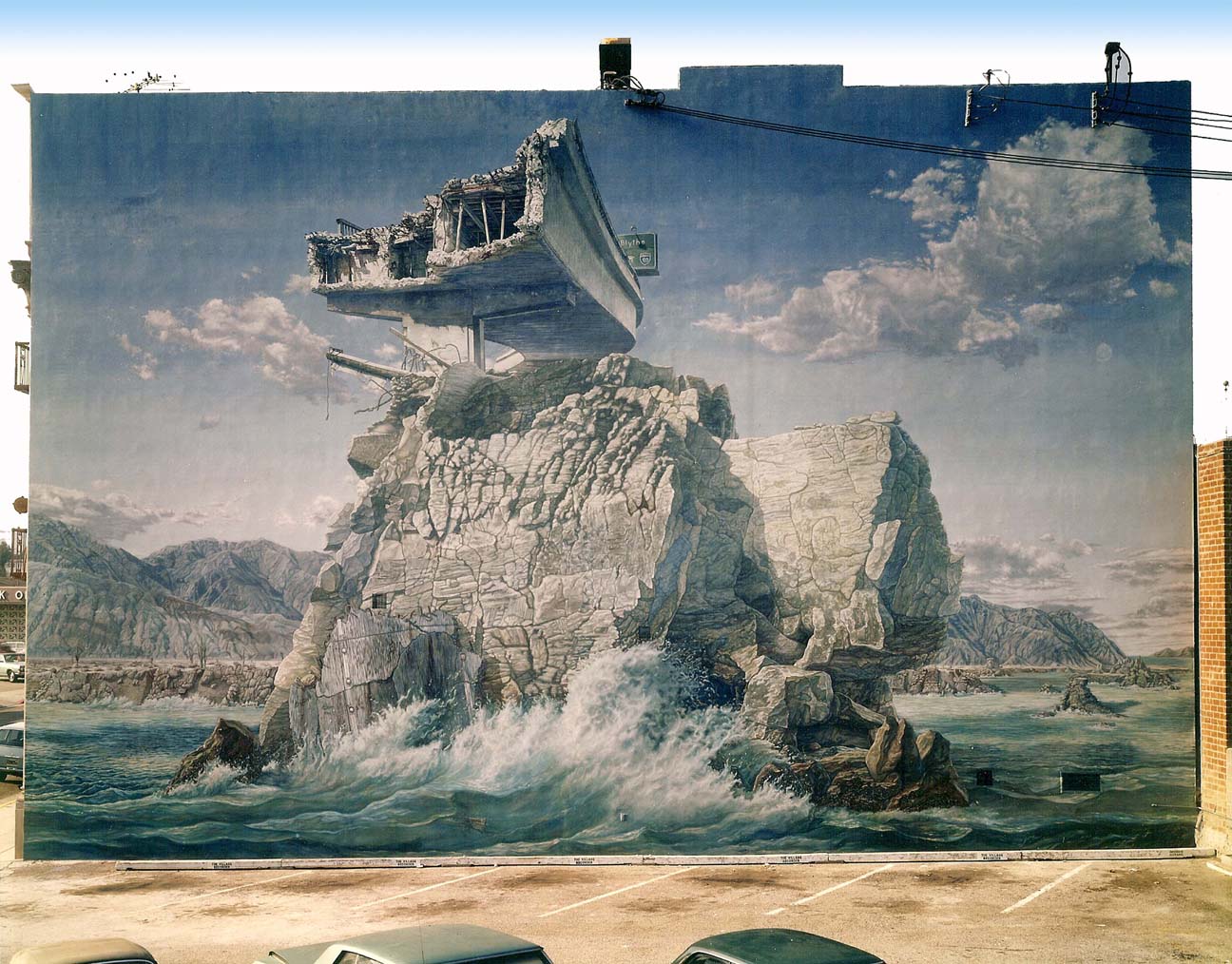 L.A. Fine Art Squad | "The imagination of disaster," wrote Susan Sontag on the genre of science fiction, "is one of the oldest subjects of art." And the modern city has become the principle site on to which these narratives of destruction are projected, again and again. In 1969 Victor Henderson and Terry Schoonoven founded the LA Fine Art Squad, a collective art practice built upon insights such as Sontag's, the moral relativism of Film Noire, as well as the billboard-sized ambitions of modern advertising. Associated then and since with the so-called mural tradition -- and this work did indeed consist primarily of murals painted at a grand scale -- the LA Fine Art Squad shared none of that larger movement's sunny optimism, its progressive politics nor its lowest-common-denominator populism. Instead "the squad" (as its surviving partner refers to it) produced a body of visual images, that while boldly legible and highly accessible to a non-art audience, were also ominous if not darkly pessimistic; sentiments more closely associated with art-world elitism than with mass culture populism.
Through May 14 at Cardwell Jimmerson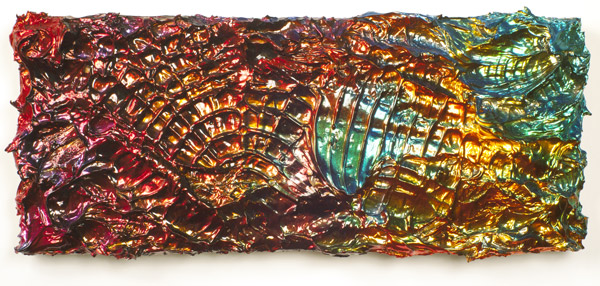 Jimi Gleason, Untitled (2010), Acrylic on Canvas, 9'' x 22''. Courtesy of Samuel Freeman Gallery.
Jimi Gleason: Primal Color | Long known for his supremely flat paintings, Gleason's racing flatness has receded, leaving behind topographies of color, alien landscapes sculpted out of brilliance and sheen. Unlike previous work by Gleason, these paintings do not care for subtlety, they leap and gnash and would likely hurt if you touched them.
In 2009, Gleason discovered a method of coating his work with a highly polished metal sheen, but those first experiments were trapped in the surface, playing with the possibilities of reflection and tone. Now two years into the process, Gleason has learned to modulate the spectacular brilliance, allowing the polychrome coating to emphasize the underlying colors, to collaborate with the physicality of his paint. The technique has become another tool of his trade, and these latest paintings take full advantage of what the material has to offer. These works go beyond traditions of paint on canvas to become sculpted works of pure color.
Through April 19 at Samuel Freeman Gallery

Related
Popular in the Community