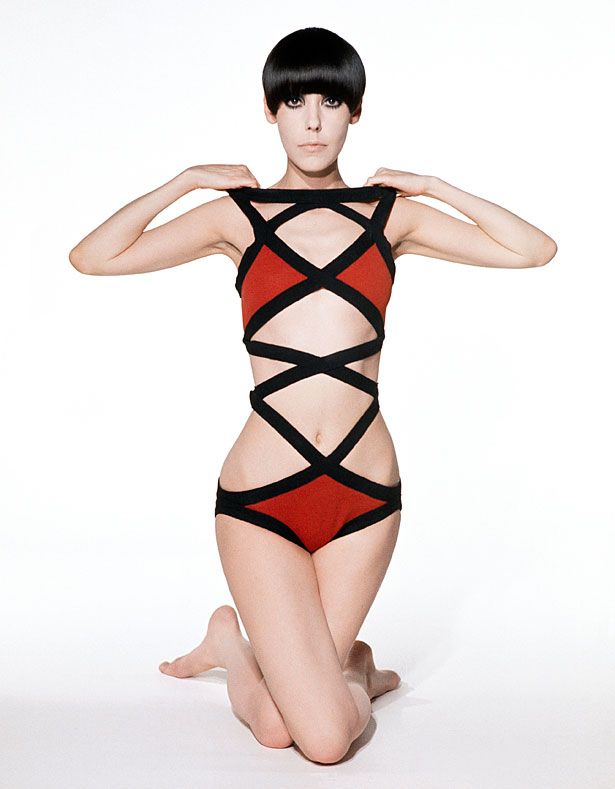 Photograph by William Claxton. Courtesy of Museum of Contemporary Art (MOCA)
The Total Look: The Creative Collaboration Between Rudi Gernreich, Peggy Moffitt, and William Claxton | Gernreich, Moffitt, and Claxton were central figures in the Los Angeles art community in the 1960s and '70s, known for their friendships and collaborations with other artists. Gernreich's work incorporates and prefigures many of the innovations of pop, minimal, and performance art. The introduction of his famous topless swimsuit in 1964 became one of the first instances of art and design being transformed into a worldwide media event.
Peggy Moffitt was Gernreich's favorite model and muse. Her profound dialogue with Gernreich enabled her to embody his design aesthetic, not just to model it but to perform it. Her unique modern look and her innovations in the art of modeling continue to inspire a younger generation and have made her a fashion icon.
William Claxton, America's preeminent jazz photographer, was married to Moffitt. He began photographing Gernreich's work in 1957 and documented every single collection from 1962. Claxton's film, Basic Black: William Claxton w/Peggy Moffitt (1967), which will be featured in the exhibition, is considered the forerunner of fashion film.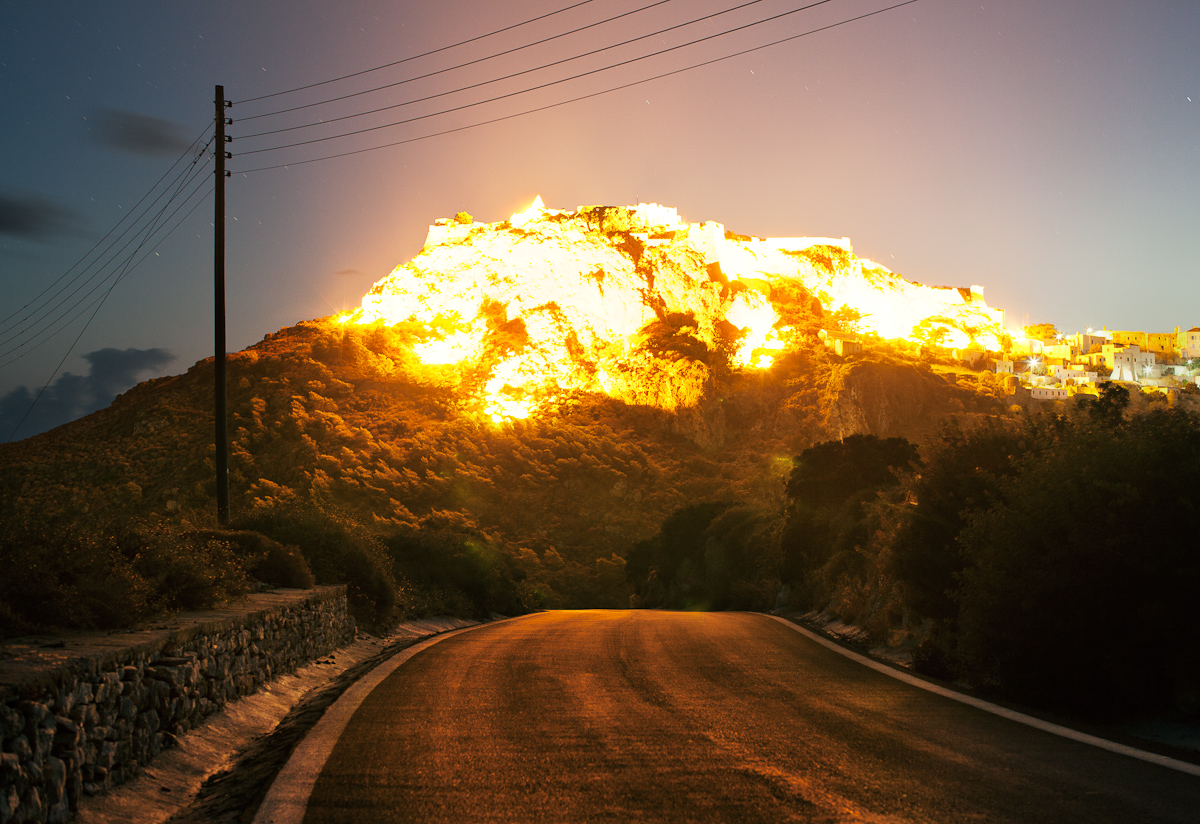 Corey Arnold: Wolf Tide | A series of large format photographs culled from his experience working as a commercial fisherman in Alaska to rural encounters with unsuspecting wildlife and dramatic landscapes abroad. Wolf Tide is an exploration into Arnold's unique lifestyle, which captures multiple expressions from the serene tranquility when tides are calm, to an immediate transformation where the imagery becomes blustery, raw and at times unsettling. Arnold reveals the beauty of his environment, as he lives his life in anticipation of inexplicable found moments set in locations throughout The Bering Sea, Europe, South Africa, the Atlantic, and the Arctic. His subjects include humans, eagles, gulls, deer, vast seascapes and surreal landscapes but further inspection of the images leads to a greater curiosity. Wolf Tide investigates the mystery of what lies beyond, leaving the viewer feeling a sense of wonderment about something intangible looming in the distance always present, yet never fully revealing itself.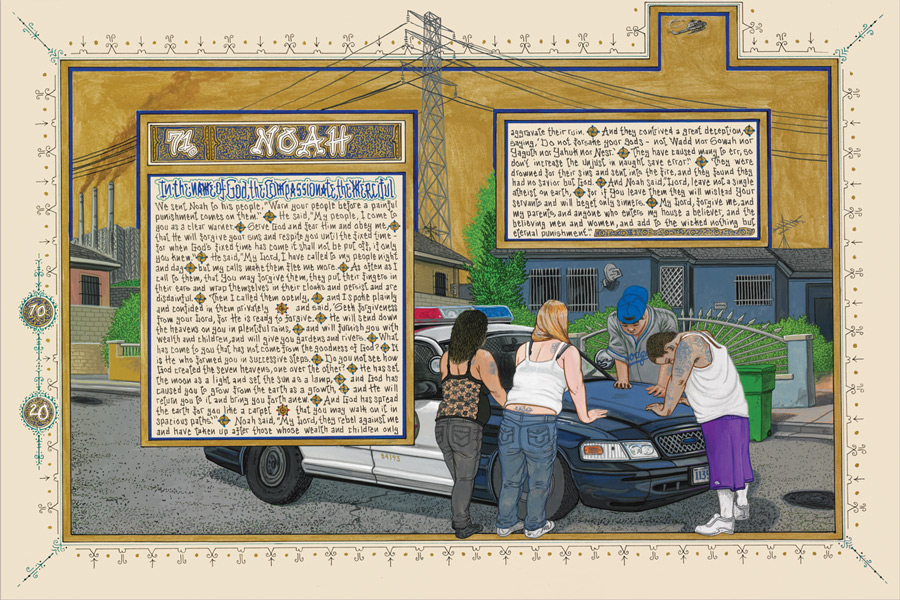 Sandow Birk: American Qur'an | Over the past decade Birk has traveled extensively through the Islamic world, visiting several of the most populous Muslim nations as well as studying important collections of Islamic artworks. It was these travels, along with political events across the world that inspired his initial interest in Islam and the Qur'an.
Began over four years ago, Birk's most recent series of work, American Qur'an, is an endeavor to transcribe the entire Qur'an according to Islamic traditions and illuminate the text with scenes from contemporary American life. Contrary to Birk's past series, he began this project as a private exploration to better acquaint himself with a document he found fascinating but knew little about. Years into his research an idea for an artistic presentation began to take shape. Because Birk had approached this project with reverent consideration, the resulting body of work does not contain the satirical commentary for which Birk is known. Those who know Birk's work will recognize his familiar exploration of social issues though text appropriation and signature "everyday" imagery. Calling it a "personal Qur'an," Birk has applied his individual artistic vision to a literal English translation of the ancient religious document.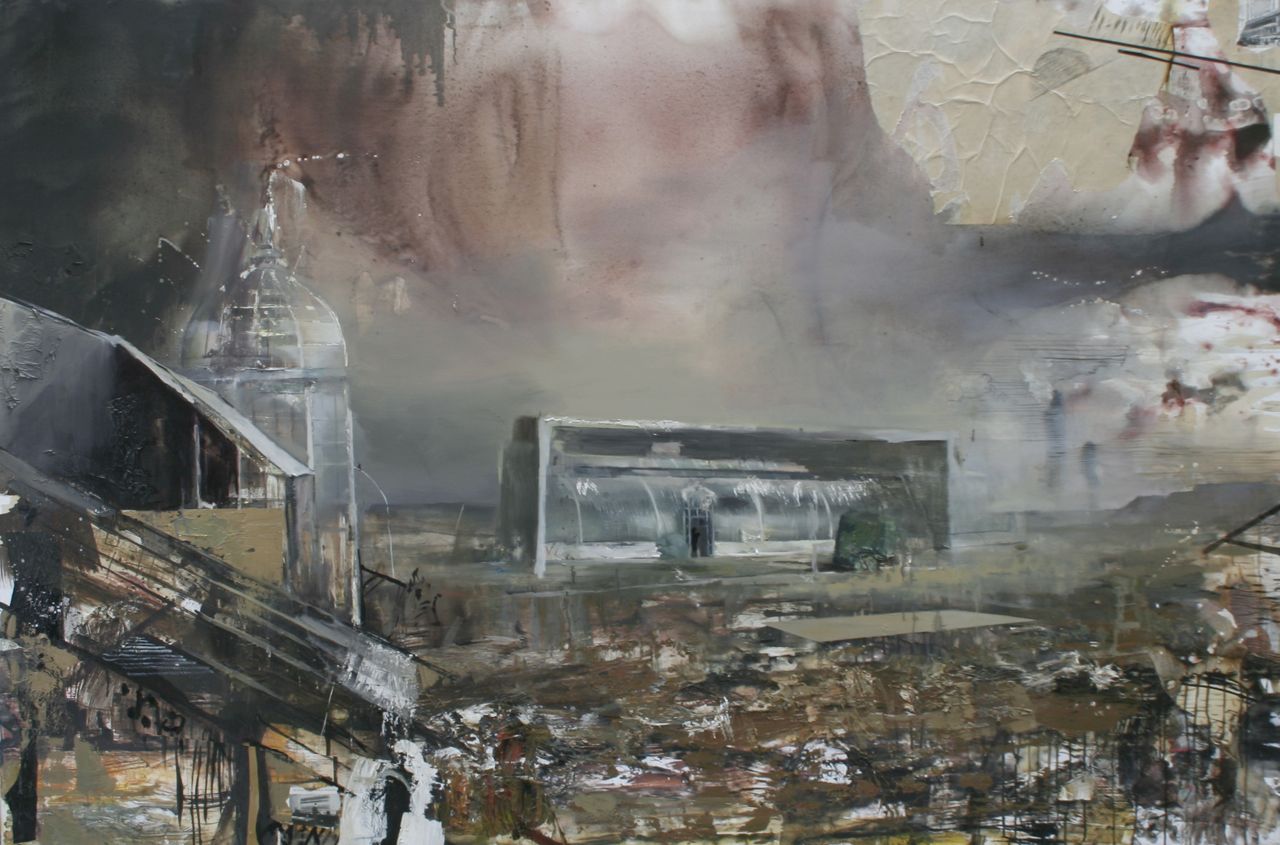 Daniel Pitin | Born in Prague, Pitin is part of a new generation of painters from Eastern Europe currently gaining wide recognition from both institutions and private collections. His recent work is focusing on an investigation into the past motivated by an unexplainable impulse of trying to dig up lost experiences that have been buried deep in his subconscious and only through painting he can expose their real significance. Born during a communist regime but growing up in capitalism, Pitin is not trying to illustrate through his paintings the key to open up the past, but rather provide a clue for the direction he is heading. Sometimes his paintings are just a simple reaction to recurring impulses, thoughts and unconscious pressure to find respite in faint memories.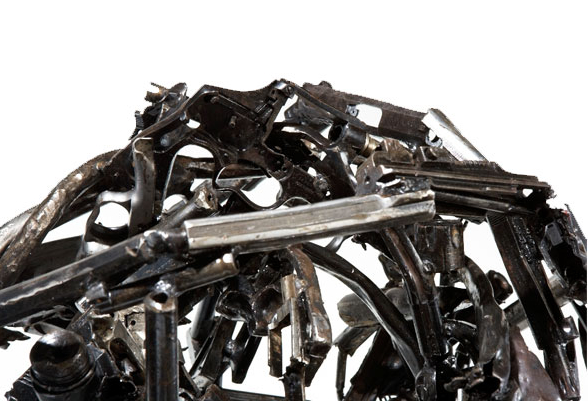 Victor Hugo Zayas: Mi obra | With a mixture of passion and bold energy, Mexican-American artist Victor Hugo Zayas presents his expressionistic paintings of figures, landscapes, and cityscapes, and linear, abstract sculptures created in the last twenty years. "Mi obra" means "my work" in Spanish, Zayas's native language.
With a keen sense of observation, Zayas works swiftly. His subject matter encompasses the figure, landscape, and cityscape, and the breadth and generosity of his paints cover canvas and, surprisingly, paper. Looking to artworks by European masters such as Velázquez, Titian, Rembrandt, Fragonard, and Goya, Zayas has developed an expressionist style of paint handling that renders landscape as visceral, moody, and passionate.
Zayas will unveil a new sculpture series made from more than two tons of destroyed guns; works he has created as a symbol of peace in conjunction with the Los Angeles Police Department's Gun Buyback Program, which aims to take illegal firearms off of the streets of L.A. These largely linear and abstract works convey a sense of kinetic movement as they draw attention to form. The expressionist energy seen in the paintings is transformed in the formal composition and negative spaces of his sculptures.
For the most comprehensive calendar of art events throughout Los Angeles go to Artweek.LA.
Related
Popular in the Community