Santa Monica Auctions | Continuing a summer-season tradition of more than 25 years -- 27 in fact -- this conspicuously eclectic salon-style event is still full of surprises. With new properties being submitted for the sale and added to the auction's online catalog every day, SMA capo Robert Berman's artists list reads like an encyclopedia of important modern and contemporary artists with LA roots -- and covers media from photography to sculpture, printmaking, painting, drawing, and the occasionally uncategorizable.
A favorite lot focuses on the year's key image -- Richard Avedon's portrait of Andy Warhol. Notes L.A. arts and culture critic Shana Nys Dambrot, "If a face can launch 1000 ships, then what about a portrait by the world's most celebrated culture photographer of the world's most iconic art and fashion personage -- showing only the latter's torso, exposed to reveal multiple surgical scars, and identifiable as Warhol in no way but the caption. Taken in NYC in 1969 and printed in a small edition of just 10, like Warhol's own art, this portrait of him uses an edgy visual language both reverent and subversive toward pop culture, to depict a much more personal, human, and emotional narrative than audiences might expect."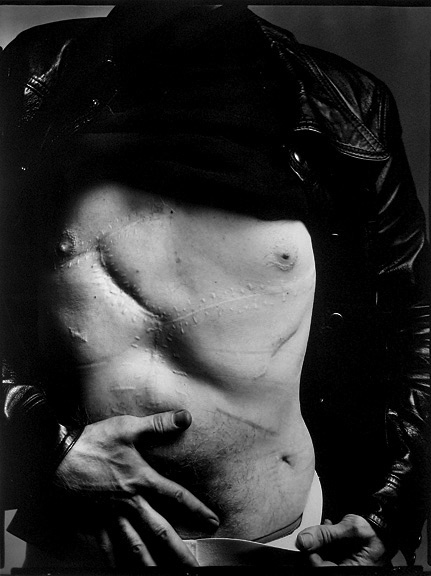 Richard Avedon, Andy Warhol, Artist, New York City, August 20, 1969, 1975, Gelatin silver print, Edition 3/10, Signed, numbered and stamped on verso, Image: 60.7 x 48.7 inches; Framed: 71 x 57 inches, estimated gallery price: $80,000/$100,000
Of course photography itself was the defining artistic tremor of the last century, transforming visual perception, culture, and communication in ways that are still developing, no pun intended -- and LA audiences have always been ahead of the curve on supporting and collecting photography.
Santa Monica Auctions is raising its gavel the weekend of June 18-19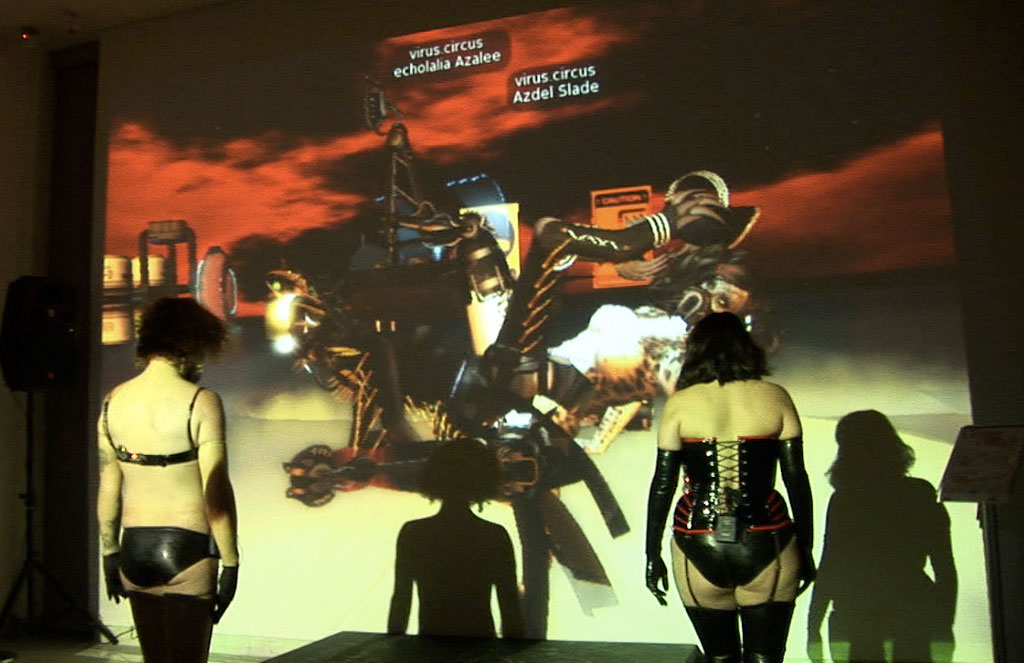 Micha Cardenas & Elle Mehrmand, technésexual, 2009
Speculative | Curated by Christopher O'Leary and Zach Blas, Speculative focuses on new modes of art making and of presentation with an emphasis on the experiential, subversive, and tactical potentials for art in the 21st century.
The projects included in this exhibition engage wildly diverse mediums from critical software, art-science, social practices, experimental video, wearable architecture, performance works and much more. Featuring work by Casey Alt, Zach Blas, Jeff Cain, Micha Cardenas & Elle Mehrmand, Xarene Eskandar, Michael Kontopoulos, Christopher O'Leary, Claudia Salamanca, and Pinar Yoldas, Speculative takes a multiplicity of forms and makes use of a variety of technologies including digital video projection, sound devices, specific lighting and other digital media to address notions of design, science, business, sex, gender, death, politics, environmentalism and, most of all -- the future.
O'Leary speculates about an increasingly dystopic vision of our future, as expressed through popular film, comics and literature. His work, "Blocking the Exits," is a dynamically-edited, single-channel video project comprised entirely of still photographs that have been animated through morphing algorithms. Jeff Cain uses historical, botanical, and geographical research on the invasive mustard plant spread throughout California by Franciscan monks to mark the El Camino Real to propose a 600-mile native biome restoration of the historic royal road. His installation will use documentation of original research and visualization of an imagined intervention to reveal both an optimistic and fatalistic representation of colonialism and the difficulties of undoing history. Xarene Eskandar investigates the idea of 'the fold' in origami-based clothing designs that relate the body to an unspoiled landscape. The forms themselves will be installed in conjunction with media documentation depicting their use.
Speculative opens June 16 at LACE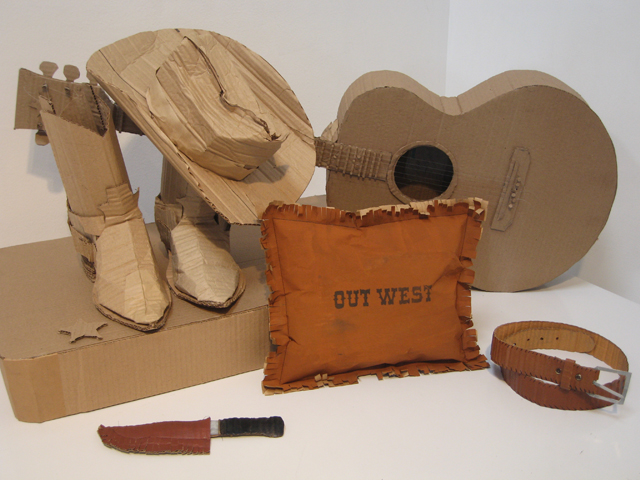 Phranc, Out West Installation, 2010, Kraft Paper, acrylic paint, cardboard, thread
Phranc of California | Cardboard, paper, gouache and thread come together to create life-size, three-dimensional representations of familiar summer objects in Phranc of California.
Phranc's first major West Coast solo show, following her critically well-received exhibition in New York City in 2008, will include sculptural renditions of beach paraphernalia, such as swimsuits, inflatable rafts, umbrellas, and beach balls, all composed of paper mediums that were hand sewn and painted.
Although Phranc has been known as the "All American Jewish Lesbian Folksinger" since the 1980s (when she toured with such acts as The Pogues and The Smiths), she has been involved in the arts since childhood. As a teenager she attended in Los Angeles, CA where she took courses in silk-screening and was shown in a 1978 group exhibition. Says Phranc, "From the time I sat in my first refrigerator box submarine I knew the cardboard sea was for me. I have been creating objects, food, toys, advertisements, shoes and underwear out of 'found' cardboard for many years."
The evolution of her work as a self-described "Cardboard Cobbler" has involved transitioning from flat objects to three-dimensional sculptures, and learning to use a sewing machine to create clothing out of painted yards of Kraft paper "fabric."
Phranc of California opens on June 18 at Craig Krull Gallery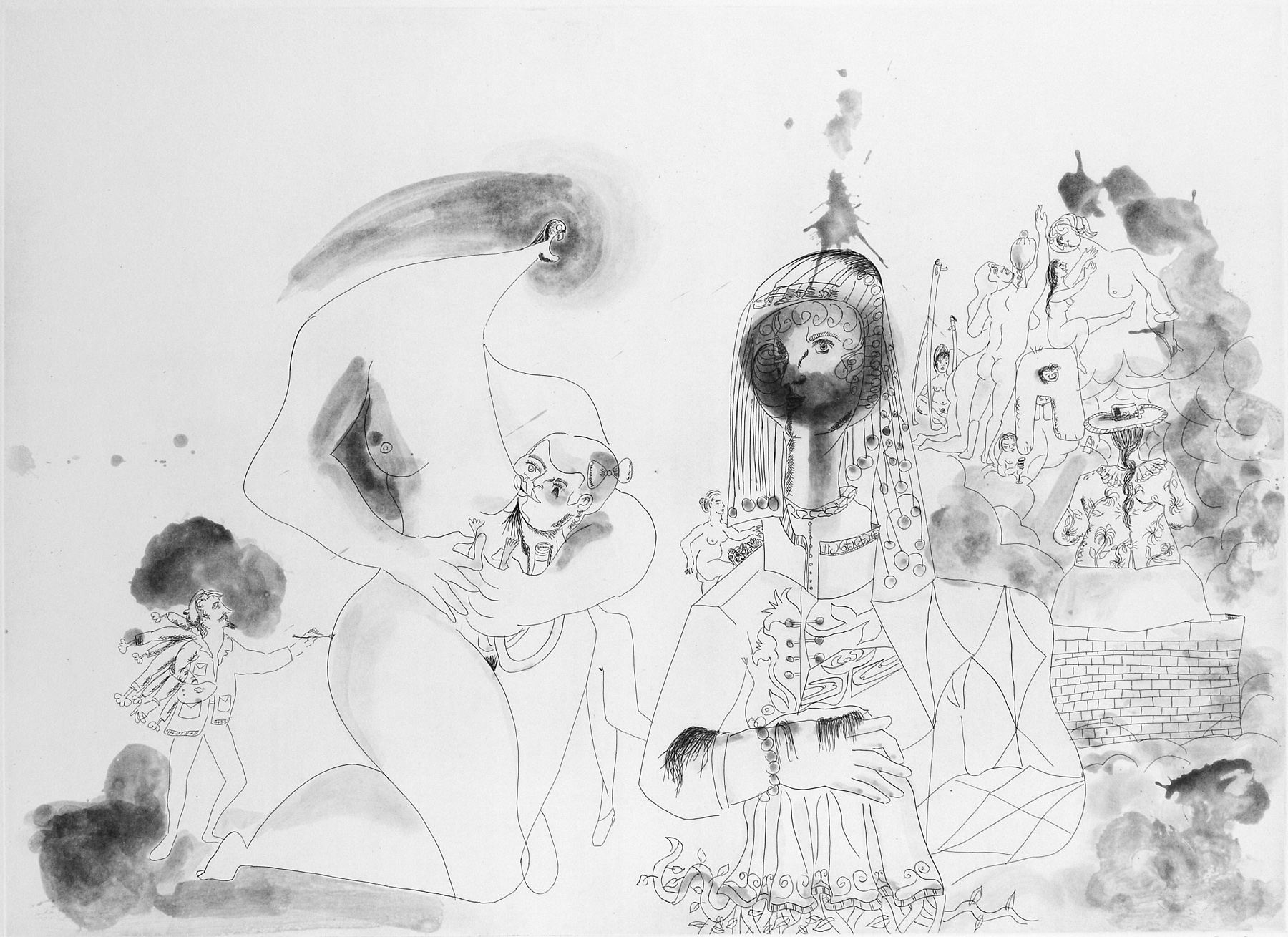 George Condo, Untitled #12, More Sketches Of Spain-For Miles Davis, 1991, Etching and Aquatint, 33 1/2 x 46 1/2 inches (plate), 38 x 52 inches (sheet)
George Condo: A Collection of Etchings | Condo is typically known for bold paintings so brash as to be referred to as gonzo "artificial realism," the term the artist uses to describe his works, which by turns are meditative, wry, irreverent and fantastical, reflecting Condo's now-iconic surrealistic mash-up of old and modern masters.
Through a series of works in this exhibition entitled "More Sketches of Spain - for Miles Davis," Condo merges his admiration of Spanish masters along with his profound admiration for the music of Miles Davis, whose own jazz masterpiece album recording was entitled Sketches of Spain. In these works from 1991, large-scale sheets and smaller works on paper executed in etching and aquatint, he employs an eloquent Picasso-like line with masterful draftsmanship and bravura, giving sly reference to Picasso, Dali, Velazquez, etc.
Born in 1957, George Condo had early associations with other avant-garde artists of the eighties, such as Andy Warhol, Keith Haring and Jean-Michel Basquiat, as well as many of the avant-garde artists in Europe. His engagement with literary figures such as Allen Ginsberg is notable, as is his collaboration with writer William Burroughs. Condo's continued interest in music is underscored in varied ways, and took a provocative turn when the rap star Kanye West commissioned Condo to create his "banned" cover for the recent chart-topping album My Beautiful Dark Twisted Fantasy.
George Condo: A Collection of Etchings opens June 18 at Jack Rutberg Fine Arts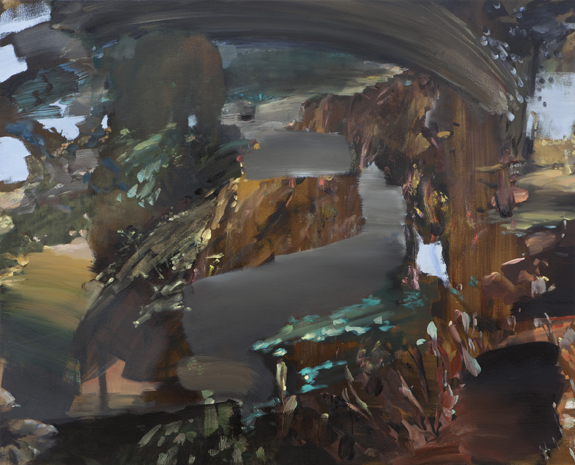 Annie Lapin, The Landly Animate 2011, Oil on canvas, 42 x 52 inches. Courtesy of Honor Fraser and Annie Lapin
Annie Lapin: The Pure Space Animate | In this new group of paintings on canvas, Lapin's luscious, high-energy compositions co-mingle painterly conventions of representation with an obliterating gestural abstraction. Lapin refers to 'specters' of realism that haunt the abstraction in these richly layered paintings. In The Pure Space Animate, there is less occasion for the multi-figure groups and enigmatic narratives of previous works, with further prominence shifted to the intensive formal activity. The coherent scenic space and figural focal points which remain are yet more densely encircled and perforated by painterly forces that counteract their legibility, leaving the viewing experience characteristically unstable. One seeks and temporarily sees indications of illusionistic space -- a horizon line, a column, the shadow of a tree -- only to find that it behaves instead the next moment as a collection of sinuous ribbons of paint bound to the surface. And it is this contrasting visual interpretation, this unresolved chord, that Lapin seeks to strike in the interest of a phenomenological experience of works as "constantly emerging" for the viewer.
Essential to the expressiveness in Lapin's paintings is the articulation of space. The artist has developed a "palette" of elemental forces extracted from a lineage of painting and visual culture of her own devising. These sets of formal relationships -- such as a lilting perspective or a characteristic distribution of masses across the picture plane -- are isolated from their sources and given new life as structuring forces for Lapin's paralinguistic figures and spaces. In particular, a number of the works in The Pure Space Animate submit compositional conventions from sensuous Rococo landscapes to the gravitational pull of the pure relations of abstract painting.
Annie Lapin: The Pure Space Animate runs through July 9 at Honor Fraser
For more information about art events throughout Los Angeles go to Artweek.LA.
Related
Popular in the Community