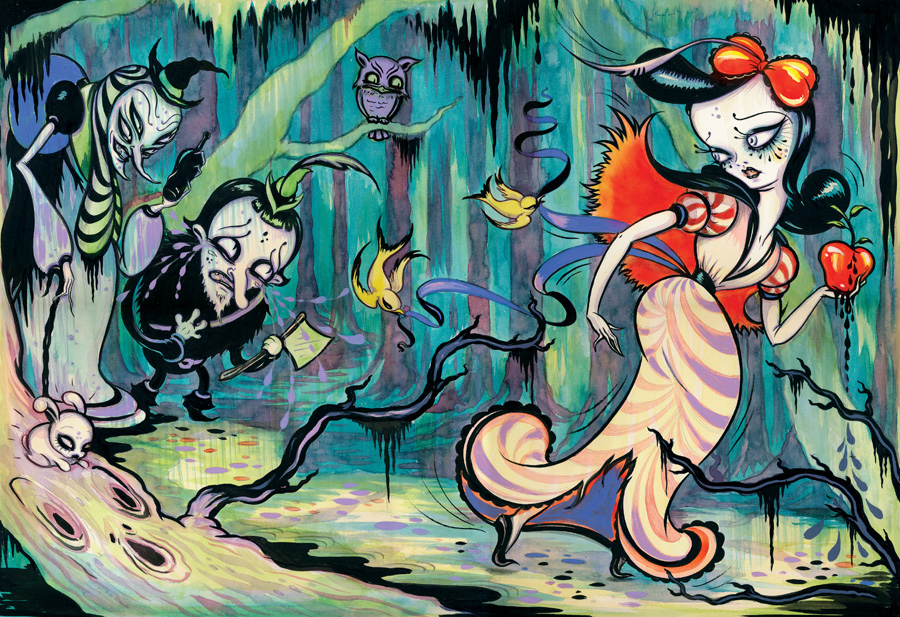 Camille Rose Garcia: Snow White The Complete Works on Paper | Garcia's wholly original interpretation of the classic tale of Snow White is underscored by her dark and whimsical style. With a stylistic nod to the water-colored animation backgrounds of early Disney movies, Garcia references the golden age of early animation as well as vintage German fairy tale books. She adds back the darker elements present in the original Brothers Grimm text, inverting the Disneyesque paradigm of simplistic happy endings and everlasting halcyon days into something closer to the original macabre German folktale.
These incredible paintings will be on view for a period coinciding with the release of the first two major Hollywood films based on the same tale of Snow White.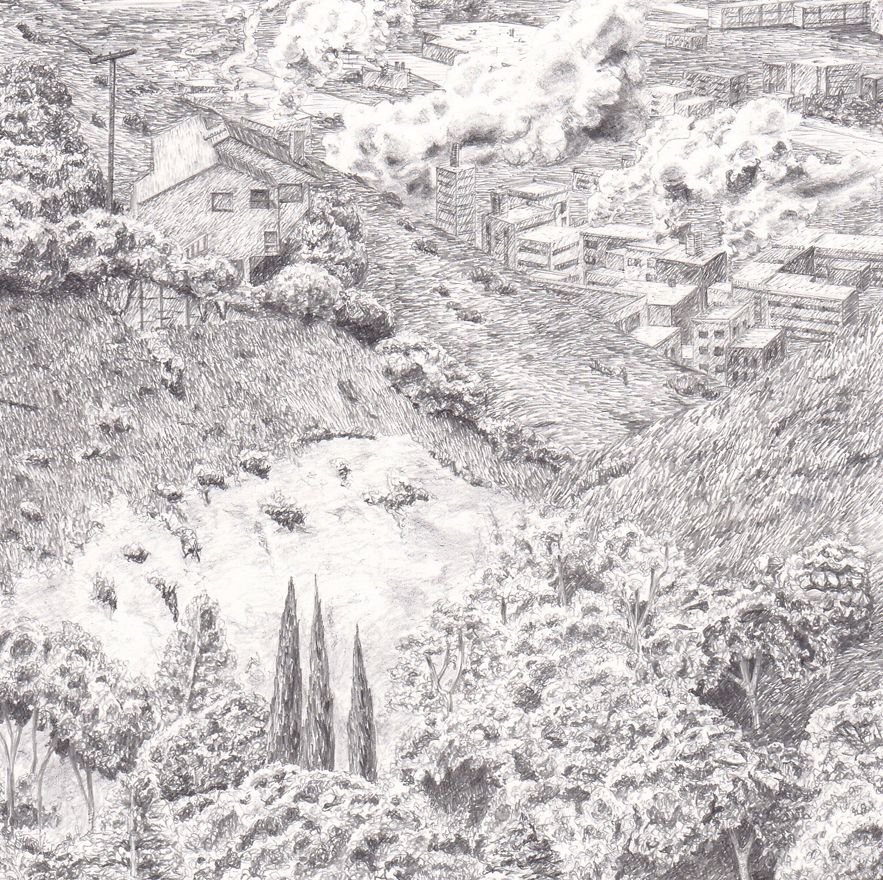 Jennifer Celio, Untitled (firestorm), 2011, 12 x 10 inches, graphite pencil on paper
California Girls | The exhibition is titled after Judy Chicago's project in the 1970s of young California women artists that were working to be recognized as professional female artists in a mostly male dominated art world. California Girls features the work of Kelly Berg, Jennifer Celio, Olivia Hill, and Vanessa Prager.
At the height of the 1970s Women's Movement, on the cusp of revolutionary change, American artist Judy Chicago began a unique experiment: to train only young women artists in an all-woman art program at Fresno State College. "So many young women were going into art schools," Chicago states, "so few coming out the other end as professional artists." The film Judy Chicago & the California Girls documents this first all-woman art program, in a compelling and candid portrait of a country and culture in the midst of great social change.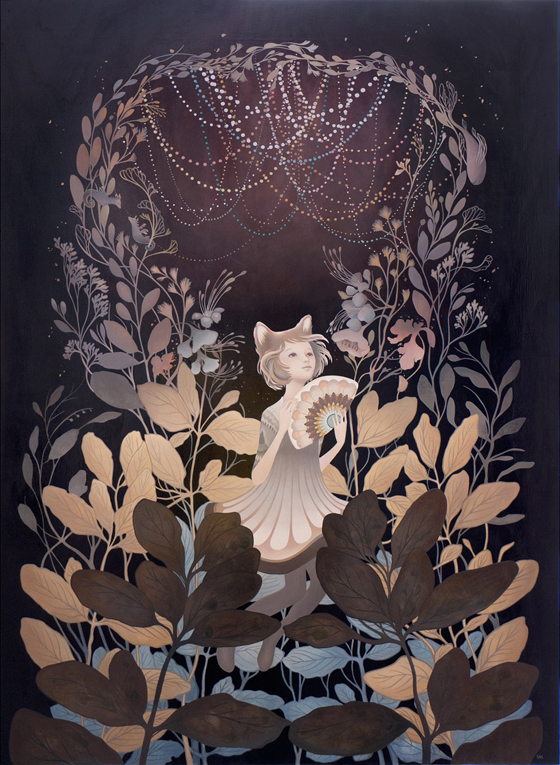 Amy Sol: Numina | Numina features 10 new acrylic-on-wood panel paintings, infused with Sol's signature soft colors, dream settings, delicate washes and loose layering of acrylic paint.
Inspired by the word "numinous," Sol selected "Numina" as the title for her new exhibition, based on the curvature of its letters, feminine qualities, and sound alluding to magic and mystery -- all elements embodied in her latest collection of paintings. "I often choose words for not only the meaning but the shape and sound of the word itself," Sol notes.
Her most expressive show to date, Sol's process is more free form than before, exploring color and technique in unexpected ways. "In a way, I feel I have tapped in to a primitive creative energy that first compelled me to paint when I was a child. Exploration is the primary goal of each piece, with composition and palette guided by intuition and instinct," Sol adds.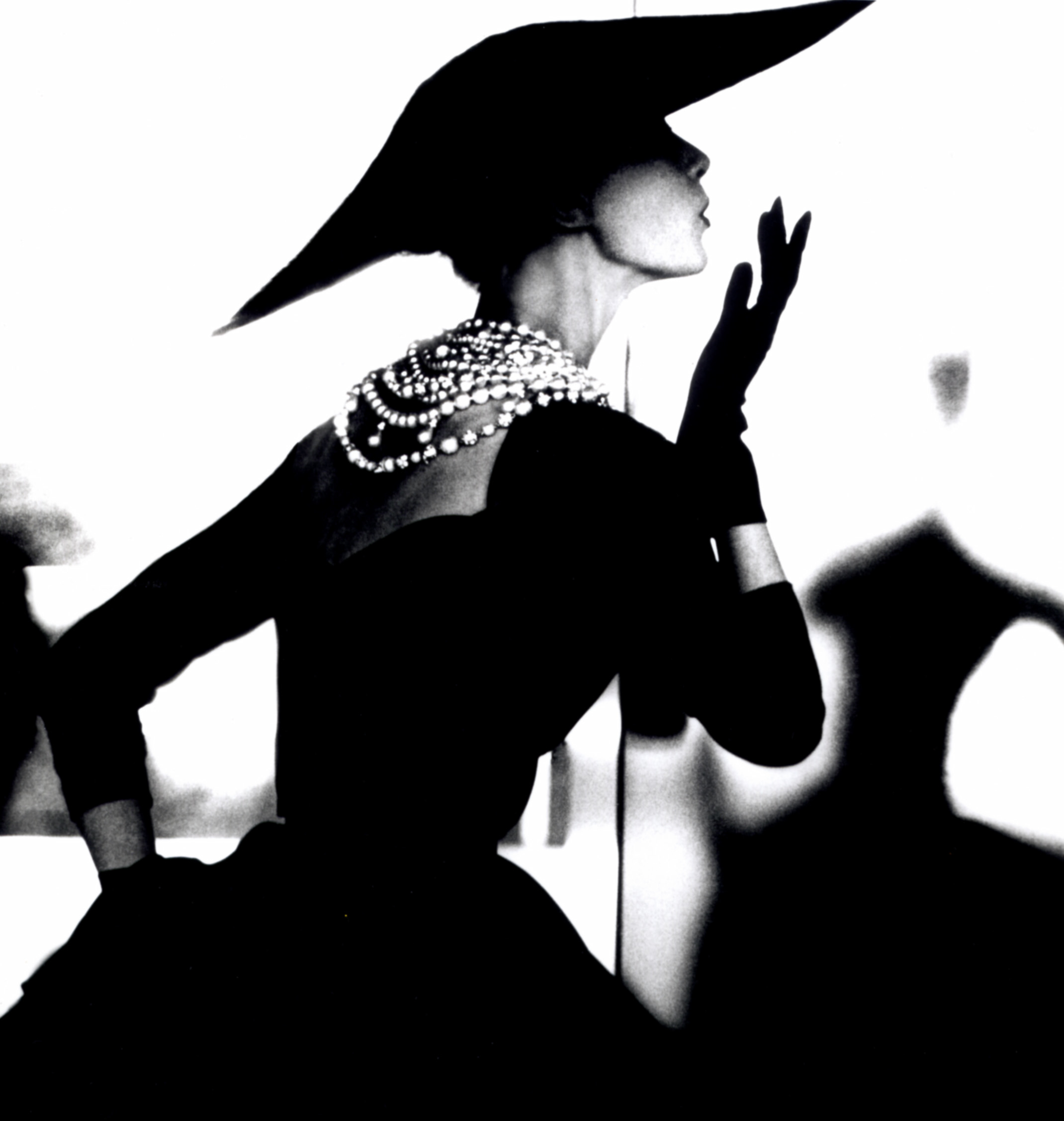 Barbara Mullen, Blowing Kiss, circa 1950s. © Estate of Lillian Bassman. Courtesy Peter Fetterman Gallery
Lillian Bassman: A Life 1917-2012 | A retrospective of work by one of the great 20th century fashion photographers along with Irving Penn and Richard Avedon. Bassman began her career not as a photographer but as a painter at the WPA and then took courses at Pratt Institute in Brooklyn, New York. In 1945, Bassman was appointed art director at Junior Bazaar, giving projects to photographers such as Richard Avedon, Robert Frank and Paul Himmel (her late husband). Later in 1947, she became the art director at Harper's Bazaar. Her work appeared in Harper's Bazaar in the 1940s and '50s, and was nearly destroyed in the '70s by a water leak in her studio.
It was not until the 1990s that her work was revived. With this new spotlight, Bassman received the Agfa Life Time Achievement Award and the Dem Art Directors Club Award in 1996. During the same year, Bassman began photographing again when she was asked to photograph the Haute Couture collection for New York Times Magazine, the Autumn Collection for Neiman Marcus, as well as work for German Vogue. Her work has been exhibited worldwide. Bassman continues to live and work in New York City.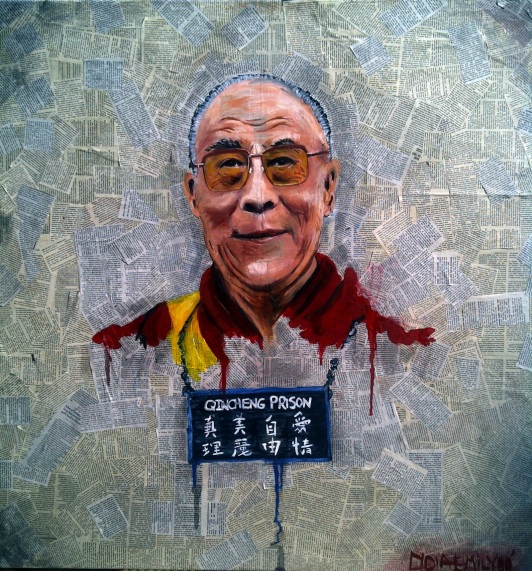 Lydia Emily: The Bamboo Curtain | Using oil, canvas and the Sunday New York Times, Lydia Emily exposes the ethnic cleansing of the Tibetan people living under China's rule. As the daughter of a civil rights protester, activism runs in her blood. Her activism comes from her life-long desire to bring fire to the people whether the galleries will hold her or not. It comes from the faith in the notion of nonviolent political protest; that people are not just a bunch of terrified witnesses, and that with enough passion everyone can make a difference in the world. She makes art because she believes that being in the public eye comes with a profound social responsibility, a duty to stand up and speak out.
For the most comprehensive calendar of art events throughout Los Angeles go to Artweek.LA.

REAL LIFE. REAL NEWS. REAL VOICES.
Help us tell more of the stories that matter from voices that too often remain unheard.