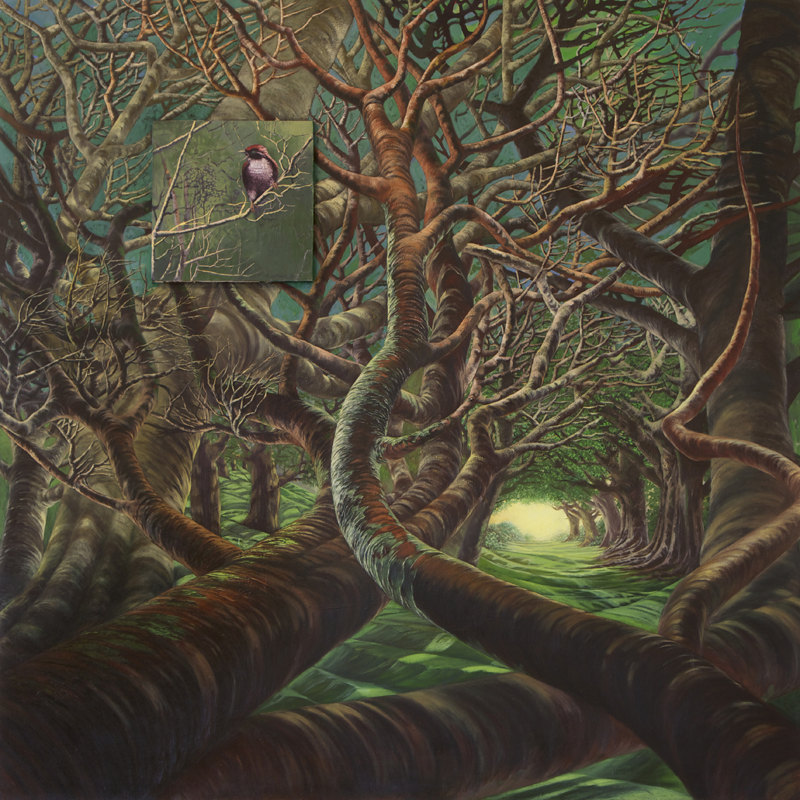 Un-Natural | Un-Natural explores the work of Lisa Adams, Fatemeh Burnes, Marion Estes, and Constance Mallinson, four very different contemporary artists who use the world around us to foster a sense of place, explore natural phenomena and its energetic connection to modern life, and push the boundaries and definition of landscape and its representation.
Lisa Adams investigates the idea of paradise in a new group of paintings that move away from the common biblical interpretation of nature. Instead, implementing a set of painterly techniques of her own creation she conjures works that reconcile the remnants of a world walking the balance between decay and possibility. Fatemeh Burnes' complex works create layers of depth and meaning and are imbued with an ingrained impulse to discover, explore and invent through the use of materials and technique. Merion Este's creates layers of imagery using mixed media collage, Chinese landscape calendars, decorative papers, photo transfers, all orchestrated in tapestries of color and forms that is sometimes categorized as pattern and decoration. Best known for her epic, photo derived collage-like panoramas that examined how clichés of landscape representation had become our primary experience of nature, Constance Mallinson has more recently returned to painting from direct observation of natural artifacts retrieved from walks through the urban and suburban environs of Los Angeles.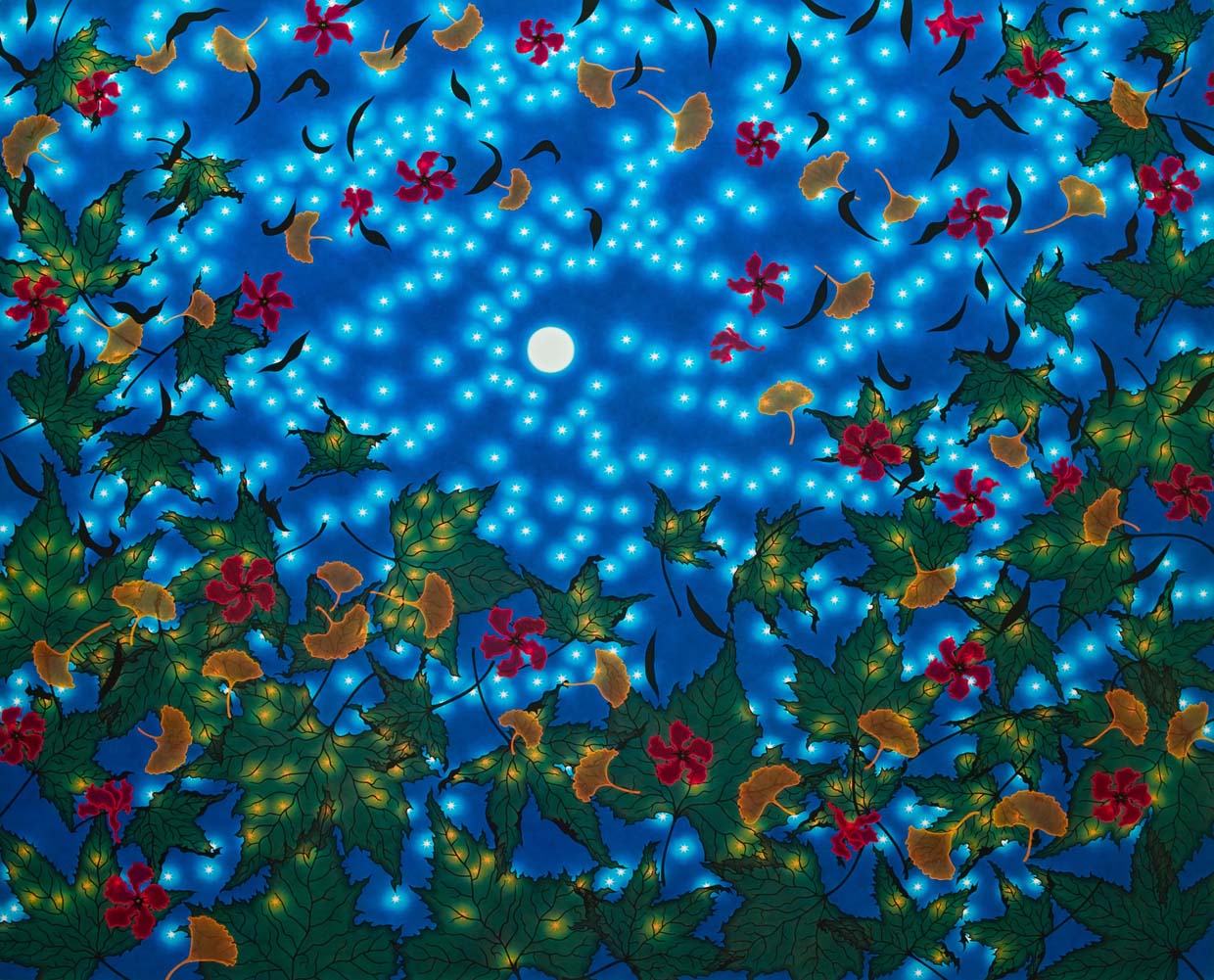 Visionary Landscape II | Featuring new works by Marco Brambilla, Sharon Ellis, Takehito Koganezawa, Iñigo Manglano-Ovalle, and Richard T. Walker, Visionary Landscape II is not so much about the visual representation of the landscape as subject matter as it is about investigating the concept of landscape environments through individual perceptions.
From the early Renaissance, when the landscape was utilized as a backdrop for religious scenes and portraits, to its exalted place in prose and paintings by the Romantics in the 19th-century, the landscape continues to be a subject artists turn to when contemplating the ways we relate to the places where we live and the impact we as humans have on the land. Simon Schama in his book, Landscape and Memory, argues that the veneration of nature is "one of our most powerful yearnings: the craving to find nature a consolation for our mortality."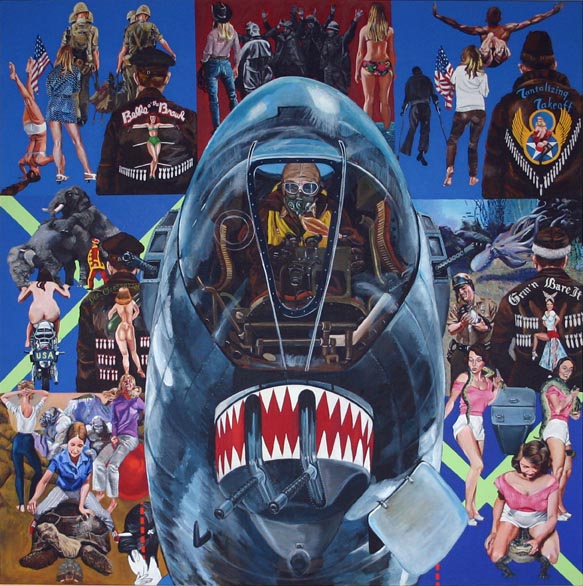 Ben Sakoguchi: Paintings 1966-2008 | The categorical differences presumed to exist between "art," "art history," and "art about history" are powerfully challenged if not completely collapsed in this exhibition. The works on view are exquisitely sensitive to the rhythms of popular culture and to a communications and media culture that has dramatically changed since this artist began his post Pop Art project in the mid nineteen sixties. Sakoguchi's paintings, however, have changed very little. Then as now, the artist examines historical events and judges them in a tone of voice carefully modulated between comedy and tragedy; smiling, as he must, through the tears. "History does not belong to us," argues Hans-Georg Gadamer "but we belong to it." Thus, he continues, "the first item on the agenda is finding the way to win back a horizon that includes art and history together." In a manner perhaps not anticipated by the German philosopher, Sakoguchi attains this goal and more.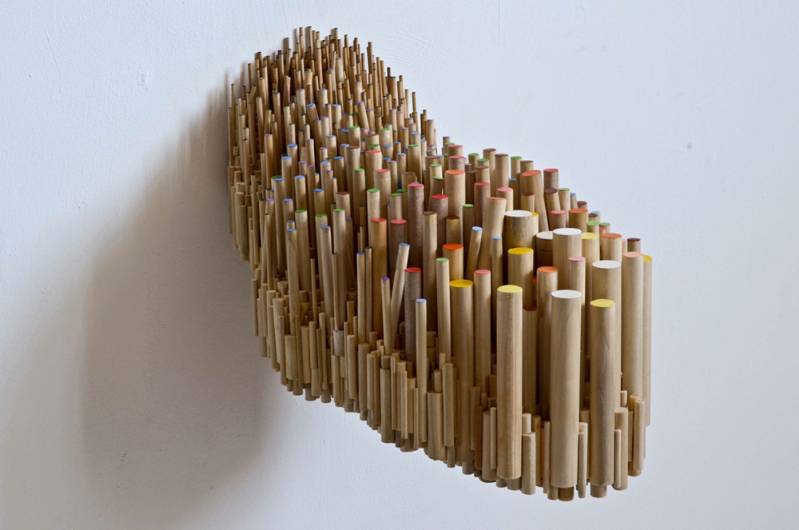 Death and Life of an Object | A three-person exhibition featuring sculptures and installations by Lynn Aldrich, Laurie Frick and Tim Hawkinson. The transformation of everyday objects and materials into artworks has been a pursuit of all three artists in this exhibition. Whether they are materials found on the street, at a garage sale or at Home Depot, each of these artists has utilized the abundance found in a modern consumerist society to their advantage.
The transformation is, however, the key to this exhibition and their work process. By re-contextualizing and altering the materials or objects, the artists have made them their own. Reference to the objects' or materials' original use may be relevant to the newly transformed artwork, but it is what each artist has done with these items that induce new life, meaning and purpose. Curated by Carl Berg, the exhibition offers insights into innovative strategies for additive sculpture and installation.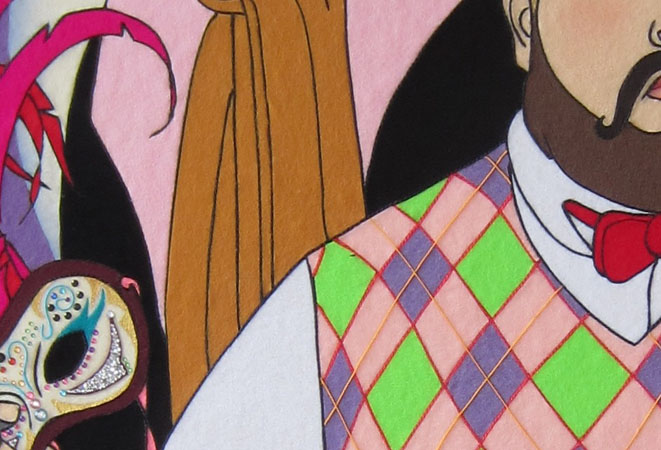 James Gobel: Fancy Wonder Free | A solo exhibition featuring work created during the past year inspired by German New Objectivity artists Otto Dix and Christian Schad. Riffing on the artists and the political and social atmosphere of the 1920s and 1930s, Gobel portrays "Bears" (large, bearded gay men) in both social settings and as solitary figures, depicting his subjects not in paint but in felt and yarn. Some compositions refer directly to Dix or Schad; other references are more nuanced.
For the most comprehensive calendar of art events throughout Los Angeles go to Artweek.LA.
Related
Popular in the Community