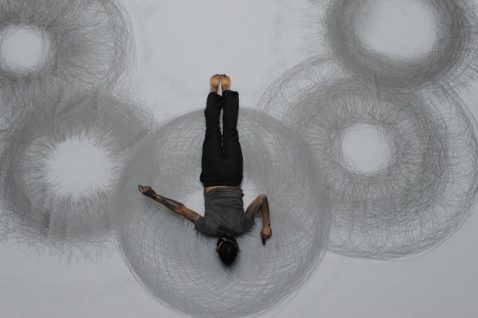 Tony Orrico: Penwald Drawings addresses the relationship between movement and drawing. The artist plays several roles in his work; he is at once choreographer, performer, and draughtsman. Formally trained as a dancer, he utilizes his body, and skill in precision of movement as a record keeper of gestures. Each movement is purposefully willed to create an accompanying mark; which leads to the creation of a cohesive drawing, and almost always symmetry and balance find themselves visually represented.
Thus each drawing has a visual element as well as a performative one; and neither takes precedence over the other. Each performance is unique and each drawing is unique to a single performance. Stamina, rigor and a meditative focus are evident in the live drawings, which are sometimes created in front of an audience, as with the main work in this exhibition. The magic of each drawing lies in the tension between structure and improvisation. Repetition of movement creates a formal pattern on paper, and the drawing becomes evidence of each particular gesture Orrico articulates. Seemingly no movement is arbitrary; each work points towards the deep connection between the mind and body.
Tony Orrico: Penwald Drawings opens May 28 at Shoshana Wayne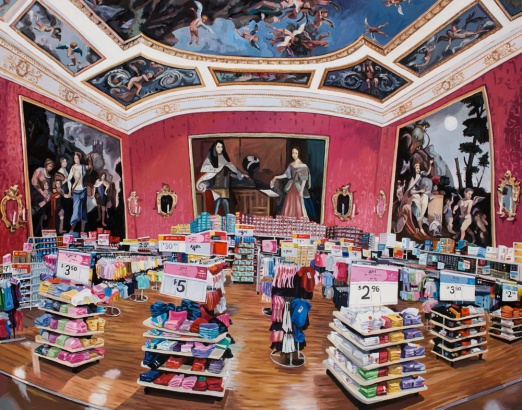 Jean Lowe: Look 20 Years Younger | The exhibition features large enamel paintings that utilize the artist's continued interest in the juxtaposition of the rarified and highly esteemed with the abundance and repetition of the autonomous and highly accessible--here the architecture and the aesthetics of the ubiquitous 99¢ Store. In these paintings, rows and rows of inexpensive, quasi-disposable products line up on shelves before a backdrop of rich, dramatic landscapes.
A fully operational art/product marketplace will be "open," where visitors may purchase editioned items, each hand made by the artist. Products for sale in this temporary gallery/store mimic those products depicted in the paintings: packaged cookies, books, boxed cereal and other banal goods, made of enamel on cardboard or ceramic.
Jean Lowe: Look 20 Years Younger opens May 28 at Rosamund Felsen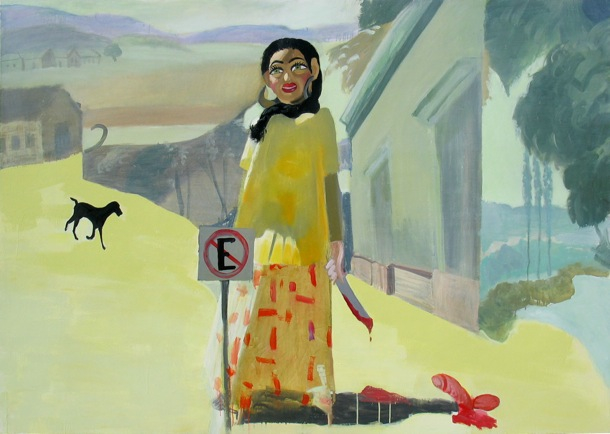 Alida Cervantes: Los Mas Barbaros | Los Mas Barbaros (The Most Barbaric) features recent paintings and a video inspired by Colonial Mexican casta paintings which depict a variety of racially diverse couples and their offspring in different settings, often arranged denoting their social class. Cervantes' paintings depict mixed-raced men, women and children using a loosely painted style to create an eerie, disjointed interpretation of race amidst images of violence and aggression. In her video, a cross-dressing satire, the artist plays the character of El Puro, a Cuban exile living in San Diego who has a regular daytime job but whose fantasy is to be a Cuban salsa singer.
Alida Cervantes: Los Mas Barbaros opens May 28 at Steve Turner Contemporary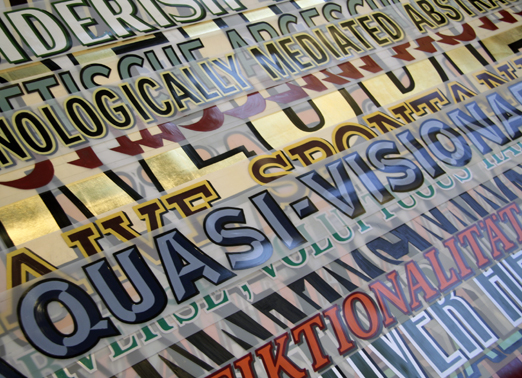 Joe Amrhein: A Fallibility of Perception | In this new work, the artist continues his use of language, text, and signage fonts. One key phrase and the title of the show, A Fallibility of Perception, is suggestive of both the possibilities and the fallibilities inherent in language, translation, understanding, and perception. One of the largest works incorporates this phrase translated into twenty-two different languages, including Hindi, Japanese, Arabic, Russian, among others. The translations, culled from many different sources--from professional translators and native speakers, to online translation services--show the range of possibility for interpretation, including sometimes poetic, or less than poetic, mis-interpretation. "A Fallibility of Perception" also implicates the person viewing this artwork or, for that matter, anything and comprehending it through their own experience and knowledge. Their perception of it may be very different from the author's intention; neither is right or wrong but simply reveals the slippage between intention, meaning, and understanding.
Joe Amrhein: A Fallibility of Perception opens May 26 at Another Year in L.A. in the Pacific Design Center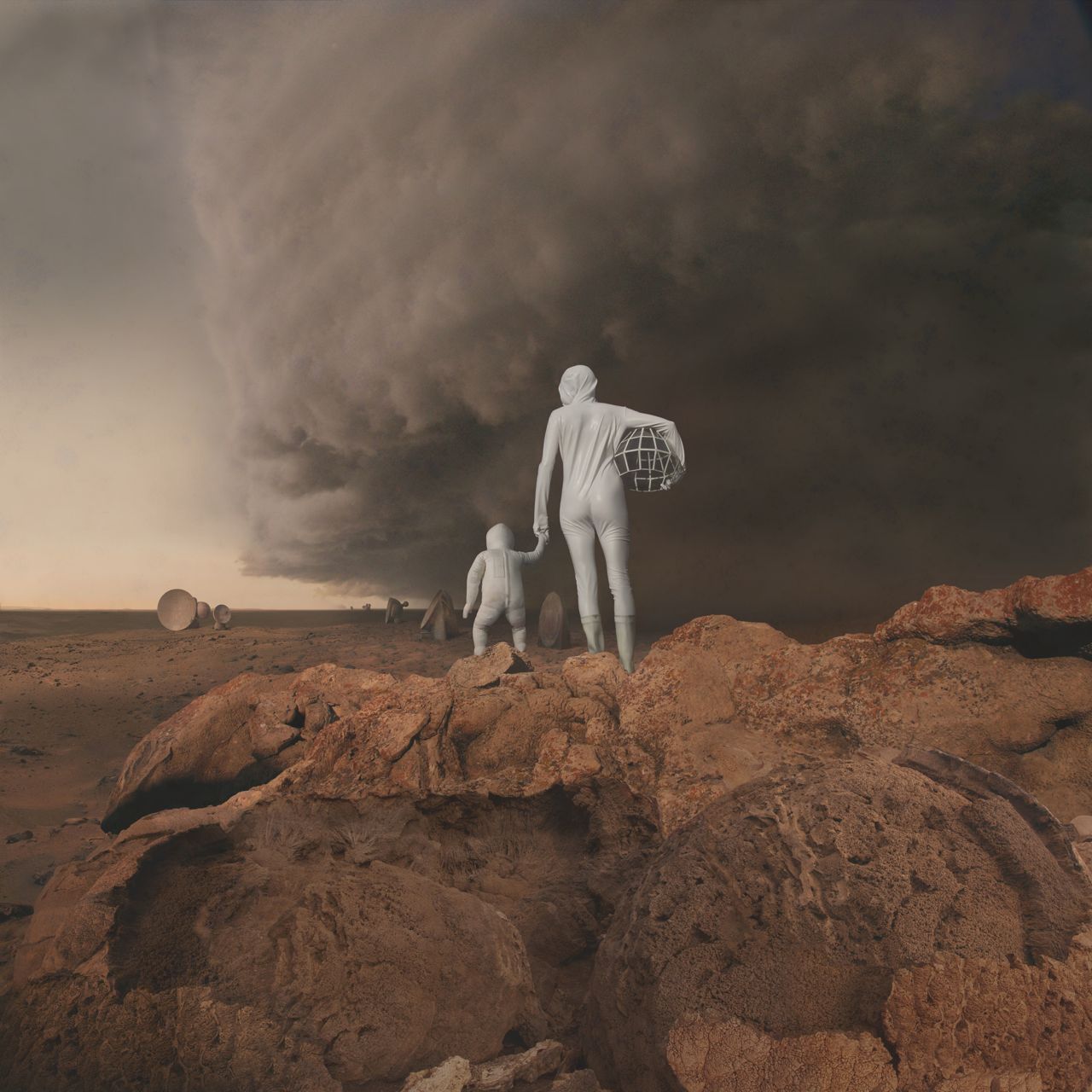 Kahn & Selesnick: Mars - Adrift on the Hourglass Sea | Nicholas Kahn and Richard Selesnick's work lies at the intersection of historical fact, apocalyptic future and nerdy museology. Melding childlike playfulness with adult obsession, they create faux-historical narratives realized as photography, sculpture, and installation. Adrift on the Hourglass Sea is set on the planet Mars where the artists present a dark and powerful visage of a collapsed civilization on the red planet. Using photo-mosaics of the Martian landscape taken by NASA space rovers (they were recipients of a NASA commission to create work about Mars) and combining them with their own photographs of deserts in Nevada and Utah, the artists present their distinctive brand of sci-fi mysticism.
Depicting the adventures of two women and a child as they negotiate a path among the crumbling vestiges of a once inhabited landscape, we see the defunct remains of a civilization's ruins (ambiguous circuitry, abandoned dish-structures, and enigmatic monoliths). Poignant issues of technology, economic and societal collapse, environmental disaster and existential philosophy are explored under the guise of a fantastical journey through the deserts of our neighbor planet.
Kahn & Selesnick: Mars - Adrift on the Hourglass Sea runs through July 9 at Kopeikin Gallery
Popular in the Community