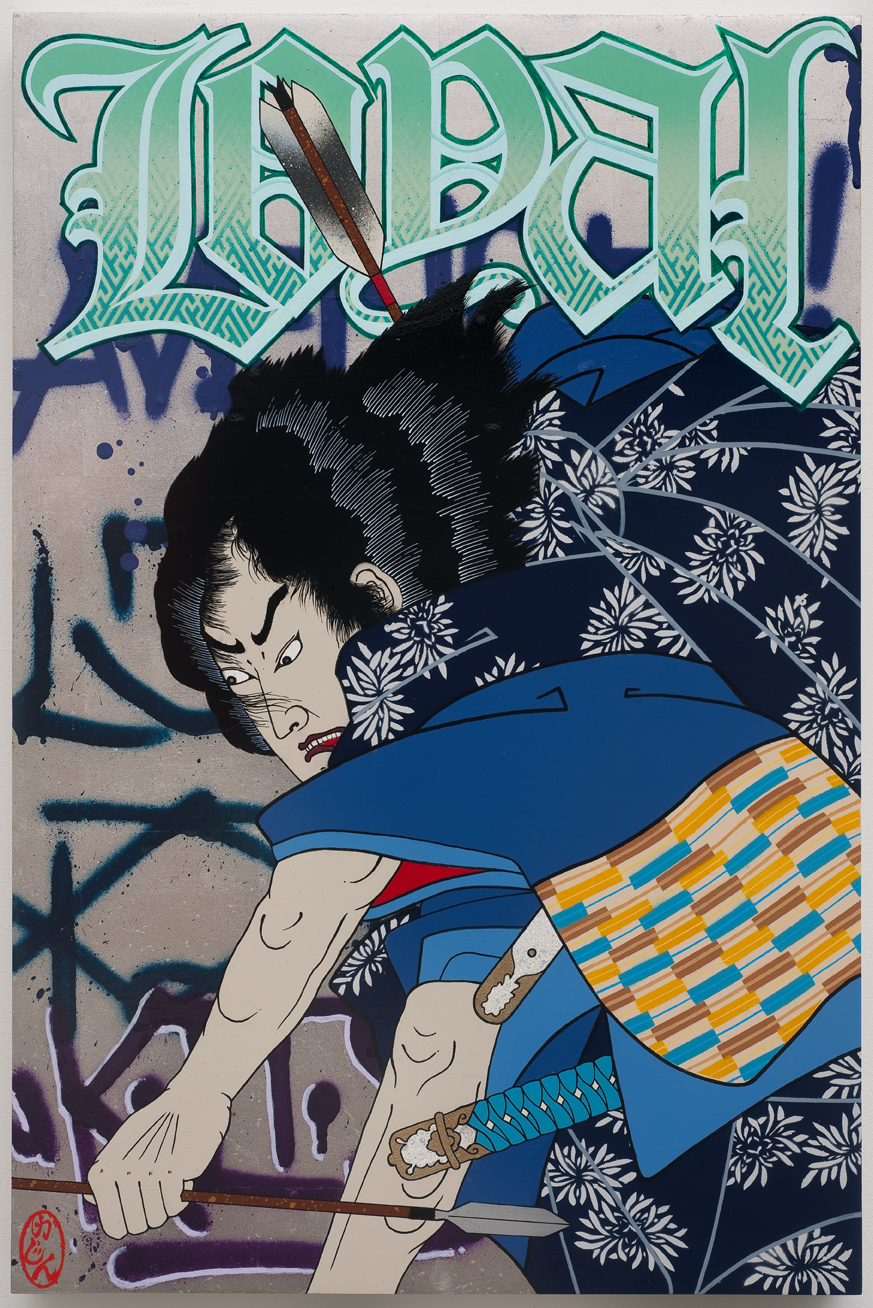 Gajin Fujita, Loyal, 2010, spray paint, acrylic, paint marker, platinum leaf on wood panel, 24 x 26 in. (61 x 40.6 cm), Courtesy L.A. Louver, Venice, CA
Gajin Fujita: Made in L.A. | In his Los Angeles Times article, MOCA's 'Art in the Street' Gets the Big Picture Wrong, critic Christopher Knight describes Fujita's paintings as "the most important 21st century iteration of graffiti's influence on art."
Gajin Fujita blends a rich diversity of cultural influences that range from traditional Japanese ukiyo-e to contemporary manga; from American pop culture to East L.A. street-life iconography and graffiti. He also combines a variety of process techniques and media, beginning with wood panels that he covers with platinum, white and yellow gold leaf in graphic patterns. Fujita then tags the panels, sometimes inviting members of his longtime graffiti crew, K2S ("Kill to Succeed") to tag larger-scale paintings. (These invited hands are identifiable by their tags as well as their signatures on the verso of the paintings.) Over the tagged panels, using his own paper stencils that are unique to each painting, Fujita creates intricate compositions, which feature samurais, geishas, dragons, tigers and fish, using spraypaint, paint marker and Mean Streak, in striking colors.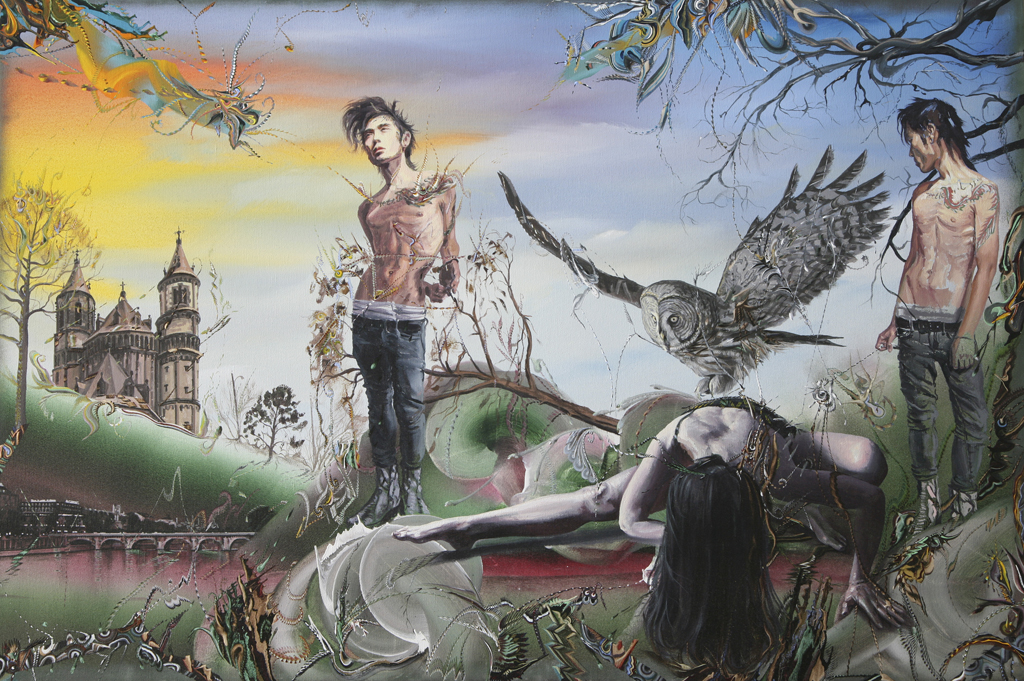 Gegam Kacherian, Man Made Sun, Handpicked Sky, 2011, Acrylic on canvas, 24 x 36 in.
Gegam Kacherian | Just as music is comprised of a theme and its variation, Kacherian's paintings likewise represent the conjoining of multiple parts that together define a whole. Gegam Kacherian's work continuously uses the crossing of abstraction and representation as metaphor for the spiritual and the physical. His paintings are made up of various fantastical landscapes, often with a city or institutional space envisioned as a kind of distant oasis, set in the background. The paintings are filled-out with often dreamlike imagery: hyenas, sprites, alighting birds, and are finally intermingled with an array of extremely intricate and gestural abstract shapes, strokes, patterns and marks. The resulting works are ornate and richly populated worlds of strange myth and intuitive metaphor.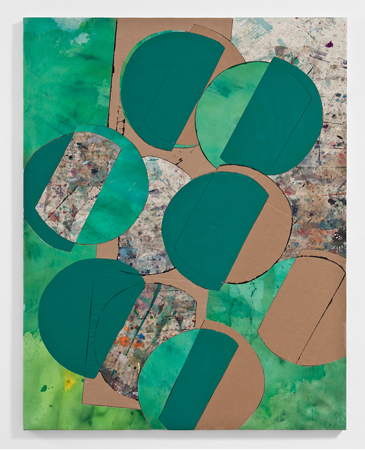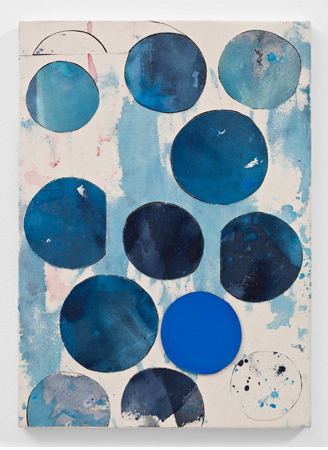 Lecia Dole-Recio | Her new paintings are somewhat a departure from a body of work that has often made use of labyrinthine compositions and intricate layering. Lecia Dole-Recio's previous works intimate Hofmann-esque "push-pull" spatial effects, while simultaneously negating them with their tactile materiality of cardboard, canvas, and paper. Yet a primary distinction between previous works and the new paintings is Dole-Recio's heightened reductiveness, which further pronounces their surface qualities of work and residue. Dole-Recio subtly resounds her paintings on other levels of process, art history and politics, but it's work and residue, inextricably two sides of the same coin, that stridently presents itself as a pivot in her development, a point that depends on two different modalities of work-time altogether.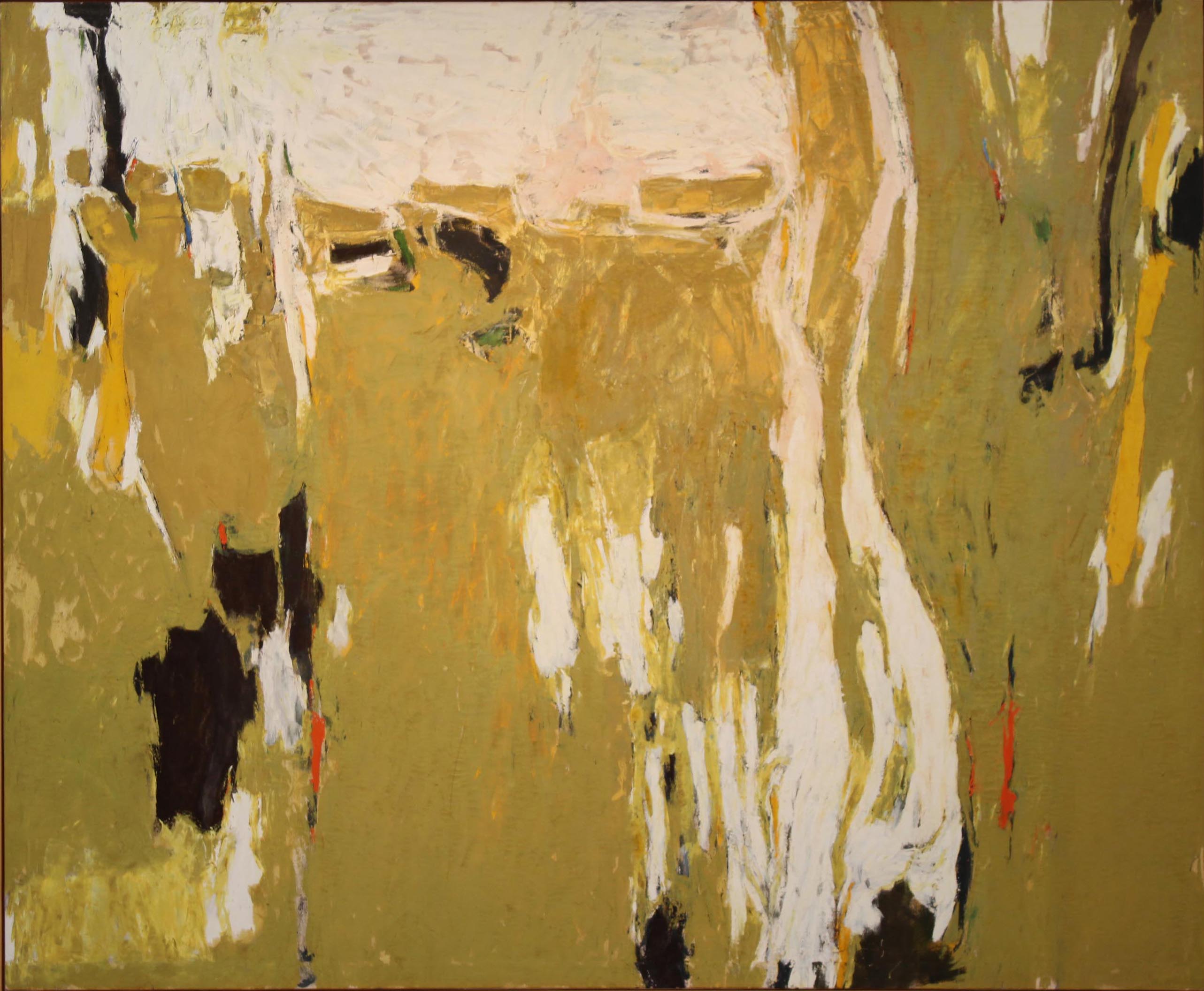 Edward Dugmore | This exhibition features a selection of 12 paintings, as well as a small group of works on paper, dating from 1951 through 1984 that illustrate a full range of the artist's oeuvre. Born in Hartford, Connecticut in 1915, Dugmore gained notoriety during the late 1940s as a part of the California School of Fine Arts (CSFA), considered the West Coast counterpart to the Abstract Expressionist movement in New York. The school included such illustrious faculty as Clyfford Still, Ad Reinhardt, Mark Rothko, David Park, and Elmer Bischoff. Charged with an artistic gusto, and inspired by the overall atmosphere of the school, Dugmore's work flourished with a sense of freedom from tradition and convention. His abstract compositions were lyrical and highly painterly. Although Dugmore remained there for only two years, it was enough time to secure him a renowned reputation.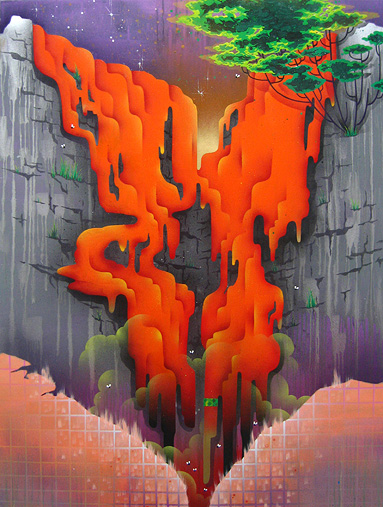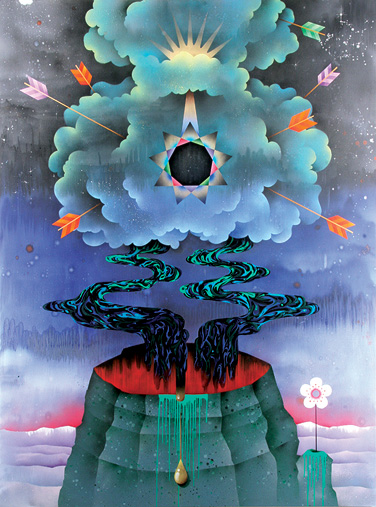 Gusher: Pearl C. Hsiung, Selected Work 2003 - 2011 | The largest survey, to date, of the artist's oeuvre, Gusher features more than 40 works, including painting, sculpture and video produced between 2003 and present. Hsiung's strikingly colorful paintings are infused with a popular culture aesthetic ranging from sci-fi movies and television shows to album covers and even 1960s psychedelia. Many of her meticulously rendered works blur the boundary between landscape and portraiture; in her paintings, sculpture and video, it is common to see lips and teeth on mountaintops or clouds, and cacti wearing scarves or bandanas. The artist transforms what for most are seemingly straightforward scenes of nature: a skyline, a desert vista, or a volcano, into dense, nonsensical, comical, and provocative images of the outdoors.
For more information about art events throughout Los Angeles go to Artweek.LA.
Calling all HuffPost superfans!
Sign up for membership to become a founding member and help shape HuffPost's next chapter