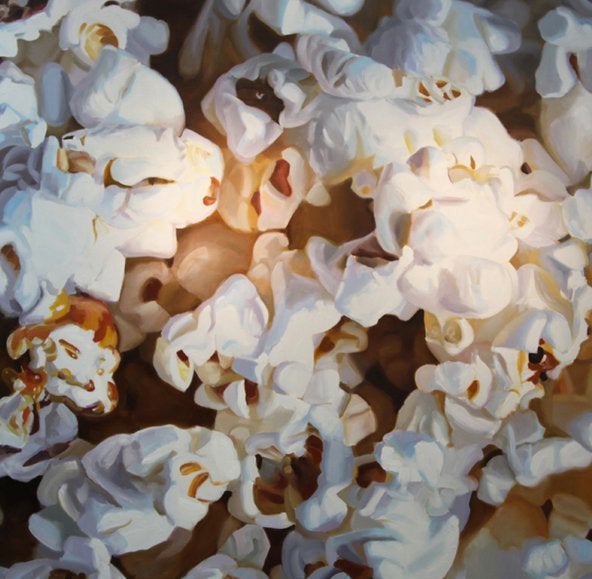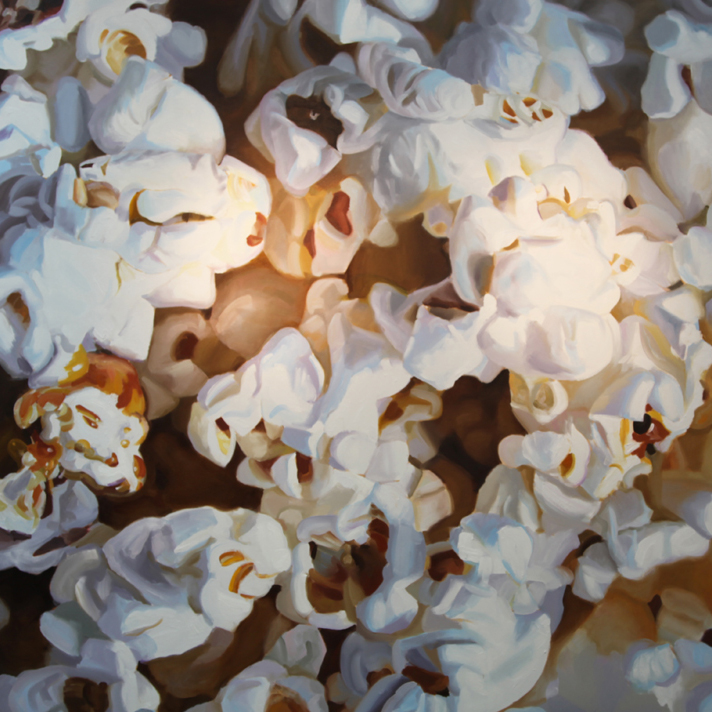 Carole Bayer Sager: New Works | The exhibition features an evocative new series of paintings, which focus on abstracted subjects. Rich in color and sensual surface textures, the paintings range from micro to macro views of peanuts, popcorn and cracker-jacks, amongst others. These intimate and expansive perspectives create an intentional ambiguity, allowing viewers to more freely tap into their own associations.
According to Bayer Sager, "I have been surrounded by pop culture my entire life. I live it and add to it when writing songs. In my recent paintings, I am fascinated by studying small and often overlooked every day subjects, and enlarging them beyond their natural states, transforming them into something entirely new."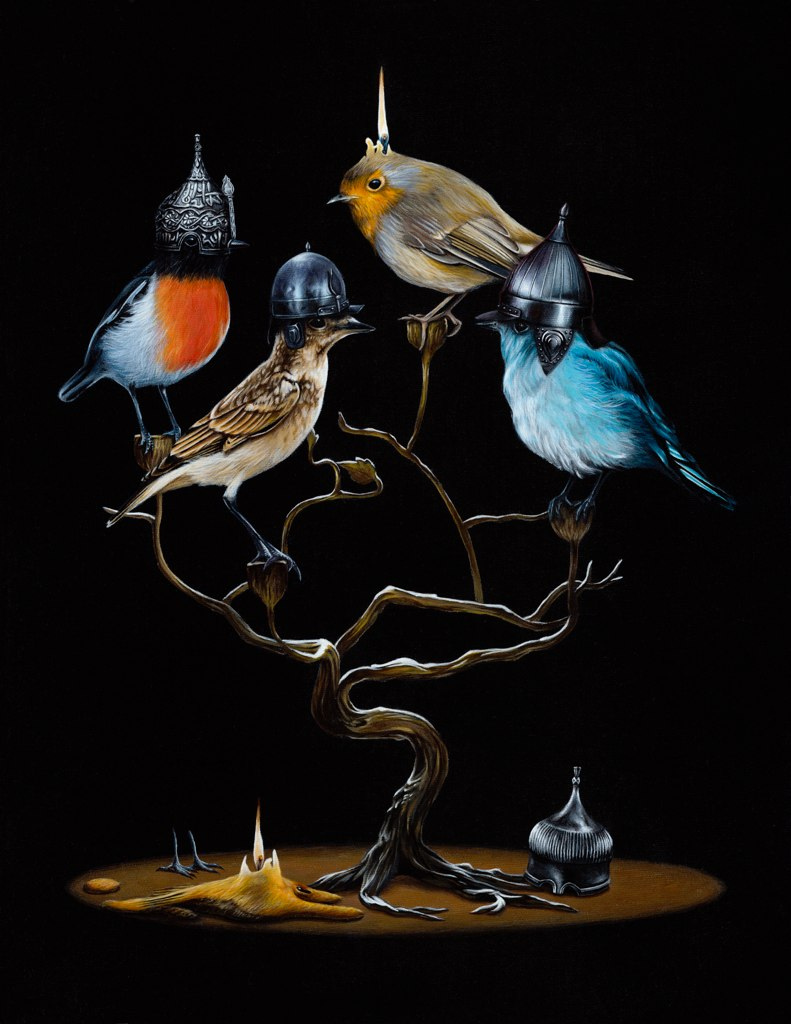 Jacuba Gagnon: More Human Than Human | Gagnon's paintings are composed of dramatic expanses of pitch black negative space, populated by colorful hyper-realist renderings of wildlife in whimsical situations. The little creatures of the artist's imaginings surrealistically activate human objects with both absurd and adorable end results. Meticulously detailed and rendered, with the application of delicate layers, Gagnon's colors and textures are jewel like. The artist's scenarios are those of fantasy, summoned by an unfettered imagination and uninhibited by the restrictive logic of reality. Gagnon probes the fine line between the innocuous and the sinister, effortlessly subverting the order of the natural world.
The work combines the preciousness of miniaturization with the whimsy of fantastical narrative. At times uncanny and dark in their unlikely combinations, the pieces activate unprecedented relationships between the animal and human worlds, and transfigure wild animals into anthropomorphic guises; like eerie little impostors of the human.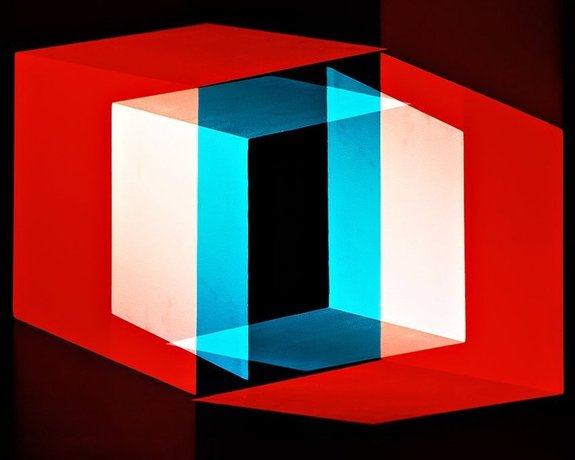 Jessica Eaton: Polytopes | Eaton's latest work views the world through the capabilities of photography using a wide array of experimental, analogue-based photographic techniques such as color separation filtration, additive color theory, multiple exposures, motion blur, in-camera masking, cross polarization and lighting techniques. Building on her highly reviewed series Cubes for Albers and LeWitt (cfaal), with Polytopes Eaton develops more configurations from repeated fragments, constructing sculptural works on sheets of large format film. The haunting, luminescent images bloom and grow before the viewer, the result of layered time and additive color theory.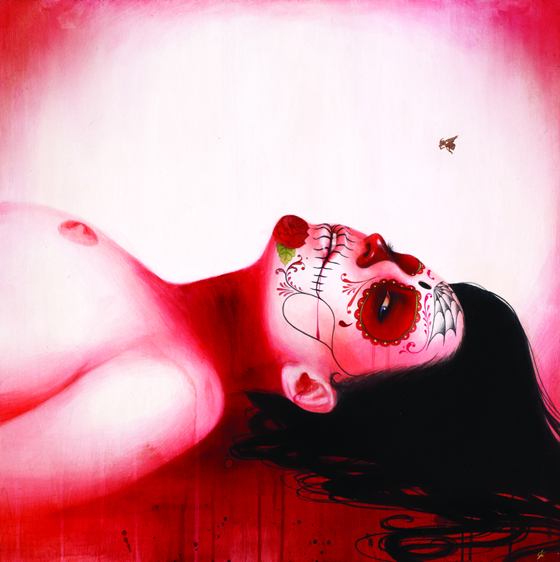 Sylvia Ji: La Catrina | Central to the paintings of La Catrina is the specter of La Calavera Catrina, an iconic deity of Mexico's "Day of the Dead" celebrations, invoked by Sylvia Ji as a chromatic presence enciphered with allegory. "I wanted to revisit this female figure that haunts me, the Catrina, and put her in a less sexually provocative form to a more concerned, almost sad tranquility and reflection," says Ji.
La Calavera Catrina, or The Elegant Skull, was originally portrayed in 1910s by the Mexican artist José Guadalupe Posada as a richly adorned skeletal figure and became an enduring icon of the "Day of the Dead" celebrations. The Catrina was adoptive of the Aztecan goddess Mictecacihuatl who in the afterlife watched over the bones of the dead and all commemorating festivals. In "La Catrina," the Lady of the Dead oversees the artist's changes, divined through painting, and reflective with her unearthly visage.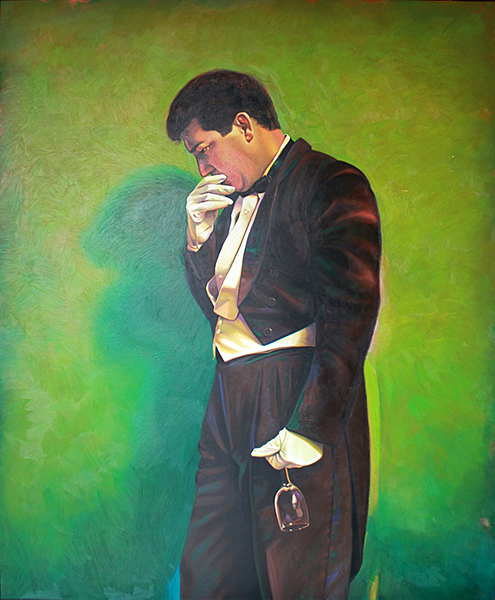 Santa Monica Auctions: The Last Goodbuy | In many ways, the story of Santa Monica Auctions has always also been the story of Robert Berman himself. A pillar of and witness to the evolution of the West Coast art world for decades, out of his early days with the podium and gavel has grown Berman's parallel and constant presence in the gallery world -- especially in the salient Venice and Santa Monica scenes that have been his HQ on an international stage. Quite simply, he knows everyone. When you are in business at that level for so long, it's inevitable that history -- even art history -- will start to bend back on itself. And so it is that in this not-necessarily-the-final Santa Monica Auction but certainly the last one in its traditional Bergamot Station home, so much of what's on the auction block comes not only with impressive provenances, but with personal connections to the Berman enterprise itself -- and a cache of tidbits into L.A. history.
For the most comprehensive calendar of art events throughout Los Angeles go to Artweek.LA.
Calling all HuffPost superfans!
Sign up for membership to become a founding member and help shape HuffPost's next chapter